Do You Listen to Tracy Chapman?: Decentering Whiteness and Cisnormativity from the Queer Women Music Scene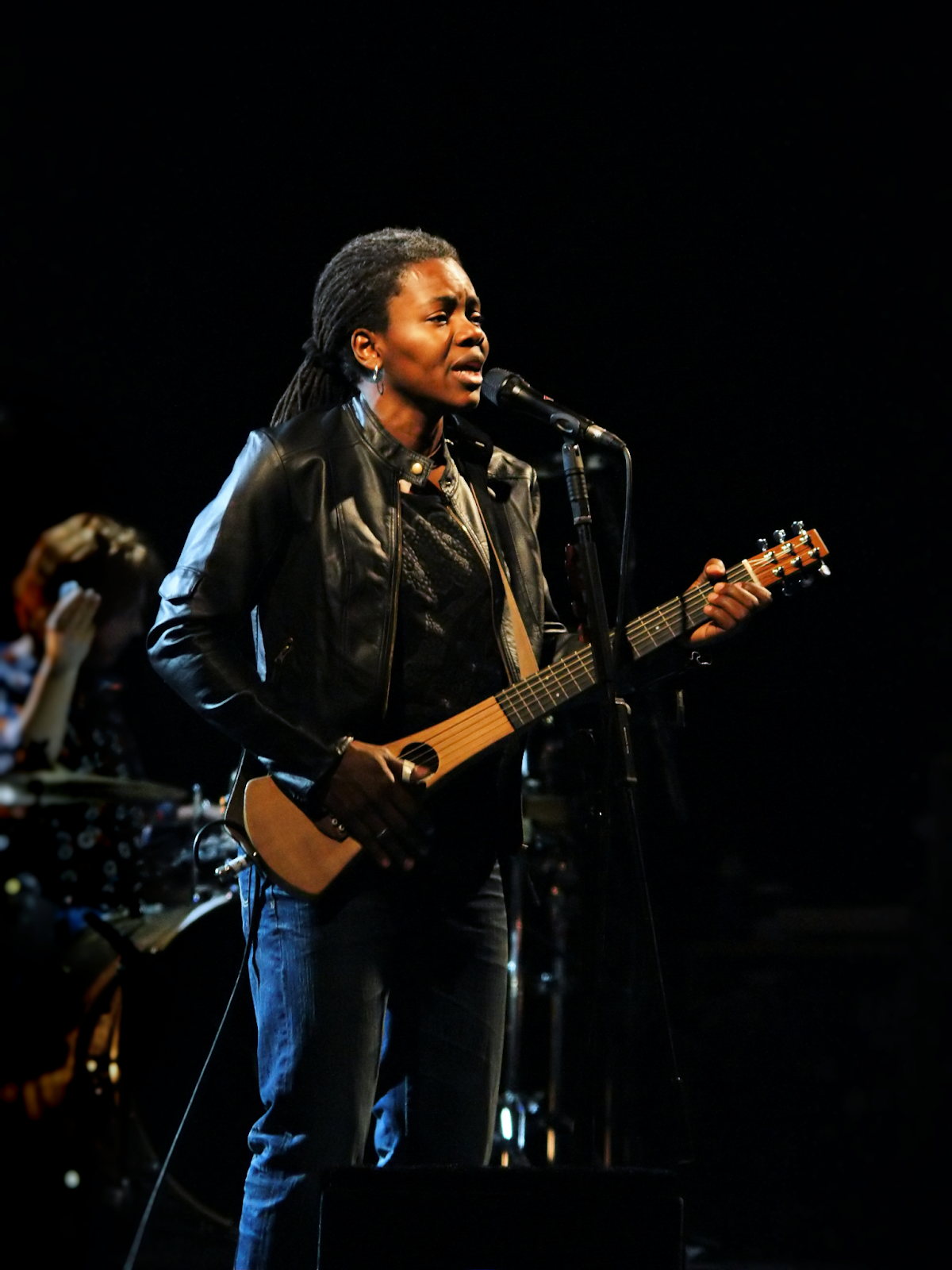 Image source: Hans Hillewaert
Image description: Tracy Chapman is wear a leather jack and Navy blue jeans while playing the guitar. The lights are off in the venue so the background is pitch black. 
Oftentimes queer women and non-binary folks use various archetypes to identify one another. One of them is music taste. Music is so strongly associated with queerness that sapphic Gen Z have begun to ask each other if they listen to "Girl In Red " as a euphemism for asking if they are queer. Beyond Girl In Red, there are other widely agreed-upon queer women icons including Pheobe Bridgers, King Princess, Clairo, and Beach Bunny.
Besides being coded as queer, the other common denominator between these artists is that the majority of them are white and cisgender. The artists who queer women chose as the faces of the lesbian music scene matter because it affects whose narratives are told and ultimately, whose stories are considered textbook examples of queerness. The lack of diversity in the experiences that create the standard of sapphism causes those who don't fit those standards to feel like they aren't "queer enough". These feelings of exclusion from the lesbian, bisexual, and queer communities can leave folks who are already ostracized by cissexism and heterosexism without a sense of belonging. Inadequate representation also creates a vicious cycle. If people who aren't white or cisgender don't feel welcome in sapphic spaces, then they will be less likely to exist in roles within the queer community where they are able to reshape the narrative of what attributes are considered queer. Therefore, exclusionary archetypes won't be challenged and as a result, more people of color and transgender folks won't feel comfortable identifying with the lesbian and bisexual community.
So instead of just considering bands like Girl In Red the standard of lesbianism, let's dismantle white-cisgendered based hegemonic notions of sapphism by expanding our music tastes to include more trans and queer artists of color like the ones mentioned below.
Tracy Chapman
Although Tracy Chapman has never publicly disclosed her sexual identity, Alice Walker has mentioned that the two have been in a relationship. Tracy's music primarily consists of vocals backed by an acoustic guitar. Her sound has been described as folk or folk-rock but with inspirations drawn from R&B and soul music. Most of Tracy's songs tackle social issues such as poverty, racism, and domestic violence. Her song "Talkin' Bout a Revolution" is a political anthem. Each time I listen to it, I feel inspired to continue the activism of those whose labor and dedication to social justice have improved the lives of marginalized folks. At times where I lose hope, I listen to the line "poor people gonna rise up and take what's theirs." and feel compelled to continue dismantling capitalism so that these lyrics can become a reality.
Anjimile
Anjimile is a Malawian-American trans/non-binary (he uses he/they pronouns) singer-songwriter based in Boston. Their music has a folky vibe reminiscent of Tracy Chapman's except Anjimile's guitar playing has a stronger African influence. He also cites Sufjan Stevens as an influence which is evident in Anjimile's emotionally heavy lyrics delivered with a soft voice. Their first album "Giver Taker" was written while they were receiving treatment for alcoholism. The record explores Anjimile's gender identity, family acceptance, and religion. As a queer Black person who is also the child of highly religious immigrant parents, listening to "Giver Taker" was healing because it enabled me to process my experiences.
Hurray For the Riff Raff
Hurray for the Riff Raff is a folk band from New Orleans. Their lead singer, Alynda Mariposa Segarra, is a queer, Puerto Rican, New Yorker. She founded the band after traveling around the U.S. via freight train and landed in Louisiana. Hurray for the Riff Raff's lyrics were crafted to speak to the experiences of those who have been disenfranchised. Their records are also rooted in political activism and protest. One of their most moving singles is titled "Pa'a lante", which means onward in Spanish. In the song, Alynda first describes the dehumanization that comes along with being oppressed by singing, "Treated as a fool/Not quite a woman or a man." But then, the song shifts moods and turns into a call for marginalized communities to carry on and join in solidarity as she belts out, "To all who had to hide, I say, ¡Pa'lante!/ To all who lost their pride, I say, ¡Pa'lante!/To all who had to survive, I say, ¡Pa'lante!"
Kimya Dawson
Kimya Dawson is a Black singer-songwriter who co-founded the band, "The Moldy Peaches". Her artistic style is a mix of punk and folk that consists of the acoustic guitar and rhyming lyrics. Most people know her for her song "Anyone Else But You" from the "Juno" soundtrack.
Kimya's songs touch on various aspects of mental health including body image, self-harm, and confidence. As a teenager who struggled with depression, mental health discussions in my family were non-existent. To make matters worse, the vast majority of tv shows, music, and movies that highlighted the narratives of those experiencing mental illness were limited to images and stories of white people. Kimya's music was life saving because I finally felt like I wasn't the only Black person struggling with their mental health. I couldn't help but feel a sense of connectedness to, "Ugly and stupid, you should really be ashamed/ No one will ever like you you're not good at anything." Her words of encouragement such as, "My rollercoaster's got the biggest ups and downs/ As long as it keeps going round it's unbelievable " were also a reminder that even though I would have low points in my life, they'd eventually get better. Kimya will always be a queer, Black punk icon in my book.
Mitski
Mitski is a Japanese American indie rock artist. Her creativity and thoughtfulness immediately becomes apparent as she employs various instruments to set the tone of her songs. In "Dreaming Costs Money Dear", she utilizes the slow somber piano to convey the pain that comes with choosing a fulfilling career path while also being aware of the financial consequences. In "Townie", the strumming of the electric guitar against Mitski's proclamation of, "I want to be what my body wants me to be", emotes the rebellious, bad-ass attitude needed to resist conforming to societal expectations. Teenagers and young adults alike are drawn to Mitski's music because the angst and anxieties in her lyrics are so relatable. But what truly makes Mitski's singing and songwriting so powerful is that it is an act of resistance against harmful stereotypes of Asian American women. In the media, Asian women are portrayed as docile, silent, and ultimately invisible. In contrast, Mitski expresses complex thoughts and emotions from coping with heart-break, to navigating parental relationships, and resisting capitalism. Even the title of her newest album "Be the Cowboy" draws on the "freedom and arrogance" that the classic cowboy myth affords to white men but denies to Asian American women. So, Mitstki made "the protagonist of the album someone like [her] who feels like they want to channel and embody that energy."
Anohni
Anohni is a transgender woman who creates electronic music and visual art. Her musical vibe is a cross between Florence and the Machine, FKA Twigs, and Kate Bush. Anohni's voice has a witch-like yet heavenly quality to it that adds spiritual and emotional depth to her already enchanting lyrics. While there are several artists who address social inequities in their music, Anohni is one of the only ones to explicitly acknowledge that they are complicit in systems of oppression. In her song "Crisis", she hauntingly cries "I'm sorry" about the war crimes committed by the U.S. The intention of the song is not to beg for forgiveness but to use the imagery of drone bombings, mass graves, and the torture of war prisoners to force others to grapple with how their privilege comes at the expense of people's lives. Anohni also makes an effort to amplify the voices of women of color. At the end of " She Doesn't Mourn Her Loss", Anohni features Aboriginal artist Ngalangka Nola Taylor who delivers a spoken word piece about the current and future state of the world. As Taylor speaks in her native tongue, Manyjilyjarra, I am honored by her vulnerability and grateful to Anohni for giving Taylor a platform to express her artistry. Ultimately, Anohni music demonstrates that womanhood consists of diverse experiences while also conveying how distress it is to live in a time where social issues cause chaos and despair.
Yaeji
Yaeji is a Korean American DJ and producer based in New York. Her electronic sound is similar to Clairo and Charli XCX — in fact, she has collaborated with them both. She has also covered Drake's "Passion Fruit". Yaeji adds a unique touch to her music by singing in both English and Korean. Yaeji intentionally chose to create bilingual tracks because she feels that the Korean language has words and rhythms with meanings that cannot be translated into English. One of my favorite Yaeji songs is "Raingurl". The track has a soft yet effective beat drop followed by a fast- paced tempo which makes it a great addition to any party playlist or a song to listen to while exercising.
I hope that as you listen to these transgender/gender non conforming and queer people of color artists, you'll find lyrics that are relatable to you. But if you don't, that's okay as well ! Because the purpose of diversity is to validate perspectives that may not be similar to your own while also expanding your worldview to foster empathy within the sapphic community. Queer, bisexual, and lesbian folks are not a monolith so our music icons shouldn't be either.