Melinda Gates at UCLA: Bringing a Gender Lens to Development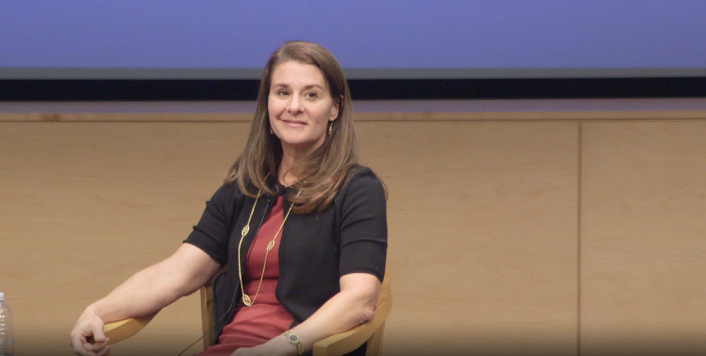 On Wednesday, November 5th, Melinda Gates was the featured speaker at UCLA's annual Arnold C. Harberger Distinguished Lecture on Economic Development.
As the co-chair of the Bill & Melinda Gates Foundation, Gates described the foundation's history of family-planning, their goals of delivering contraceptives to 120 million women in developing countries, and their future plans for making women and girls the center of development.
The lecture can be found here.
Gates's recent article in Science Magazine explores the importance of using a gender lens for development at the forefront:
"In 2015, our foundation will focus on asking key questions and considering evidence about gender inequality and women's empowerment, with an eye toward increasing our impact. Toward that end, we will be launching this fall a multi-million dollar Grand Challenge on putting women and girls at the center of development. Our Grand Challenges program, which started in 2004, poses big, open-ended challenges in health and development and provides funding for innovators from multiple fields and all over the world to develop creative solutions. This will be our first Grand Challenge on gender inequity and women's empowerment, and it is intended to mark the beginning of our concerted push in putting women and girls at the center of our work."
Gates's research reveals that gender inequality affects development for all. For example, women were "10 times more" likely to invest their earnings back into their family and community than men, and "women's control over resources is associated with better outcomes in family planning; maternal, newborn, and child health; nutrition; and agricultural development."
Prior to the lecture, FEM, along with seventeen other undergraduate and graduate students, was invited to a panel to discuss the Gates Foundation's Grand Challenge for this upcoming year.
In the panel, Gates describes, "We're just never going to make change, really dramatic change, in the world for women and girls and families, unless we take this holistic approach, unless we take a gender lens on the approach."
She continues,
"To do what needs to be done for women's empowerment, it takes gigantic resources, government resources. I see our resources as the tip of the arrow. We start things; we can be a catalytic funder. While our research looks huge to people, when you think about what we're trying to take on, we are really, really tiny. What I want people to understand is, how do we as a world not just talk about women and girls—I think we are finally doing that on the global agenda these last 5 years—but how do we place some big bets on women and girls and how do we take action?"
Melinda Gates's dedication to empowering women and girls, while making them the center of development, is incredible progress in combatting global gender inequity. As Gates described, focusing on women and girls is necessary to not solely improve the lives of women and families, but communities, countries, and the world as a whole.
We cannot talk about health care without talking about gender. We cannot talk about hunger without talking about gender. We cannot talk about sustainability without talking about gender. We cannot talk about family planning without talking about gender.
Needless to say, it's about time we start using a gender lens when approaching development projects because we cannot lift up one another while ignoring half the population.
Click here for more information on the Gates Foundation and the myths about foreign aid.