A Timeline of the USAC Election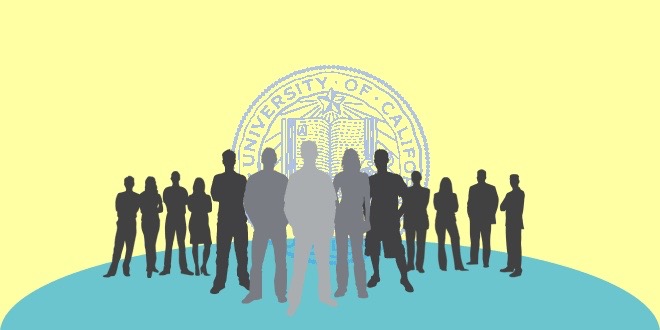 Image by Mina Malloy
This year, in keeping with tradition, the Undergraduate Students Association Council (USAC) Elections and their tenure have been filled with ups, downs, and finally, results. To make this past month's events more digestible and to clear up ambiguity about the election process in the future, here is a brief timeline of the election:
April 4
Candidates were announced for USAC positions. Out of the 22 total candidates, eight ran uncontested, including now-confirmed USAC President Arielle Yael Mokhtarzadeh. The candidates comprised of two parties, nine Bruins United (BU) and two Defend Affirmative Action Party (DAAP) members, and 12 independents.
April 5
The Election Board meets with candidates and informs them of all rules, regulations, and upcoming dates for the election to follow over the course of the next month, along with the disciplinary process for slates and candidates who violate the rules.
April 17
Endorsement hearing for candidates to answer student questions and outline goals if elected is held. Many candidates stressed their commitment to protecting students from actions taken by the Trump regime, such as DAAP's vocalization of the importance of immigration policy protection.
April 19
The yearly USAC debate sparks controversy among the candidates, highlighting a clear divide between BU and the rest of the students running. Among the topics covered were qualifications of candidates for their respective positions. Vivy Li, independent, and Neha Quraishi (BU), both running for Internal Vice President, heatedly debated this topic. Two External Vice Presidential candidates, Jack Price, independent, and Sophie Butler (BU), debated on the plausibility of the reallocation of USAC funds and the officer's transparency.
April 30
A screenshot from a USAC group chat of Danny Siegel, current President of USAC and BU member, flashing a "Bloods" gang sign makes its rounds on social media. Siegel responded promptly that afternoon with an apology on Facebook, citing his privilege and insensitivity as causes of the offensive picture.
May 1
Voting for the 2017 USAC Elections opens on MyUCLA with a randomized ballot, which means the candidates were randomly ordered for each voter.
May 2
Students, including members of the Afrikan Student Union (ASU), attended the USAC council meeting to make their voices heard in response to Siegel's leaked gang sign photo. Chants of "Black Bruins Matter" and "Shame" were heard while Siegel apologized and reiterated his commitment to respecting the UCLA student body. Black students and allies were angry because of Siegel's appropriation of gang culture. His whiteness allowed him to display that sign with few consequences while in some Black neighborhoods, displaying it could easily lead to violence and even death. Though Siegel cited his privilege as a factor in his actions, ASU students felt they were owed reparations for his cultural appropriation and disrespect as President of USAC.
May 3
BU gets sanctioned by the election board for its failure to disclose a source of funding. Barpay, the app, was used to fund their campaign but was not included on their list of approved sources as submitted to the board. The sanction resulted in a 24-hour campaigning ban for BU, lasting from 7 a.m. on Wednesday, May 3 to 7 a.m. on Thursday, May 4 provided BU submits the appropriate documentation for their new source of funding. This sanction was later extended to the same Thursday at noon due to the link between Barpay and BU still being publicized.
May 4
A petition was filed by Alicia Frison, Brad Fingard, and Sanjana Nidugondi to further review and intensify the punishment for BU's indiscretion around their funds for the election board to review. According to Frison, the petition sought to hold BU accountable for their various missteps and rule-bending over the years.
That night, the Undergraduate Students Association Judicial Board held a hearing to review the petition. Previous year's indiscretions would not be considered, the board concluded, since they could only review what had happened in this year's election cycle.
May 5
In the morning, the judicial board ruled against the petition, stating that the election board's sanctions on BU's campaigning was punishment enough for this year's funding mishap.
At 5 p.m. in Bruin Plaza, the results of the election were announced. Four BU candidates, Arielle Yael Mokhtarzadeh for President (uncontested), Kayla He and Justin Jackson for General Representatives 2 and 3, and Aaron Boudaie for Financial Support commissioner (uncontested) made it on the USAC board. One member of the DAAP, Nicole Corona Diaz, won a seat for General Representative 1. The rest of the winners were independents: Vivy Li for Internal Vice President, Chloe Pan for External Vice President, Divya Sharma for Academic Affairs commissioner, Nedda Saidian for Campus Events commissioner (uncontested), Adriana Hardwicke for Community Service commissioner (uncontested), Malik D. Flournoy-Hooker for Cultural Affairs commissioner (uncontested), Zahra Hajee for Facilities commissioner (uncontested), Christina Lee for Student Wellness commissioner (uncontested), and Sayron Stokes for Transfer student representative.
Voter turnout for the 2017 election was 27.5% of the student body, the lowest it has been in the last 10 years and falling over 10% from 2016. This may have been due to a lack of referenda on the ballot this year. Last year, there were four referenda on the ballot which had to do with student fees, a topic of general interest to many people on campus.