Building Transnational Solidarity from Kashmir to Mindanao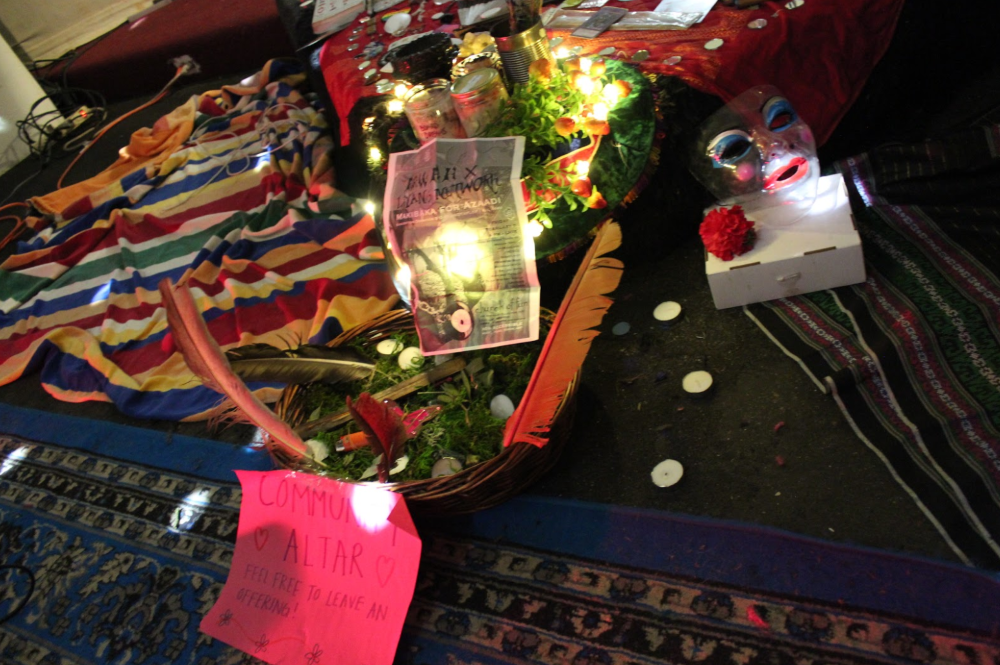 Tongva Land (Feburary 7th, 2020) On the corner of Melrose and Madison, an event centering queer and trans Black, Indigenous, and people of color (QTBIPOC) gathered. It was called Makibaka for Azaadi, or battle for freedom.
The event was organized by members of both Arwah Collective and Liyang Network. Arwah Collective is a queer/trans Desi and SWANA (South/West Asian and North African) coalition that fights Hindu fascism and the Indian military occupation of Kashmir through teach-ins and fundraisers. Liyang Network is an international advocacy network for Lumad women and children. Indigenous to Mindanao of the Philippines, Lumad people are displaced by ongoing effects of extractive industries, including militarization and, more recently, an increasing number of severe man-made earthquakes linked to open-pit mining on their ancestral land. UCCP Haran is an evacuation center in Davao City which has faced repeated military and paramilitary attacks, most recently the January 25th attack by bolo knife wielding members of paramilitary group Alamara. Although the Alamara have left the evacuation center, they continue to surveil and harass Lumad evacuees living at UCCP Haran. 
As Mango of punk duo Mirrored Fatality pointed out right before their performance, most people don't know about the atrocities occurring in Kashmir and Mindanao because of media blackouts. They went on to question the effectiveness of social media activism, saying, "Sharing some image is not enough, but events like this. This is enough." Social media activism is the use of online platforms to raise awareness and/or money about social issues. It is limited in scope because it can dilute the reality of atrocities from their human origins to oversaturated streams of meaningless images and platitudes.
Events like Makibaka for Azaadi are important for creating counter-narratives to imperialist mainstream media. The organizing that goes into these spaces kindles a small but constant fire calling for an end to imperialist violence and peace for traumatized colonized people.
More important than creating counter-narratives is providing consistent material support to struggling Indigenous front-liners. The night of performances, food, and vendors raised money for these Indigenous activists. Vegan tacos and cookies nourished our bodies. Zines centering Indigenous struggle on Turtle Island (the Indigenous name for North America) shared space with prints protesting Hindu fascism, art promoting Filipinx punks, and an astrologer reading folks' charts and tarot cards. Mirrored Fatality also sold band merchandise. From entry to merch, everything was on a sliding scale with all proceeds going toward Kashmir and Mindanao.
Mirrored Fatality began its set with members Mango and Samar calling for a moment of silence for the Kashmiris and Lumad people struggling against imperialist militarism. Their set was filled with an unbridled rage, and it was refreshing to see such rage come from non-white people. With the punk scene in LA being majority white, white rage is seen as artistic, but in actuality, it is often violent. Meanwhile, non-white rage is seen as violent, when it is actually artistic and has revolutionary potential when united against oppressors.
Screaming about the oppressive forces created by white and classed people, Mango and Samar denounced classist barriers to abundant life and lamented how QTBIPOC are in a constant state of survival and fear. Within the atmosphere of frustrated rage swirled seedlings of hope, the band and audience manifesting a wish for life outside these capitalist confines.
Besides Mirrored Fatality, other performers included Sahara Grim, Smiling Beth, The Black Mystery Nails, Front Hole Trauma, and more.
Makibaka for Azaadi offered an accessible space to dance and scream with community while acting in solidarity with struggling colonized people outside Turtle Island. As students attend parties and participate in LA nightlife, I urge you to ethically party. If you are a settler, recognize the privilege of living in America. Recognize that this country benefits off of the extractive mining and imperialist militarism displacing and brutalizing Kashmiris and Lumad women and children. Recognize that this country's wealth is built on the exploitation of Black and Indigenous people. Instead of going to an already-wealthy club with a $20 entry free, try events like Makibaka for Azaadi and put your money where it can provide direct aid.
Keep your eye out for Arwah Collective and Liyang Network for more events like Makibaka for Azaadi! Attend their events and in a small way, put your money where it can offset the violence of American settler colonialism and empire!