Discussing Anti-AAPI Hate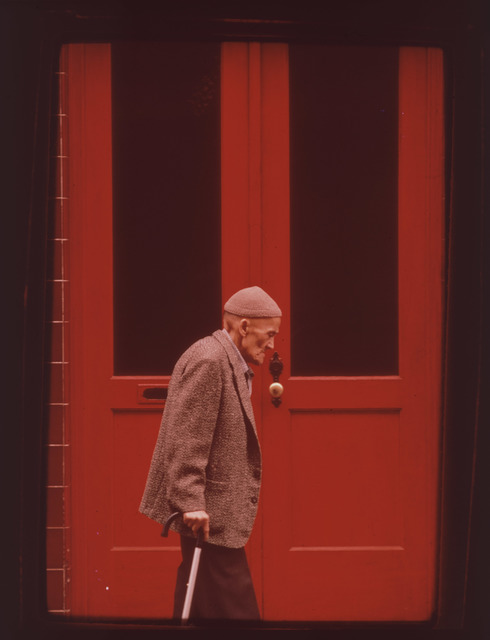 Image Description: The photo shows a Chinese elderly man with a cane walking past bright red doors. He is wearing a beige suit, dark dress pants, and a cream-colored beanie. The photo was taken in Chinatown, San Francisco in 1977.
Anti-Asian hate, rhetoric, and violence throughout the COVID-19 pandemic have reached an alarming peak, with a total of 3,795 cases reported from Mar. 19, 2020 to Feb. 28, 2021. This data was collected by Stop AAPI Hate, a nonprofit organization that tracks hate, xenophobia, and discrimination against Asian Americans and Pacific Islanders (AAPI). Violent attacks on Asian and Asian American elderly — an especially vulnerable population — and the passivity of bystanders have garnered more attention through social media in the past few months, urging us all to collectively and actively fight against xenophobia — specifically anti-Asian American and Pacific Islanders hate.
On Apr. 7, the Office of Equity, Diversity and Inclusion hosted a special panel discussion with campus partners like the Asian American Studies Center and Institute of American Cultures to help create a platform for conversation regarding these distressing issues.
Nearly 300 attendees tuned in to listen to the panelists dissect the main reasons behind anti-AAPI hate and present ways we can collectively combat it.
The construct of anti-AAPI sentiments can be illustrated by the metaphor of a fire cycle, explained Karen Umemoto, Urban Planning and Asian American Studies professor and Asian American Studies Center director. An ongoing fire requires three elements: fuel, heat, oxygen. The fuel of this current issue of anti-AAPI hate and crime is the COVID-19 pandemic that caused extreme economic polarization, the trade war with China that fueled public blame against China for job losses, the lack of accessible mental health support, and the perpetuation of the model minority image of Asian Americans. The heat — what ignites the fire — is the utterance of phrases like "Chinese virus" by former president Donald Trump, which has led to a flood of tweets with the hashtag #chinesevirus and similar anti-Asian phrases. Oxygen — what allows the fire to spread and grow — is analogous to extreme right wing organizations and hateful rhetoric on social media platforms that feed into anti-AAPI hate.
Fully extinguishing anti-AAPI sentiments requires time — just like a fire, said Umemoto.
It is important to note that anti-AAPI hate is not just a racial and ethnic issue. Manjusha Kulkarni, executive director of Asian Pacific Policy and Planning Council (A3PCON), presented data from the Stop AAPI Hate National Report that showed that women have reported 2.3 times more hate incidents than men.
Asian immigrant and Asian American women face other forms of gender discrimination like fetishization and objectification, which have arguably played a role in the tragic Atlanta shooting on Mar. 16, 2021, in which six of eight victims killed were Asian women.
May Sudhinaraset, associate professor at UCLA Fielding School of Public Health, focused on the challenges of immigrant women, which she has personally witnessed through her own mother. As a daughter of Thai immigrant parents, she wondered why social support systems did not seem to exist for people who sounded and looked like her family.
Additionally, many Asian immigrants and Asian Americans who need mental health support are not properly diagnosed or do not reach out for help due to the stigma and taboo surrounding mental health in their communities, noted Sudhinaraset. The lack of cultural awareness in medicine and the "Western gaze" through which psychiatrists interpret symptoms can leave many patients with clinical depression untreated. For example, many non-European languages do not have exact equivalents to the word "depression"; cultural expressions like "heartache" and "thinking too much" have the same meaning but may not fit within the symptom criteria that American clinics use to diagnose depression.
As alarming as this past year's anti-AAPI crime statistics are, these xenophobic and racist verbal and physical attacks have always existed. We are simply more aware of them now as light has finally shined on these attacks and as the AAPI community has become more inclined to report their experiences, said Kulkarni. Some Asian parents have told their children that they experienced some form of harassment in the beginning of and prior to 2020, but they were not comfortable enough to share it, Kulkarni recalled from hearing personal stories. Only when more news coverage centered on these anti-AAPI attacks did more people feel that their concerns were legitimate, empowering them to share their experiences.
The heterogeneity of the AAPI community presents the challenge of the lack of communal solidarity as well as the inaccessibility of support for certain groups within the AAPI community, said Sudhinaraset. She explained how the model minority myth has "benefited" us in some ways (e.g., higher education expectations for Asian American students), but it has done much more harm by perpetuating stereotypes, rendering certain groups like South Asian Americans invisible, and raising the disparities in education level and income across different AAPI communities.
Constant worries about family members and loved ones getting attacked places a toll on AAPI students' mental health, said Angela Li, a UCLA student and director of the Asian Pacific Coalition. She noted the importance of educating yourself first before reaching out to student organizations for more information because these organizations are currently at capacity.
This means that rather than relying on others to inform you about current events and ways to help, many of us have the means to instead take on that responsibility ourselves. As with any social movement and fight against injustice, we must offer long-term, sustainable support rather than momentary reaction, explained Li.
Combatting anti-AAPI hate undoubtedly requires collective effort within both AAPI and non-AAPI communities. The UCLA Asian American Studies department is currently working on making Asian American Studies universally available, free, and online so that any teacher and student gain a better understanding of AAPI culture and history, said Umemoto.
As students, we can listen to each other and focus on the similarities of what we're advocating for. Cross-community solidarity is especially essential to combatting white supremacy and xenophobia as well as advocating for less policing and more community-centered approaches, said Li.
Communication between AAPI parents and their children and between AAPI youth and elderly is crucial to spread awareness and ensure the safety of more vulnerable populations like AAPI elderly—many of whom face language barries.
AAPI students and community members must also take care of their mental health and overcome the stigma of reaching out for emotional and mental support. UCLA and other institutions will hopefully offer more healing spaces and platforms for AAPI students.
Bonding between different cultural groups can be as simple as sharing a traditional meal, proposed Caroline Kong, chair of UCLA Asian Pacific Islander Faculty & Staff Association.
So yes, let's dine together, and learn.