Earth Month 2017 Sustainability Speaking Panel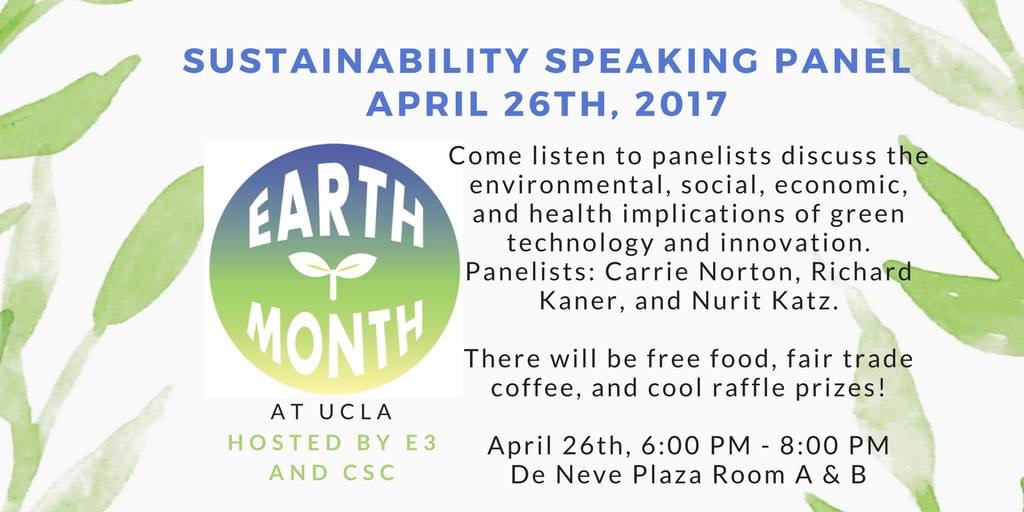 Image courtesy of Earth Month at UCLA
On April 26, Ecology, Economy, and Equity (E3) and the Community Service Commission hosted the 2017 Sustainability Speaking Panel in De Neve Plaza. This is the sixth annual Sustainability Panel, organized in honor of Earth Month at UCLA. The theme of this year's panel was innovation. This lead into discussions of sustainable business practices and green technology.
The panel consisted of Richard Kaner, a distinguished chemistry professor at UCLA, Carrie Norton, CEO of Green Business BASE CAMP, an entrepreneurial education company and co-founder of the Sustainable Business Council of Los Angeles, and Nurit Katz, UCLA's first Chief Sustainability Officer who also founded UCLA's Sustainable Resource Center.
A main topic of discussion was sustainable business practices and to what extent businesses have a moral imperative to protect the environment. Katz mentioned economist Milton Friedman who, in the 1970s, wrote that the only social responsibility of a business is to make profit. However, she argues that times are changing and that businesses are becoming more environmentally and socially responsible. One such practice is the accounting principle of the triple bottom line which not only considers profit, but social and environmental impacts as well. In addition to accounting and financial practices, businesses that strive to be environmentally sustainable should also incorporate the principles of sustainability into its corporate culture. In an effort to counter the oft-accepted norm of the overworked and exploited employee, Norton advocated for "mindful entrepreneurship." This encourages the health and well-being (the sustainability) of its workers, because only healthy individuals can work towards a sustainable environment.
Additionally, panelists also discussed the implications and possible drawbacks of green technology. For example, turbines generate wind power but they are also extremely noisy and harmful to surrounding wildlife. Another example of green technology discussed was a highly absorbent membrane that helps clean up oil spills, developed by Kaner and his lab. An audience member asked whether oil companies have ever pushed back against new innovations in technology, with the assumption that the green technology industry and oil companies are working against each other. However, Kaner said that oil companies are actually very supportive because these green technologies help clean up the oil spills they caused. He acknowledged that this might mean green technology can be seen as enabling oil industries to continue their practices, but argued that these membranes still help the environment in a tangible way. Additionally, Katz advocated for those in green technology to conduct life cycle analysis, which assesses the environmental impact of every stage of a product, from raw material extraction to disposal and recycling.
In addition to women's leadership in green businesses, the environment is also a feminist issue. The broader context of climate change disproportionately affects women, especially those in poorer countries and rural areas. Ecofeminism is also an entire school of feminist thought that connects the exploitation of both women and nature.
This panel is significant because it represents a significant effort towards sustainability within the business world, which serves as a model for young leaders who are interested in opening environmentally responsible businesses. Students interested in sustainability events and getting involved with sustainability research on campus can visit the UCLA Sustainability website for more information.