Intentional Storytelling: Global Identity in Film and Popular Culture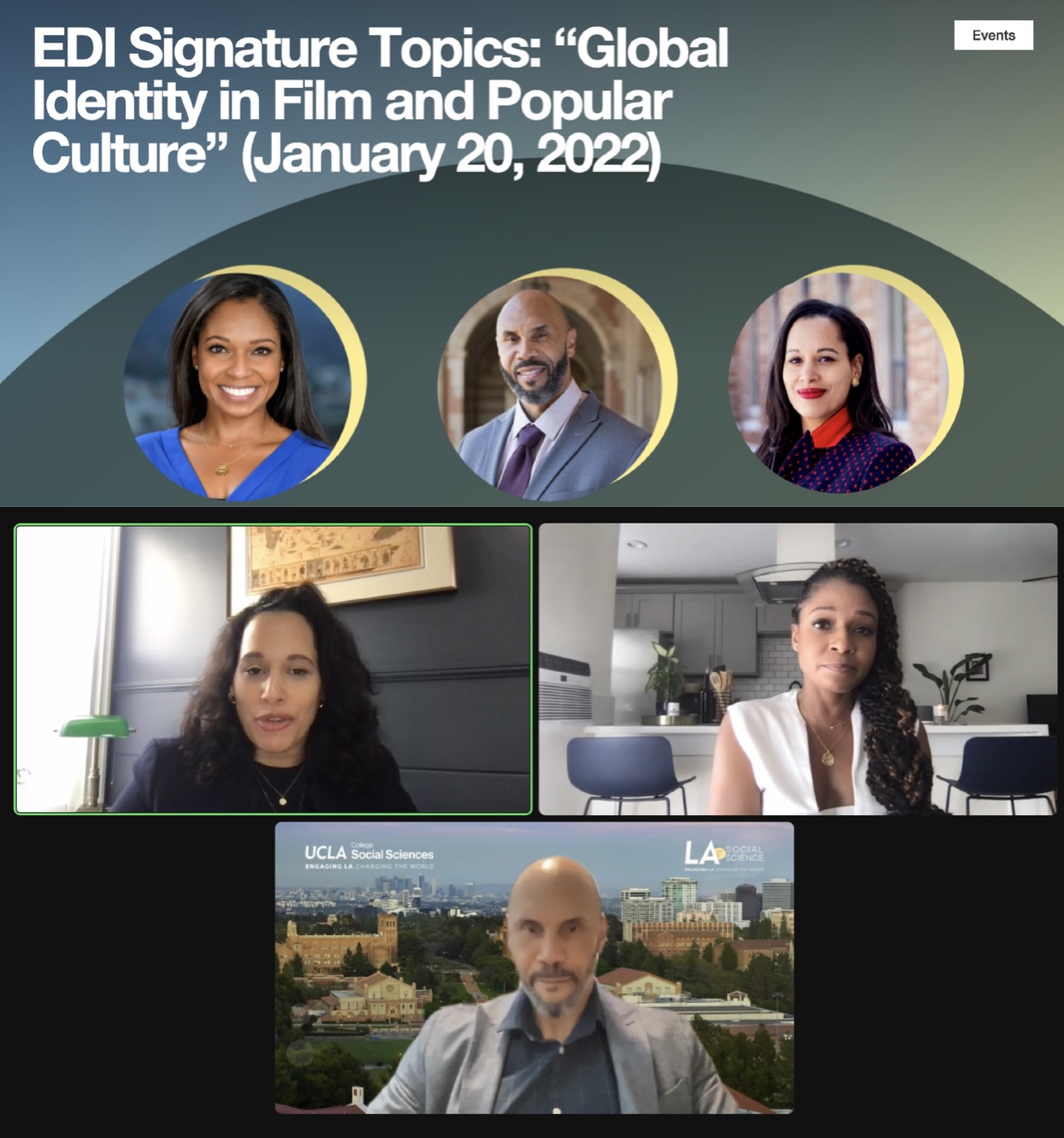 Image Description: A screenshot of the webinar shows three speakers: moderator Anna Spain Bradley (top left), Jeanell English (top right), and Darnell Hunt (bottom). A header at the top of the screen shows the speakers' headshots and the title of the event, which reads "EDI Signature Topics: 'Global Identity in Film and Popular Culture' (January 20, 2022)."
For as long as the film and entertainment industry has existed, storytelling has always been at its heart. As viewers, we develop a deep love for many aspects of these stories, especially the characters who live through them and the complex worlds they exist in — regardless of if they may be different from our own. Not only has it become increasingly important to tell a wide variety of stories centering different intersections of identity, but also to ensure that the people telling them come from qualified and diverse backgrounds.
Jeanell English and Darnell Hunt understand the significance of exploring human identity through film and popular culture. In an online webinar hosted by UCLA's Office of Equity, Diversity, and Inclusion (EDI) on Jan. 20, 2022, English and Hunt joined moderator Anna Spain Bradley (Vice Chancellor of the Office of EDI) to discuss the importance of global identity and telling diverse stories through film and popular culture. The discussion, which was part of the office's EDI Signature Topics series, was centered around English and Hunt's past experiences in the industry, and most importantly their hopes for improving the future of film and entertainment.
Both English and Hunt are prominent leaders in the field. English started her career as a diversity, equity, and inclusion specialist, working to implement cross-cultural education, unconscious bias training, and global awareness to everyday spaces. Later, she worked for Discovery Inc. in sports production and lived all across the world, spending the most time in Europe and Asia. Most recently, she was offered a position with the Academy, the organization known for hosting the Oscars each year. English stated that working with them has been vital in her journey, as she has had the chance to improve the culture and accessibility of film on an industry level.
Hunt began his career in journalism and grew his passion for equity when he recognized that most people working in the behind-the-scenes newsrooms with him were white, even if news anchors themselves were diverse. He became interested in sociology, returned back to UCLA to earn his PhD, and worked extensively on projects on race and media with the U.S. Commission of Civil Rights to highlight an industry perspective. Today, he is the dean of Social Sciences at UCLA, a professor of Sociology and African American studies, and works as a contributor to annual reports regarding equity and diversity in Hollywood.
During the webinar, the panelists first discussed the current and pressing challenges of film and media. Hunt referenced his work with the Hollywood Diversity Report, which publishes two separate reports each year for film and television. He stated that casting-wise, television is further along than film — portrayals are getting more and more diverse, especially due to the popularity of streaming services. The business model for streaming services is different: they aim for subscribers and loyal viewers over ratings, and are more accessible for audiences all across the world. Therefore, streaming services have made it a larger priority to tell diverse stories that resonate with a wide variety of viewers.
Film didn't have the same driving force as television did — that is, until the pandemic. With many viewers opting to watch movies from the comfort of their own homes, many recent films have been released via streaming services. As a result, Hunt explained that the Hollywood Diversity Report saw a large increase in on-screen diversity in 2021 films, and that casting is the most diverse it has ever been.
Despite this win, Hunt emphasized that there are still many problems regarding diversity behind the scenes. Executives and CEO positions are dominated by white people, meaning they make the vast majority of decisions related to directors, budget, production, and casting. While viewers' demands have made on-screen diversity economically beneficial for filmmakers, systemic racism within the industry has made the lack of diversity behind the scenes difficult to challenge. Additionally, it has been easier for the industry to hide this gap as us viewers only consume the final product.
English agreed, highlighting how she has tried to focus on inclusivity and accessibility in her work, going beyond just on-screen diversity. She acknowledged that the system was built to discriminate and difficult to change, though her work with the Academy has sought to address some of these systemic challenges. For example, they have developed new representation and inclusion standards, increased outreach, and changed the marketing and distribution of films, among other initiatives. Overall, she emphasized that the standard for film companies must increase and that many audiences and professionals are working to hold them accountable. This level of responsibility is essential for storytelling — it is critical that storytellers present communities as authentically and respectfully as possible.
Bradley chimed in, emphasizing that even on-screen representation is often limited to racial diversity. Especially when it comes to disabilities, gender identities, and sexual orientation, there are still human identities who deserve quality stories but are left underrepresented. The panelists agreed that openings for all types of identities must be included in the conversation, from production, to casting, to executive suites, and everything in between.
While the film and entertainment industry has brought forth important changes in casting a wide variety of racial identities, there is still more progress to be made. Stories centered around different identities beyond racial diversity must be given the opportunity to be told, and increasing inclusion and equity in all roles involved in the storytelling process must be a priority.
Luckily, English, Hunt, and Bradley are optimistic. They see the road ahead as a promising opportunity to learn, grow, better the industry, and tell even more touching stories that are such an important part of viewers' own lives. After all, English said it best: "Storytelling is a place where people learn."