Norway's KOSO is a Badass Girl's Club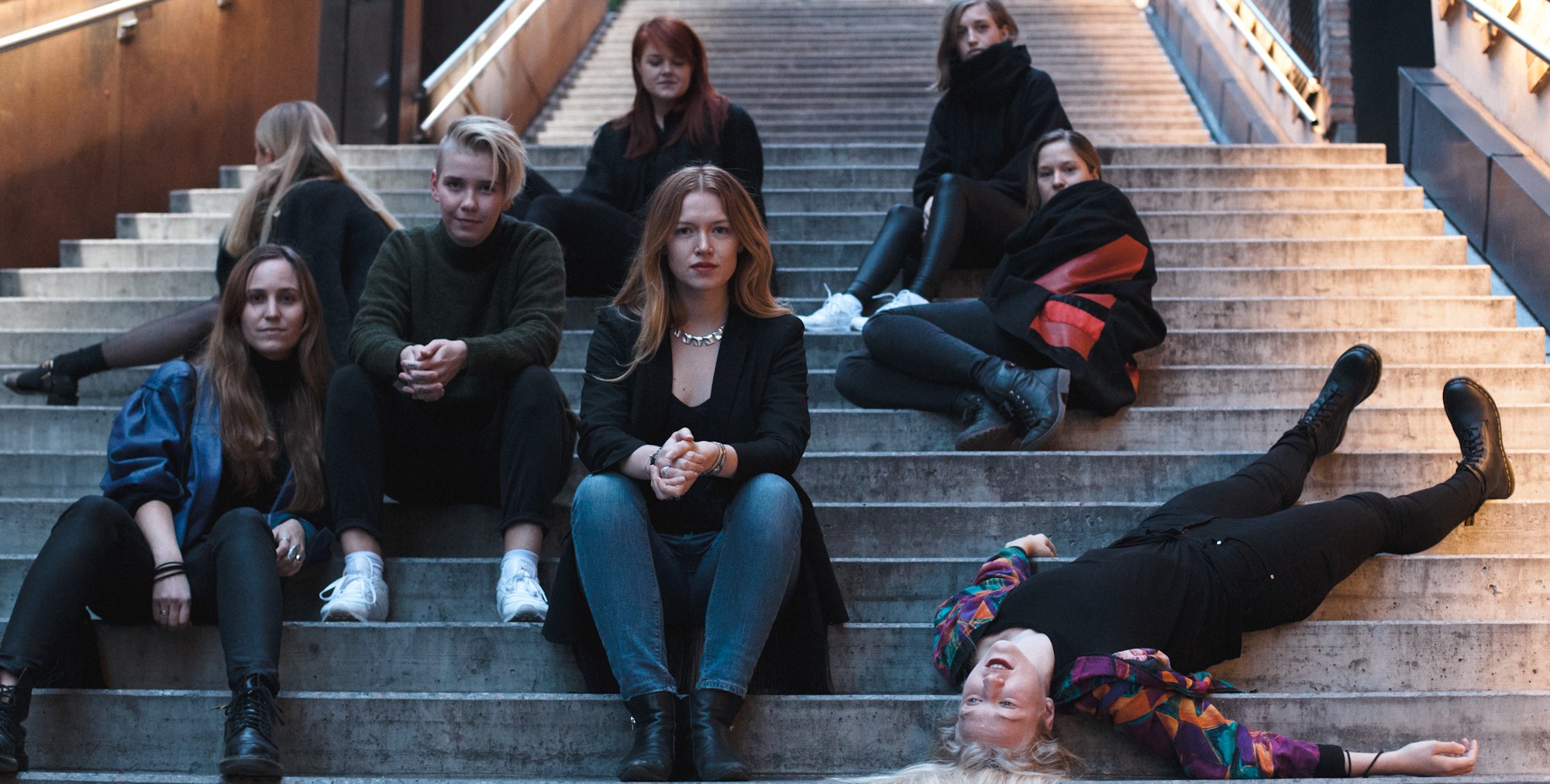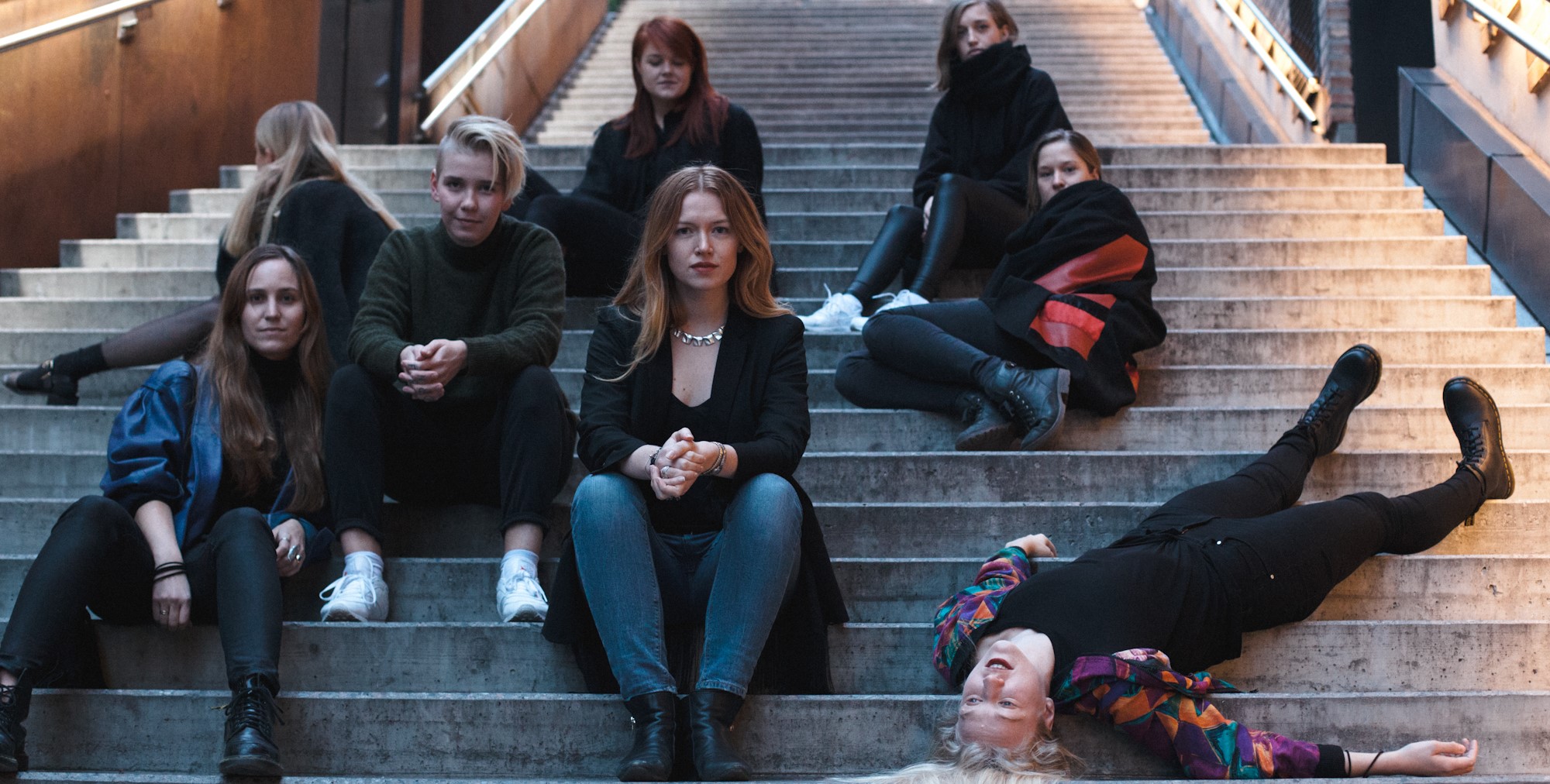 Image: KOSO (in picture- Sara Angelica, Ida Frømyr Borgen, Marit Soldal, Kristine Helliesen, Kine Sandbæk Jensen, Anniken Jess Iversen, Amalie Kasin Lerstang, Kristine Meling Enoksen) by Jorun Eikill Veflen / Courtesy of KOSO
It's pronounced "ko-so." I would know; I was corrected several times.
The all-female music collective took their name from the Japanese word kosokososuru, which translates to  "lurking" in English. Kine Sandbæk Jensen, the collective's founder, discovered this expression upon traveling to Tokyo in 2013 for the very first time. Kine immediately felt drawn to the word. She recounts, "We didn't want to explicitly say that we had a feminist agenda – we just wanted to sneak it in, so that's how the lurking and the kosokososuru came about." This six-syllable name was over time shortened and shortened until Kine, and her cofounder Marit, came to rest at KOSO. They began as an online publication, with a spotlight on female talent, and this creative environment gave birth to the KOSO collective.
Kine was in LA this past month with the KOSO clan, and I got to chat with her about the female movement in the industry, the collective, and had her on my UCLA Radio show. From the moment Kine first spoke, her quiet, fierce and wise demeanor set the scene for Kine's story of KOSO's cool, confident takeover of the music scene.
The KOSO collective met somewhat haphazardly, as a group of dazzlingly unique women with skill sets all in different fields.
To tell the story of a few of the members: co-founders Kine and Marit Soldal met in student radio while in university in Oslo. While in school, classmate Anniken (Anana) Jess Iversen inspired Kine to begin producing her own tracks. Out of mutual respect for one another's talents, this group of lovely ladies formed their collective.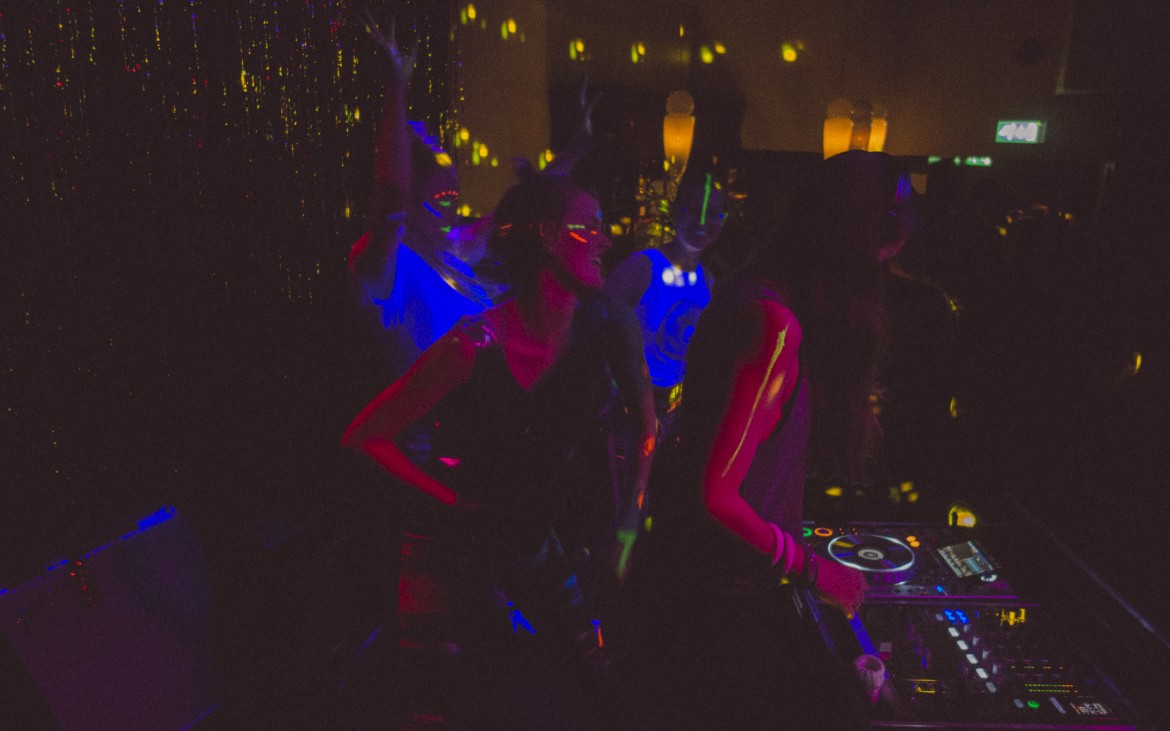 A KOSO club (in picture: dancers from Kompani Kunstgress and DJ Soldal). Image courtesy of KOSO
Kine envisions KOSO as more of an experience – record label, night club, music output and art collective.
In 2013, KOSO created a club concept — a creative space where they could host events monthly. Here, they could exhibit their films, play their tunes, and fill the space with their ideas. KOSO prizes the experiential aspect of their shows, which include different mediums: art, design, music, film, dance. They adhere to the Scandinavian minimalist aesthetic, and plan to expand on this as they work with top innovative designers, such as Lund Projects.
The artists and members of KOSO pride themselves on teamwork: there's no competition among the many creative minds in the collective. Kine reports that KOSO values their environment of collaboration. She said, "We have to not put women against each other, but rather as a team."
"Everything kind of came together when we decided to become a label," Kine summarized. KOSO music videos, such as Sara Angelica's "Run" (Produced by Pieces of Juno), combines their dance collective with their musical skills.  KOSO was thus able to connect the artists, filmmakers, dancers, etc. in a showcase of talent.
What sorts of differences can we expect from an all-female record label versus a male – dominated record label?
"There's no excuses," Kine laughed, "I feel there's a lot of excuses being made around females." Kine referenced the popular belief that labels create and prop up female artists, as well as the common assumption that there are always male counterparts to female artists. These women are finally set free from the sales pitch of sex sells, which is replaced with independence sells; they are free from the hypersexualization of women in pop culture.
Kine argues that "now that we are in this new time where women take more control over their artistic output, we have a whole new world of sounds, a whole new way of seeing the world because we are in full control."
Emerald deep water pop, trip hop, R&B, pop noir, Norwegian rap—these are all KOSO genres.
In a few words, this is how Kine describes the sound KOSO has put out thus far. "All the signed artists have the same background: singer/songwriter, but we are all into soundscapes [with] a touch of acoustics in there." While Anana's deep water pop "makes you feel like you're beneath the ocean almost," giving off an emerald green energy, Sara Angelica creates a more "trip hop sound with a drop of R&B," Kine explained. Pieces of Juno makes a rougher, more alternative pop noir.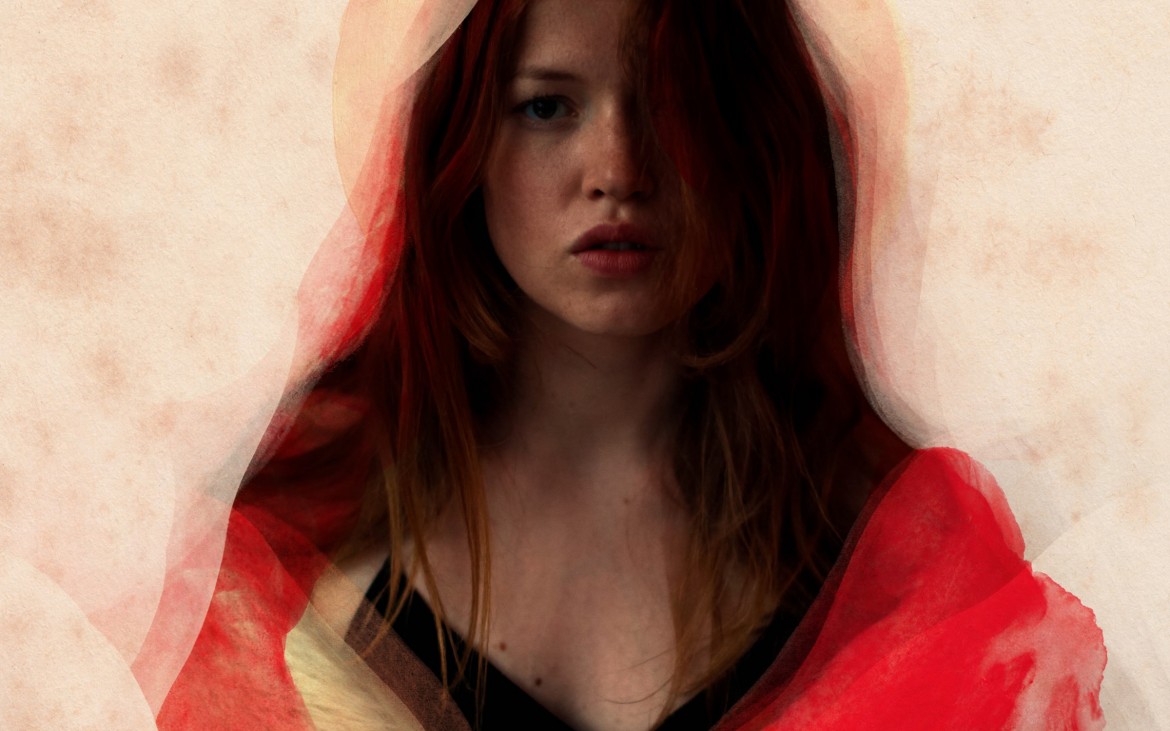 Image: "Pieces of Juno" by Victoria Ulrikke Iles
This year, KOSO will be releasing music by a female Norwegian rapper, as "something completely different." Introducing new and immensely talented female voices to the rap scene – traditionally heavily male-dominated – goes a long way towards achieving KOSO's feminist agenda.
The past few years have seen an increasing number of women banding together to form collectives.
Kine says that from the time she lived in LA in 2014, to today, she has seen a tremendous increase in the number of female DJs around. Kine discovered Unspeakable Records and was introduced to Dot that year at a show. As an all-female collective, Unspeakable has provided a sort of business model for KOSO and many other collectives.
The Ugly Truth: less than 5% of music producers and sound engineers are women.
"I think it has all to do with role models and how we are brought up," Kine said.  In the world of today, Kine pointed out that gendered jobs are very much pushed on women. She did not pursue music production until much later in life, when she was inspired by her fellow female classmates, who were making all their own beats. "When you don't see any [female role models], you think maybe this is not for me. That's what we try to do with KOSO, be very open and explicit about what we're doing, in that everything we do is made by women and be good role models for other girls."
This shocking statistic is even true in Norway – a country that prides itself on gender equality.
Although Norway seems to pursue greater gender equality, their successes do not greatly extend into the world of music. Kine agreed this should stand as a shock: "It's very interesting actually because that says a lot about where we are at, gender – wise, in the total music industry."
We discussed the absence of gender equality in music festivals and bookings. Norway has taken the first step by ensuring that the lineup for Oslo's biggest music festival,  Øyafestivalen, was 50-50 – a move that shifted the spotlight to the best artists of that year, including women in the equation. Kine commented, "That's a really cool thing, because it's not that there are no good female artists – that's bullshit."
As Kine pointed out, the conversation surrounding feminism is changing today.
Kine firmly believes feminism should not be a polarizing stance, that pitts women against men, but rather a community effort towards achieving equality.  In regards to starting a female collective, however, Kine said, "We had to make a stand: we had to say this is girls club only. That's a polarization but you have to make a stand to make a difference." Kine believes the heavy discrepancy between the number of men versus women in the industry vastly affects the output of music: "Right now it is very important to talk loudly about these things because the music industry is so unbalanced."
Changing the language in music journalism surrounding female artists is a necessary step towards equality. Kine explained, "My biggest issue is that I feel like as women we always have to prove our self-worth." Breaking down the assumption that female artists are simply a pretty face and combating the general skepticism regarding women doing their own production will change the direction of this dialogue. Kine explained, this is mostly seen in the work of journalists who are "downgrading women in the language" they use to discuss female artists' music. Kine illustrated, "The language for female artists has more sweet descriptions, making her more harmless than empowered by her art, [and] more excused." Articles about female electronic pioneer Grimes are swimming in sugary phrases like "synth pop princess."
There is tremendous power in the way we write about music made by women, and having a conversation about this power is necessary to alter the mainstream narrative.  "I think we are seeing a big change right now." Kine said, "Just talking about it is a good sign."
Still, even in 2016, an all-female collective receives mixed reviews.
Kine expressed that people have been "very receptive" to their music and vibe. "We thought this could come out the wrong way – being explicitly all-female. We have had a couple reactions, nothing serious, people going 'Isn't this discrimination?'" But, Kine explained, "It's not about polarization. You have to take a stand to get your message out there and make a difference, to just open the [world to] talented musicians. Our main goal is to make great music."
Their message is truly catching on in a positive light, as they have been taking the international music scene by storm with articles in American Vice's Noisey, UK blog The Line of Best Fit and Music Norway. Kine concluded, "Don't chase; don't run. Be receptive to whatever happens or falls into place."