Quick Guide to Renter's Rights: What You Need to Know Before Renting in Westwood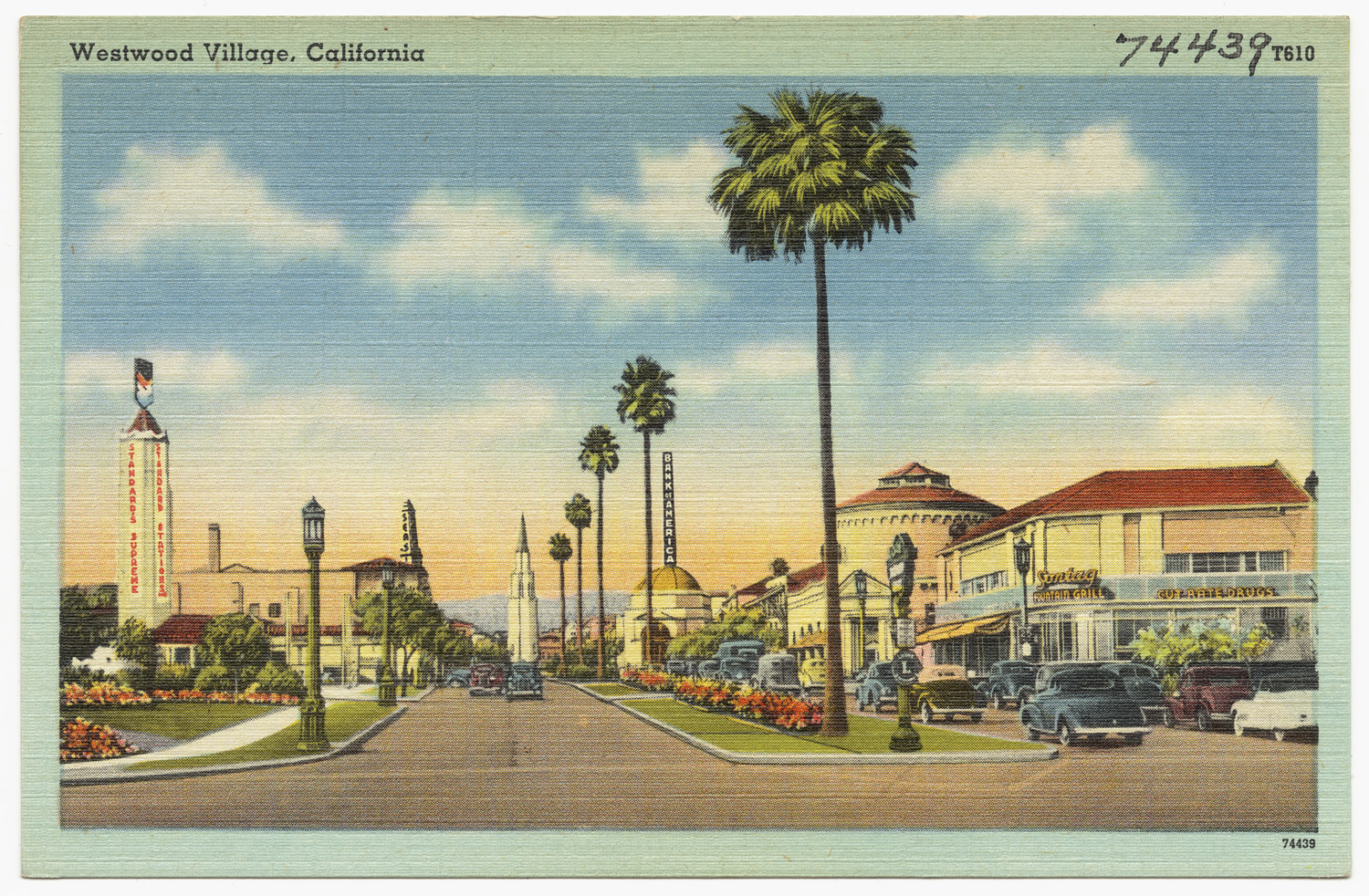 Image sourced from the Tichnor Brothers Collection at the Boston Library. 
A vintage illustrated postcard titled Westwood Village, California. It is an idyllic scene with vintage cars and sunny skies.
Too many of us Westwood renters have apartment nightmare stories, whether it's with creepy neighbors, mold, or utterly unreasonable landlords. Fortunately for us, there are some available resources and laws for renters out there that can protect you, your deposit, and quality of life as many of us are forced to pay Westwood's suffocatingly high rent rates.
Here is a quick guide to general rights and tenant tips you should know before entering into a lease in Westwood: 
SEARCHING FOR SPACES:
Before we dive into our rights, here are some tips for finding and vetting a prospective apartment.
First, get an early start. Because Westwood is one of the only "affordable" neighborhoods within walking distance to UCLA's campus, leases get signed and taken fast. As soon as you know your potential roommates, desired living situation, and budget, start walking around Westwood, making notes of any buildings you like and lease or rental signs posted. Also make sure to do the same online. Vist rental advertisement websites, such as Zillow or Apartments.com to see what is posted, price ranges, and more photos of the insides of apartments.
When you begin to get an idea of the areas, streets, and buildings you prefer to live in, visit them. This can be done in various ways:
To schedule a formal visit, you can call the building manager or phone number posted in rental advertisements or on the building itself. It is always good to ask about the leasing process, lease length and terms, building amenities, communal spaces, wifi providers, utility costs, parking, maintenance processes, pets, subleasing abilities, and anything else that you may find important. If you are able to tour with the property manager or landlord, make sure to also look out for any apartment damages or possible needed repairs. Don't be afraid to ask if they will be repaired before the new lease begins. This conversation will also help you to get an idea of the entity from which you are renting and any potential red flags with this entity that may impact your experience in the apartment.
Another way to less formally explore buildings and apartments is by knocking on doors! With yourself and a few friends or your potential roommates, knock on doors and politely ask to speak with the residents. This is a perfect opportunity to candidly ask current residents about the landlord, apartment quirks, and their overall experience living in the space. They also may be able to help you secure the lease as many landlords and property managers go to current residents first to find new lease applicants or do not even advertise available leases. However, if doing this, never enter into a situation or stranger's apartment alone. Go with at least one other person or a small group and preferably during daylight hours. Do not expect to be let in and please be respectful of the residents' space, time, and willingness to speak with strangers.
And finally, when you have narrowed down your potential rentals, be sure to walk through one final time with the actual landlord or property manager to revisit any damages and possible repairs. See if windows open, faucets work, the oven turns on, or if the rugs have any damages. Be sure to document any concerning or noticeable issues with photos and in writing. If the landlord agrees to have any issues fixed before move-in, make sure this consensus is included in your lease or recorded in a written agreement.
RENTAL APPLICATIONS:
Now that you have found your dream apartment, you should apply for the lease. All landlords, or property managers have different processes for applying to a lease. This process is known as the rental application and is not a binding agreement to sign the lease. Before applying, ask about application fees and timelines. It is important to note that oftentimes applications come with fees, collected to cover the costs of credit reports or background checks. This can potentially be reduced if you have a recent credit report, however this is still up to the landlord. Be sure to keep track of all fees by asking for written payment requests and receipts from the landlord. Timelines are important to maintain in case you apply for other leases or need to have certain information, such as paychecks or important documents from home that may take some time to gather, before applying.
Sometimes landlords will have application deadlines for units or expect that it is completed in a timely manner. Expected application materials could include information for a credit check and background check. This may require that you submit current or previous employer information and government identification documents for anyone who will be signing the lease, including co-signers. This process helps the landlord ensure that prospective tenants are able to pay the rent.
DEPOSITS:
There are two types of Deposits. Holding Deposits can be requested and collected as a part of the rental application process. This is only if the landlord or property manager agrees to take the listing off the market while the application is being processed. This also may be held until after the lease is signed and the renter or tenant moves into the unit in case anything changes in between the signing of the lease or rental agreement and the actual move in date. If there is a holding deposit and your application is not approved, the holding deposit must be returned in full. If your application is approved, the landlord must be transparent about how those funds will be used: either put towards the lease deposit, first month's rent, or refunded in full. If your application is approved and you choose not to sign the lease or rental agreement, the landlord may be entitled to keep some or all of the holding deposit. If a holding deposit is required for the application, be sure to ask beforehand about all possible situations listed above. In all situations, ensure there is an agreement in writing and receipts of any transactions. These written agreements and physical receipts can protect you in case there are any future disputes.
The second type of deposit is known as the Security Deposit. This is collected with the signing of the lease or rental agreement. The security deposit can only be used by landlords for lawful reasons and under no circumstances can be described as "nonrefundable" in your leasing agreement. California law prohibits excessive security deposits and clearly outlines the maximum deposit for both furnished and unfurnished units. For furnished units, the security deposit cannot exceed three months' rent, unless the tenant has a waterbed bed or liquid-filled bed in which case the deposit cannot exceed three and a half months' rent. For an unfurnished apartment, the security deposit cannot exceed two months' rent unless the tenant has a water bed or liquid-filled bed, in which the deposit cannot exceed two and a half months' rent.
The landlord may keep the security deposit, according to California Civil Code section 1950.5,
"If you owe rent;
You leave the rental less clean than when you moved in;
You damaged the rental beyond normal wear and tear;
You have made alterations and did not return the unit to the original condition;
Or you fail to restore personal property (such as keys or furniture), other than because of normal wear and tear."
If none of these requirements are met, then the landlord must return the entire amount of the security deposit at the end of the lease.
RENTAL DISCRIMINATION RIGHTS:
California law also protects prospective tenants and established tenants from discrimination. According to the California Government Code § 12921(b), the Unruh Civil Rights Act, the Ralph Civil Rights Act of 1976, the Disabled Persons Act, the California Fair Employment and Housing Act, the Federal Fair Housing Act, the federal Americans with Disabilities Act of 1990, you are protected from possible discrimination during the application process and after the lease is signed. Protected characteristics include:
Race.
Color.
Ancestry
National origin.
Religion.
Disability (mental or physical).
Sex, gender.
Sexual orientation.
Gender identity, gender expression.
Genetic information.
Marital status.
Familial status.
Source of income (including housing vouchers).
Military or veteran status.
Citizenship.
Immigration status.
Primary language.
Age.
Medical condition, and other personal characteristics such as physical appearance.
A landlord is allowed to ask for certain documents to verify income or residency, but cannot deny an applicant or harass a tenant based on this information.
There is a provision to these protections if the space to be rented is in an owner-occupied home with no other tenants. These living arrangements are not protected by the California Fair Employment and Housing Act of the federal Fair Housing Act (1959). In this case, the owner still cannot orally or in written advertisement describe preferences or desired characteristics of a prospective tenant based on all of the same protected groups and characteristics listed above. Luckily, there are few spaces like this in Westwood.
The primary way to resolve discrimination issues requires legal action. However, there are many resources in California if legal action is needed. For example, you could file a complaint with the California Department of Fair Employment and Housing, contact the U.S. Department of Housing and Urban Development, or use the ​​Legal Aid Association of California's directory to find resources for free legal advice and help. For a detailed explanation of what discrimination looks like and the legal processes involved in discrimination cases, visit the Civil Rights Department of California's page on housing discrimination.
LEASES:
A lease, also known as a rental agreement, is the written agreement outlining the agreed rental rate, terms, and conditions for the prospective tenant to establish tenancy or residency in the landlord's available unit. The terms and conditions detailed on the lease should include the full names of both the landlords and tenants, the address of the unit to be rented, information about yard maintenance (if applicable), utility payment information, pet guidelines, the amount of people allowed to live in the space, information about making repairs, and cover the length of the rental agreement, the rental rate, the dates rent is due and how it should be paid, any health and safety disclosures, late fees (if applicable), and the parameters and amount of the security deposit. Additionally, the lease should include any promises the landlord made prior to providing the lease, namely promises about repairs and written statements about when those promised repairs will be completed. It should also include contact information for building or property managers (if applicable) and the information about the actual unit owner who would be authorized to receive any legal documents regarding the agreement or unit.
Before signing the lease, it is in your best interest to read through it entirely, making sure you understand and agree to all parameters outlined in the document. UCLA even offers student legal service resources that can help you review contract agreements such as leases. Do not be afraid to consult legal advice or ask the landlord questions if any clauses are unclear. This is a legally binding document for both you and your landlord and secures your tenancy in the unit. That being said, the rental agreement or lease implies that each involved party interacts with one another with "good fair and fair dealing." This is a legal term that obligates each party involved in the signed contract to follow the terms of the contract in a way that is reasonable and does not interfere with the purpose of the contract. However, if the lease is somehow violated or broken by the landlord in an unlawful or unjust way, you retain the right to sue the landlord for compensation.
PAYING RENT:
It is important to pay rent on time. Not only can late rent damage your credit history, it can enable your landlord to seize your security deposit. Some landlords have a grace period before late fees are charged for untimely rent. However, it is best to avoid this situation entirely. It always helps to set an alarm or calendar reminder in the days leading up to the rental due date so you can remember to pay it early or on time.
LANDLORD BOUNDARIES:
Boundaries are important in any relationship, and thankfully the State of California guarantees certain boundaries between yourself and the landlord. If a landlord would like to enter your unit, they must provide reasonable notice and can only enter during normal business hours unless otherwise allowed by the tenant. Their notice must state expected time and reason.
The only cases a landlord can enter your unit with notice, according to California Civ. Code § 1954 and California Civ. Code § 1940.5, are as follows:
"In an emergency;
When the tenant has surrendered or abandoned the rental unit;
To make necessary or agreed-upon repairs, decorations, alterations, or other improvements or supply necessary or agreed-upon services;
To show the rental unit to prospective tenants, purchasers, or lenders;
To provide entry to contractors or workers who are to perform work on the unit, or to conduct an initial inspection requested by the tenant before the end of the tenancy;
If a court order permits the landlord to enter; to install, repair, replace, maintain, or read the submetering of water service;
To inspect elevated balconies or decks;
To inspect an area where the resident is engaging in personal agriculture;
To repair, test and/or maintain smoke detectors or carbon monoxide detectors;
If the tenant has a waterbed, to inspect the installation of the waterbed when the installation has been completed, and periodically after that to assure that the installation meets the requirements of the law."
The only time a landlord is justified in entering your unit without notice, according to the California Civ. Code § 1954, is: to respond to an emergency; the tenant moved out or abandoned the rental unit; the tenant is present and consents to the entry at the time of entry; the tenant and landlord agreed that the landlord will make repairs or supply services, and agreed orally that the landlord may enter to make the repairs or supply the services. The agreement must include the date and approximate time of entry, which must be within one week of the oral agreement.
If the landlord is selling or showing your unit to prospective tenants, the law requires they give you reasonable notice with visitation information, and during normal business hours unless another time is granted by yourself, the tenant. After the viewing of your unit, the landlord must also leave written evidence of their visit, either through written communication or by leaving a business card.
SUBLEASING:
Oftentimes, many of us have to sublet our spot in an apartment, meaning we rent our space in a unit to someone not on the original lease who would pay rent to the leaser who in turns pays rent to the landlord. In cases of subleasing, the tenant is fully responsible for the actions and payments of the subletter, as if they were the landlord for the subtenant. The subletter is known legally as the subtenant.
Some landlords can prohibit subletting in the rental agreement. If they do not, it still is helpful to notify them or discuss this situation as you will be responsible for any damages and missed payments even while subletting your space.
Between yourself and a subtenant, you should create a written sublease agreement similar to that of your own rental agreement. This should be signed and written in case of any disputes. You as the tenant can only make an agreement between yourself and the subtenant, so you would still be responsible for payments and damages with your landlord even when subletting the unit to a third party.
REPAIRS:
There are repairs that the landlord is solely responsible for and also repairs that the tenants are solely responsible for. Damage that makes the unit legally uninhabitable, meaning not suitable for human occupation according to California's state and local health and building codes, must be attended to by the landlord. The landlord is legally responsible for ensuring their units are habitable and up to code. Additionally, they are responsible for any repairs agreed upon in the rental agreement or lease. If damages occur that you feel should be fixed by the landlord, always make sure to document the issue with photos and keep any written communication regarding the issue.
The tenant is responsible for any damages incurred to the rented space by themselves, pets, or guests. Responsibilities of the tenant include general cleanliness and maintenance of the rented unit, proper use of all utilities, using spaces as intended, preventing damage of all included spaces and included appliances, and properly notifying the landlord of any damaged security features, namely locks, windows, and smoke and carbon dioxide detectors.
It is important to pay attention to any details about the responsibility of repairs between yourself and the landlord in your lease or rental agreement. These agreements are "enforceable" if outlined on the signed lease or rental agreement. Additionally, tenants are occasionally eligible for reduced rent if they agree to be responsible for more intensive or costly repairs and maintenance. However, this must be outlined in a written agreement or on the lease and similarly be agreed upon by all involved parties with "good fair and fair dealing."
EARLY LEASE TERMINATION:
There are a few justifications to end your lease early as a tenant. First, there are specific exceptions that allow tenants who are victims of domestic violence or other crimes to end tenancy early without legal or financial penalty from the landlord. If a victim of domestic violence, sex trafficking, stalking, sexual assault, or elder/dependent abuse, the tenant must provide a written statement to the landlord explaining that they intend to terminate the rental agreement or lease early because they are a victim of one of these crimes. They also must provide a police report or restraining order no more than 180 days old, or a written statement from a "qualified third party" about the crimes committed; this can be from doctors, licensed social workers, registered nurses, psychologists, or victim advocates in cases of domestic violence or sexual assault. For more specifics on these protections, please see the National Housing Law Project's Toolkit on Early Lease Termination for Survivors. Important note: landlords cannot discriminate against or harass a prospective tenant or established tenant on the basis that they are a victim of a previous domestic violence, abuse, or sexual assault crime.
Tenants are also legally justified in ending their lease or rental agreement early when landlords harass or violate their tenants right to privacy. Repeated violations of your right to privacy, which includes the landlord entering your space without notice as outlined previously, could justify the breaking of a lease before the term ends. This would likely require legal guidance to ensure the contract is legally broken. For more resources on a tenant's right to privacy, visit this helpful guide.
If an apartment becomes uninhabitable because of damages not made by the tenant or because of repairs left unattended to by the landlord that render the space a health and safety hazard, the tenant is able to break the lease. This process is known as the abandonment remedy. However, using this remedy must be approached following legal guidelines to protect yourself as the tenant. Basic requirements to be legally protected in this situation, according to the California Civil Code Section 1942, include:
"The defects must be serious and directly related to the tenant's health and safety.
The tenant or the tenant's family, guests, or pets must not have caused the defects that require repair.
The tenant must inform the landlord, either orally or in writing, of the repairs that are needed. Writing is strongly recommended. If you notify your landlord in writing, always retain a copy for yourself.
The tenant must give the landlord a reasonable period of time to make the needed repairs.
If the landlord does not make the repairs within a reasonable period of time, the tenant should notify the landlord in writing of the tenant's reasons for moving and then actually move out. The tenant should return all the rental unit's keys to the landlord."
Although important, this avenue must be thoroughly justified and guidelines carefully followed. Because it often arises out of a repair dispute and leads the tenant to break the lease, legal actions may be taken by the landlord. So, if you seek to pursue this route, be sure to consult with legal advice, keep photos and records of all communication and damages, and familiarize yourself with all guidelines before pursuing.
If you want to break your lease because of roommate disputes, know this circumstance is difficult to legally justify. Possible solutions could include roommate mediation to resolve conflict or subletting your spot in a unit. If struggling with a roommate group, see UCLA Residential Life's guide to mediating conflict.
REFUND OF SECURITY DEPOSITS:
California Civ. Code § 1950.5 specifies four reasons for a landlord to legally keep all or part of your security deposit: "for unpaid rent; for cleaning the rental unit when the tenant moves out, but only to make the unit as clean as it was when the tenant first moved in; for repair of damages, other than normal wear and tear, caused by the tenant or the tenant's guests; and if the rental agreement allows it, for the cost of restoring or replacing furniture, furnishings, or other items of personal property (including keys), other than because of normal wear and tear."
Your landlord legally must send the full refund of your deposit, according to California Civ. Code § 1950.5, within 21 days of your move out date. If they are withholding part or all of it, they must instead "mail or personally deliver to you an itemized statement that lists the amounts of any deductions from your security deposit and the reasons for the deductions, together with a refund of any amounts not deducted," still within 21 days. If a landlord fails to refund you or provide documentation within 21 days, then they lose their right to any part of the deposit and must refund it to you in full.
For a full outline and explanation of California's Renters' Rights, with more specific examples for all possible rental circumstances, visit ca.gov and search for their "California Tenants" Guide. As many of us UCLA students are first time renters in Westwood, it is best to be informed before entering into a lease. Being an informed tenant will make your life easier and protect you from housing violations and possible disputes, and in the case that you encounter a landlord from your nightmares, your actions against them as an informed tenant could prevent future tenants (and students like us) from encountering them in the future.