Recovering From Winter Quarter Burn Out: A Guide to Navigating Mental Health Resources at UCLA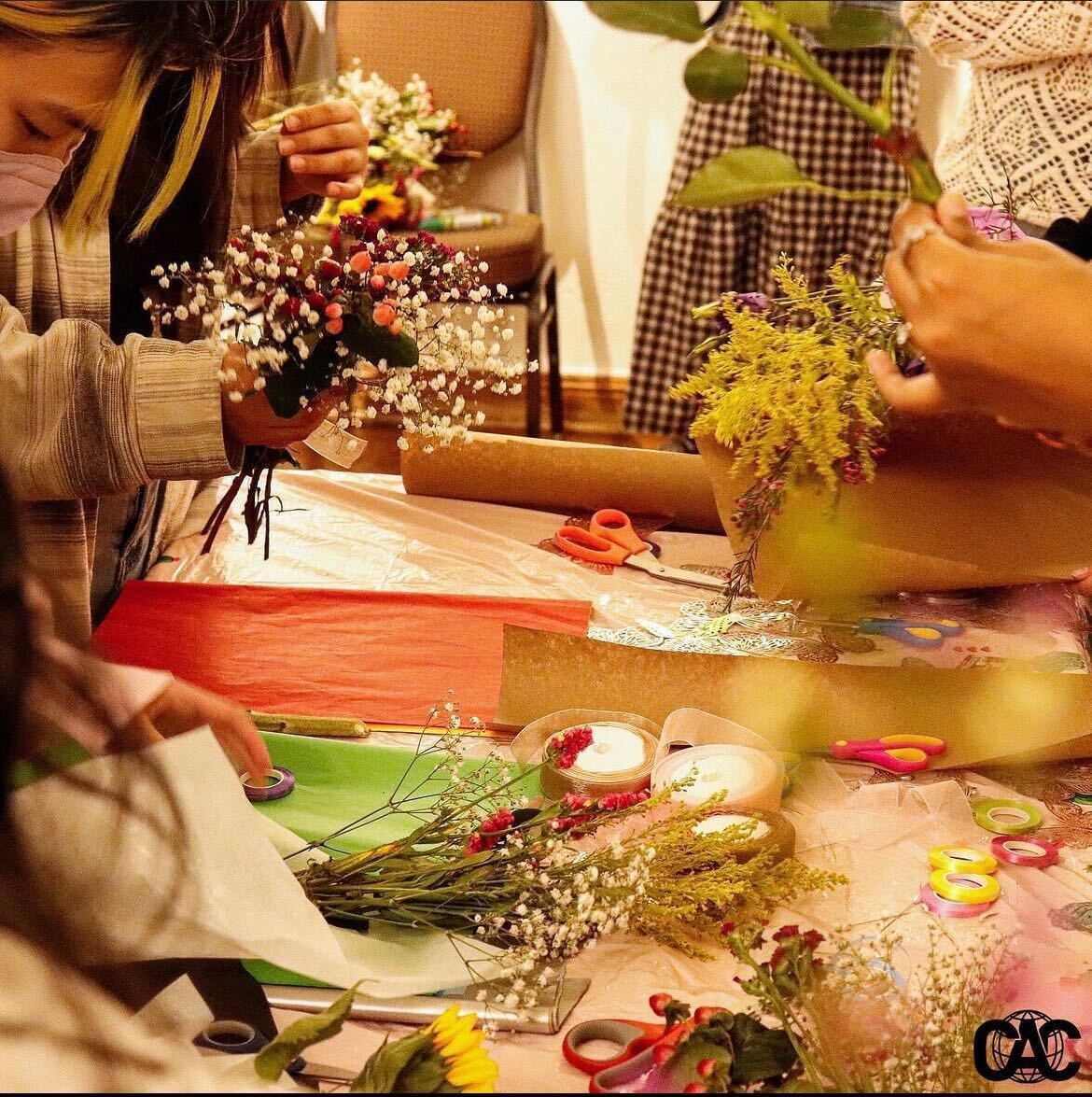 Photo taken by Siya Sharma at a CAC event
Close up photo of UCLA students holding up flower bouquets at an event hosted by The Word on Wednesday.
Depression can be such a confusing presence. It lingers in the body like a fog, keeping things cloudy enough for frequent feelings of apathy, interfered by brief moments of clarity. Often, the first instinct is to chase those moments, and extract whatever happiness may come from them, but usually all that follows is another cycle of 'bad days.' Over time, life can become a hollow pursuit, littered with days spent in weighted blankets, searching up late class drop petitions and canceling plans, all while some random 'slowcore' song plays in the background.
In my experience, I have never thought to resolve this pattern by reaching out for help. Instead, I would brush my difficulties under the rug as a product of winter quarter blues. Yet spring quarter, somehow, always causes a spiritual shift in which I start affirming that my mind is worthy of keeping healthy. By finally responding to check-in texts sent by concerned friends from last quarter and seeking help on my own, I have discovered a variety of centers, organizations, and resources dedicated to alleviating the psychological drain that is those dreaded ten weeks between January and March — or for any other time of the year.
Firstly, we have the UCLA Counseling & Psychological Services (CAPS) center where students can go to access several mental health services such as individual therapy, group therapy, and psychiatric resources. Making an appointment starts with an initial assessment with a triage clinician over the phone, where a personalized health plan with a CAPS provider is formulated and scheduled. The center strives to make its resources as accessible as possible, with a staff dedicated to helping students navigate the UC Student Health Insurance Plan (UC SHIP), non-SHIP insurances, and uninsured statuses.
Nevertheless, accessing healthcare can feel like an incredibly intimidating process riddled with complexities and disappointments, and CAPS is no stranger to this given the high demand for its services on UCLA's campus. They work tirelessly to keep the whole process relaxed and efficient so that students can promptly access services within and outside of the center. For those looking for a place to start, CAPS drop-in hours are an excellent introductory step. These consultations with a specialized counselor who helps students figure out CAPS resources is a service that I cannot recommend enough.
Student-led initiatives spearheaded by the Undergraduate Students Association Council (USAC)'s Campus Health Committee strive to make the services offered at CAPS financially feasible and permanent for all students. Last quarter, efforts included securing funding towards CAPS therapy fee waivers for students without insurance, informing students about resources offered, and implementing policies towards mental health equity. The aim is to reassure students that their concerns are being heard by representatives who genuinely care about finding long-lasting solutions within existing UCLA health institutions.
The Resilience In Your Student Experience (RISE) center is an extension of CAPS located in the Lu Valle Commons, and it provides a vast array of non-medical mental health resources at UCLA. Though the RISE center is closed for renovations until early June, it usually hosts workshops and trainings and offers drop-in consultations and self-directed resources to all students. The center also hosts free events such as meditation sessions, yoga classes, and gathering spaces designed to help process difficulties and traumas in a group setting. In particular, my experiences within the gathering spaces have been incredibly cathartic because they've pushed me to recognize that my setbacks are more ubiquitous than I previously thought. This revelation has made wellness feel more attainable and less isolating to pursue.
It has also been heartening to see campus organizations dedicate events to cultivating spaces for mental health. I am part of the Cultural Affairs Commission (CAC), specifically The Word on Wednesday's team. We are a CAC cohort that focuses on creating events on Wednesday evenings at the Kerckhoff Art Gallery. Besides hosting frequent open mic night spaces, we have also been expanding to offering programs centered around art therapy, social justice movements and collaborations with partners such as the We're Not Really Strangers card game and the Calm app. Amidst the busy weeks of each quarter, when I only have a few hours to spare for self-care, The Word's events are my go-to. While I've probably failed at keeping the self-promotion to a minimum here, I cannot restate enough that I continue to be a part of this organization because I see how much it helps our student body. The Word has established that dedicating Wednesday evenings to mental reprieve has the capacity to positively define entire quarters when we need it most.
I'll refrain from concluding with some girlboss wellness message as I find that such statements can often misinterpret what depression actually is. Rather, the takeaway here is that this article can guide readers to places where they will be listened to and cared for. Whether it be medical or non-medical care, in a professional setting or a social one, someone at UCLA is ready to help. If everything still feels too complex to figure out, take it step-by-step. Simply switching out the sad playlist for a more upbeat tune can be a solid first move.