Say It with Me: Pussy Riot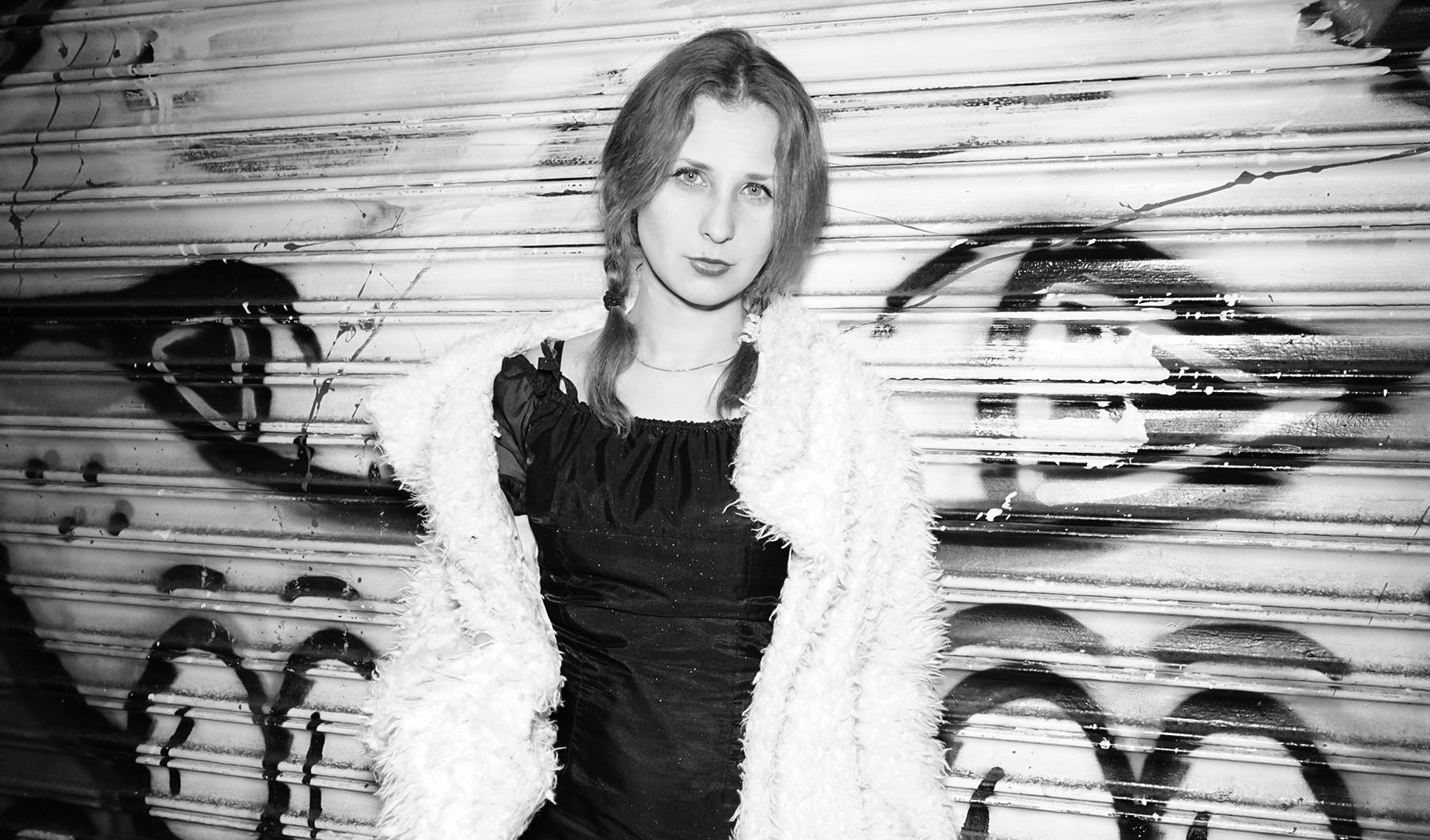 Image of Maria Alyokhina courtesy of the Center for the Art of Performance (CAP) at UCLA.
Nayiri Hovsepian contributed to this article.
Last week, the Center for the Art of Performance (CAP) at UCLA presented a conversation with Pussy Riot members Maria Alyokhina and Ksenia Zhivago in Royce Hall, moderated by KCRW's Edward Goldman. Alyokhina is one of the founding members of Pussy Riot, which is a Russian feminist political activist group famous for their unannounced punk-rock performances throughout Russia and their arrest after such a performance in the Cathedral of Christ the Savior.
To kick things off, there was a pre-show on the  Royce Hall patio, which featured the Feminist Library on Wheels (FLOW), a display of zines promoting the LA Zine Fest, a SOAP box with a microphone where those attending could voice their opinions for one minute, free Pussy Riot T-shirts, and punk music consisting of artists such as the Sex Pistols, NOFX and Black Flag which played throughout the pre-show.
Elise Kelder, a third-year American literature and culture major spoke to us at the pre-show about her interest in the event and Pussy Riot: "They're [Pussy Riot] really upfront. They're unapologetic in they way they protest." Sara Karim, a fourth-year linguistics major saw the event as being significant because "people who have been actively silent can now speak up."
Then during the conversation, Goldman asked Alyokhina to address topics such as the creation of Pussy Riot's controversial name, the role religion plays within the group's political message, as well as her own experience within the trial and incarceration system. Alyokhina began by clarifying that it would be easier to speak in her native Russian language, so Alexander Cheparukhin translated the rest of the interview for the audience. First, she spoke on how the name "Pussy Riot" came about, saying that in Russia in 2011, she and other founding members, including Nadya Tolokonnikova, were very motivated by the idea of change. She also added that they liked that "people will repeat the word 'pussy' many times," which received laughter from the audience.
When asked if she herself was religious, Alyokhina smoothly stated, "The church in Russia has nothing to do with Christianity." The question of religion places their whole movement in context with where it is taking place, as religion seems to be an important part of Russian culture. Pussy Riot's arrest after their performance in Moscow's Cathedral of Christ the Saviour is an example of the importance placed on religion in the country. In the trial against Alyokhina, Tolokonnikova and Samutsevich following their arrest, they were clear to emphasize that Pussy Riot's intent was not to protest religion itself, but to protest the cooperation between church and state.
Goldman also expressed concern for both Alyokhina and Zhivago's safety, especially since Zhivago stated that her mother is horrified for her. The politically active girls in Pussy Riot are risking their own safety to fight for the rights of the Russian people, which requires an immense amount of courage. On the issue of her safety, Zhivago expressed her thoughts as "You can't be scared all the time…I know I'm not breaking any laws, but there is no logic in whatever our government is doing right now."
The talk also featured the works of other artists who have both supported and been inspired by Pussy Riot. Such artists and works included Petr Pavlensky's "Seam" in which he sewed his mouth shut in an act of political protest and Maureen Selwood's exhibition "Sounding the note of A"  which included sculptures of knitted, brightly colored balaclavas like those worn by Pussy Riot members. Pertaining to political artists, Alyokhina stated that "In modern Russia today, every action is political, even silence. That's [why] we defend, protect, and support political prisoners." This led them to promote the Zona Prava project, which fights for prisoner's rights and provides legal and informational support to prisoners and legal defendants.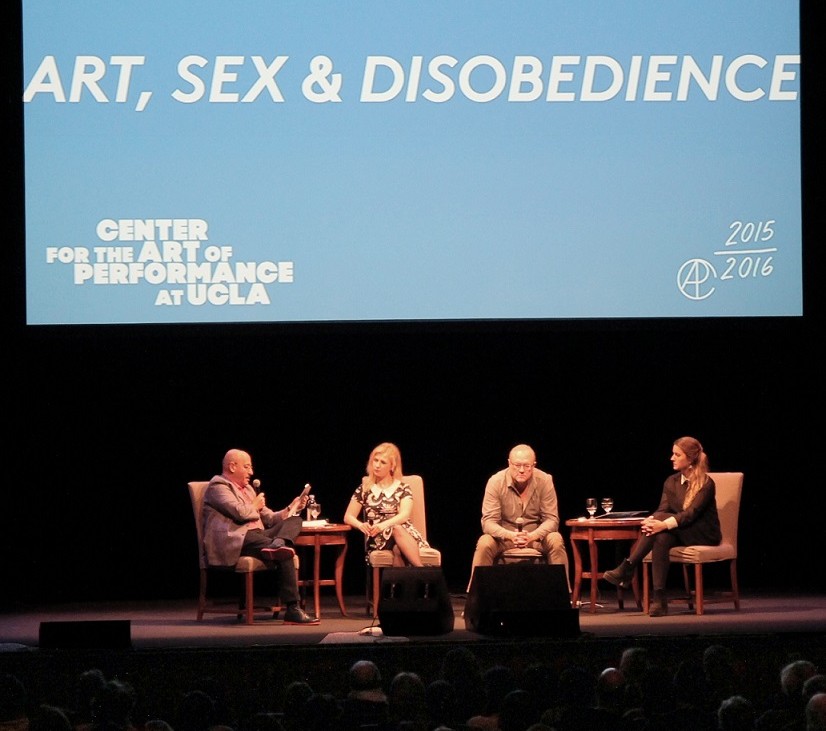 Although Goldman touched on important aspects of the motivations originally behind Pussy Riot and the contemporary motion of where the group is currently heading, he constantly referenced Russia's Soviet past in order to compare it to Russia's present. At one point, Goldman discussed the progress that has taken place in Russia by pointing out that only 30 or 40 years ago, political activists such as Alyokhina would either never be allowed to leave the Soviet Union or exiled. Alyokhina didn't see the difference. "The Soviet Union acted [in a] more obvious, rude way, but the essence is the same. [It is] possible to leave the country…but [it is also] possible to be beaten or killed when coming to the country."
The importance of the Pussy Riot movement is in what is happening within Russia currently, not within Russia's Soviet past. If change is to occur within Russia's political system, the present climate of corruption and danger must not be accepted. As Alyokhina said, "The question of what Russia will see in the future depends on if we stay in the country or move from the country…There are no leaders that will come from the sky and make our country free…and the fact that we don't leave the country shows what we can do to change the country."