The 2018 California Democratic Convention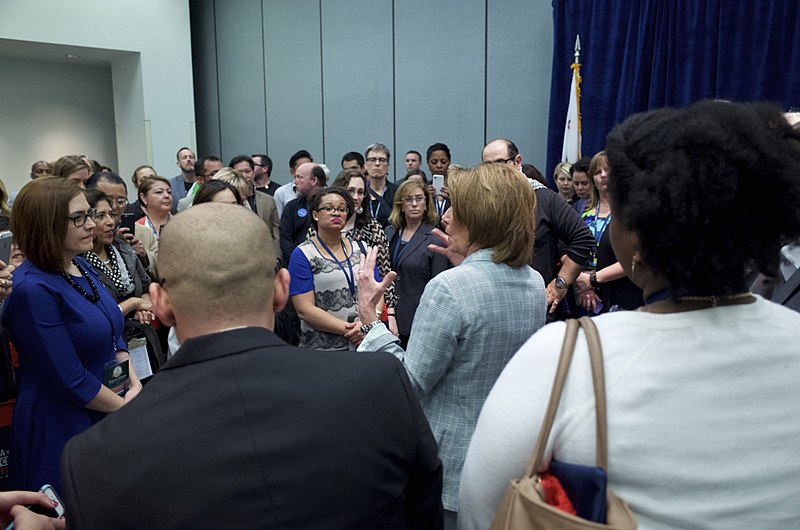 2015 California Democratic Convention, Photo by Travis Wise via Wikimedia Commons/ CC 2.0
Each year Democrats gather from all corners of the state of California to attend the California Democratic Convention in order to meet in various caucuses, discuss current political issues, propel politicians' careers, and, in election years, endorse candidates. The 2018 California Democratic Convention was held February 23 through 25 in San Diego. Just over one year into the Trump administration and with midterm elections right around the corner, there was a lot to discuss and deliberate at this year's convention.
One of the most pressing political races during the convention and this year is the race for Governor of California. The top four Democrats running for the position, Gavin Newsom, Lieutenant Governor of California, John Chiang, State Treasurer of California, Antonio Villaraigosa, former Mayor of Los Angeles, and Delaine Eastin, former California Superintendent of Public Instruction, went head-to-head in San Diego. Each candidate held meet-and-greet events, attended and spoke at caucuses, and gave powerful speeches on the main floor. The four focused on key issues such as healthcare, jobs, and taxes.
One goal many leading politicians have when attending the convention is to get endorsements from 60% of the delegates. If they achieve this number then they officially obtain the party's endorsement. None of the gubernatorial candidates were able to secure the desired 60%. Newsom led with 39%, and Chiang was close behind at 30%. Eastin won 20%, and Villaraigosa received 9%. It was certainly a disappointing outcome for the candidates. However, failing to receive the party's endorsement does not mean a failed campaign. Senator Dianne Feinstein, for example, did not get the Democratic endorsement when she ran for governor in 1990, but she went on to win the primary later that year.
Feinstein, a beloved politician who has served in the United States Senate for 25 years and has championed issues such as marriage equality and immigration reform, failed to be endorsed by Democrats at the convention. Kevin de León, the top Democrat in the California State Senate and Feinstein's opponent, fared much better and won 56% of the delegate endorsements for a seat in the United States Senate compared to her 37%. This somewhat unexpected outcome highlights the shift of the California Democratic party. Democrats in the Golden State are opting for more leftist and younger politicians who they believe will be more responsive to their progressive desires and ideals, such as the latest push for single-payer healthcare. Feinstein, who has always been more to the right compared to the party's activists, is finally feeling the heat for that during her last campaign at age 84.
Amid numerous sexual harassment claims against state lawmakers in Sacramento, the issue of sexual harassment took center stage at the convention. Two art installations, sponsored by Planned Parenthood, were showcased. Titled "This Is What It Feels Like" and "Buying Power," the exhibits highlighted and explored the issue of sexual harassment and misconduct. The installations received much foot traffic, including from politicians Gavin Newsom, a gubernatorial candidate, and Xavier Becerra, who is running for re-election as state attorney general. As a safety measure, state delegates were also informed of a sexual harassment hotline which would be available during the entire weekend.
"The rent is too damn high." This simple combination of words is something no attendee of the convention did not know by the end of the eventful weekend. As caucuses hastily met, politicians made every attempt to rally support, and delegates carefully assessed their options, a group of protestors could be seen circling inside the convention shouting, "The rent is too damn high." Protests arose from the failure of the repealing of the law known as "Costa Hawkins" which limits rent control. Currently, those opposed to this law are collecting signatures to get an initiative to qualify for the November ballot. While it is unclear whether the protesters will be successful with their efforts, it can be agreed that they gained attention and recognition for the issue during the weekend in San Diego.
Throughout the convention, politicians and speakers spoke passionately to an enthusiastic crowd about a "blue wave" that will begin on the west coast in California and sweep the country, eventually landing in Washington, D.C. Many politicians and attendees were hopeful that with hardwork and determination they could continue to turn red counties blue, turn red states blue, and turn Congress from red to blue. 2018 will be a hectic year for politics with midterm elections arriving in just six months. If the California Democratic Convention in San Diego is any indicator of the level of effort and passion Democrats are putting into elections this year, then citizens should get their swimsuits on because a blue wave is coming.