The Ultimate Dinner Party for Feminists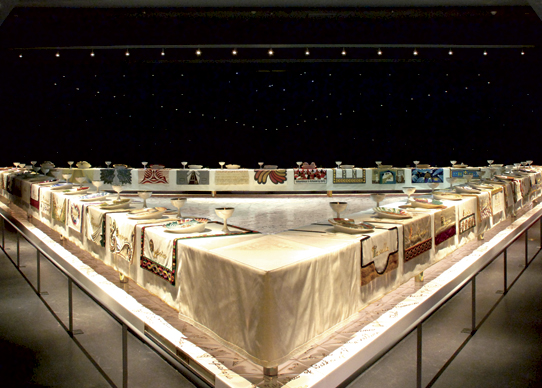 A dinner table, with a placemat for every feminist I wish I could invite to my parties, lies in an angelic onyx triangle.
This is exactly what Judy Chicago was thinking when she created the feminist installation The Dinner Party. This quintessential feminist installation consists of a triangular table with 48-foot sides. There is a red carpet of welcome banners telling the tale of how these placemats explain the power of feminism. 1,038 kick-ass women are inscribed in the Heritage Floor, silk altar cloths at each of the triangle's vertices, and in the white embroidered placemats. Each wing has thirteen chronologically placed dinner settings, including an embroidered runner and unique plate, with a chalice, napkin and utensils.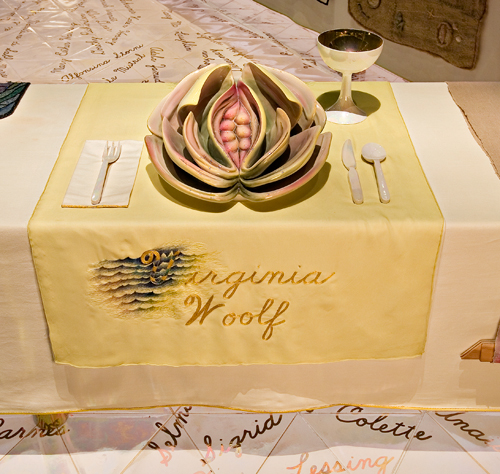 The journey begins at Wing One with the Primordial Goddess and goes through the establishment of Western social order through Judaism, Greek culture and the Roman Empire. This serves as a reminder of the decline in equality as male-dominated societies emerged, as exhibited in the Hypatia plate. Wing Two documents religion and women's first fight for equality through Christianity's Reformation chronologically going from Marcella to Anna van Schurman. Wing Three was my personal favorite, as I would imagine it to be for most modern feminists. Beginning with Anne Hutchinson, it documents the escalated rate at which women have gained a voice through the American Revolution, Suffragism and the plight for creative expression in the public sphere. The final plate, Georgia O'Keeffe, leaves you marveling at the entrance of this glass, triangular box, staring at the apex between the Primordial Goddess and O'Keefe. You are left with a sense of girl power for where we've come from and where we are heading.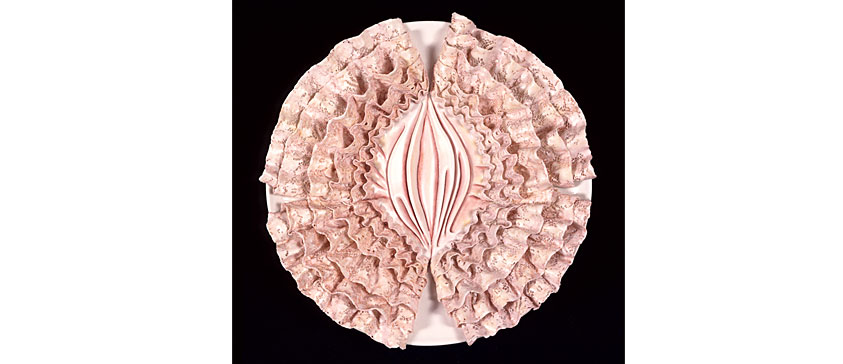 Chicago invokes the image of vaginas for each of the plates. This seems as if these powerful women on the placemats are putting one aspect of their womanhood out in the open for the world to admire. This imagery probes the audience to reflect on their ideas of gender in the world surrounding them.
This feeling is what I envision Chicago hoped to inspire. The Brooklyn Museum of Art has devoted an entire section to girl power art in the Elizabeth A. Sackler Center for Feminist Art, and this exhibit exemplifies the power of art as a provocative impetus for social change.
Like many others, one of our own FEM artistic contributors, Noopur Goel, was inspired to integrate this concept into her own work. In her collection, A Full Body is Beautiful Too, Noopur layered writing clippings about eating disorders with a drawing of women with full figures atop plates, just as The Dinner Party achieves, to bring to light society's conflict with eating disorders. "A Full Body is Beautiful Too is inspired by Judy Chicago's use of imagery on plates in her artwork. I continued upon that idea and placed colorful figures of various sizes upon text about eating disorders on my plates," Nopur commented. "The piece overall supports eating enough and being full as well as embraces bodies of all sizes."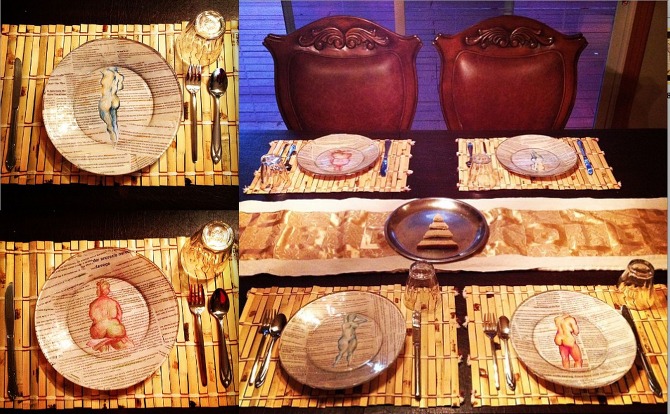 These images exhibit the influence art installations have on individuals subconsciously. Art has the power to keep its impression in your thoughts and consciously ask you to think about these concepts, such as feminism.