Translating "Spiritual Language": A Conversation with L.A. Handstyle Artist, DEFER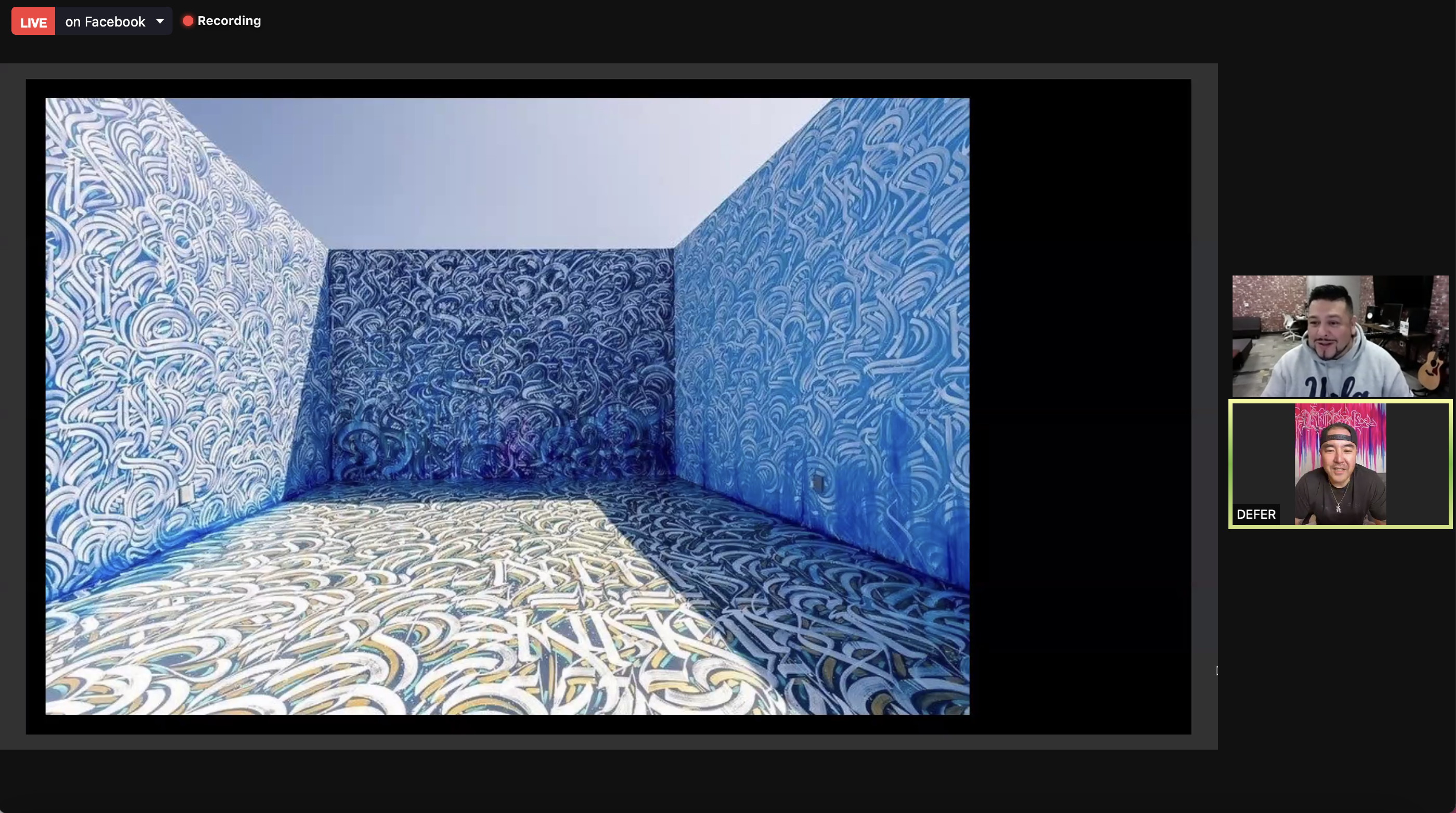 Image description: A screenshot of a zoom call shows two individuals, including artist DEFER. In the center of the screen is one of DEFER's works, a room filled with blue graffiti. End ID.
As an artist's landscape, the city of Los Angeles serves as the canvas to incredible works of art, both graffiti and commissioned. These prime sources of inspiration have given rise to a new generation of artists, ready to induct street art as a classic genre among L.A.'s characteristic art forms.
Alex "DEFER" Kizu challenges mainstream conceptions of graffiti and street art, bringing the artform to more conventional fine art spaces, such as museums and galleries. On Nov. 16, 2021, UCLA's Fowler Museum and DISRUPT student organization hosted an online webinar, "DISRUPT the Fowler: DEFER," engaging topics surrounding DEFER's career, creative approach, and inspiration.
DISRUPT is a creative collective of UCLA art and design students on a mission to promote anti-racism, equity, diversity, and inclusion through community projects, research, and collaborations. Their ongoing partnership with the Fowler Museum, "DISRUPT the Fowler," aims to "break down barriers in the art world and promote innovative ideation," according to the Fowler website.
Esteemed as a pioneer among L.A.'s graffiti artists, DEFER is famed for his unique application of typography and handstyle to build abstract works of art and cultural motifs, woven together in intricate patterns of color and lettering.
From branded headphones to immersive art installations, DEFER's collection includes a broad array of work. Each piece is marked by the iconic pattern work DEFER's name is celebrated for. This typography features distinct brushstrokes of bright color against solid background, entangled into an expansive, calligraphic motif. His projects have been admired in many distinguished galleries, including the L.A. Louver, the Getty Research Institute and the L.A. County Museum of Art.
DEFER attributes his distinct creative style to the artistic influences he was surrounded by growing up. The meticulous nature of his linework emulates the precision DEFER first witnessed in his father, an architect by trade. In contrast, DEFER's typography, often described as spontaneous and free-flowing, takes inspiration from the graffiti and mural work that suffused his upbringing in East L.A.. DEFER explains how growing up in Boyle Heights, a predominantly Latinx community, informed his sense of cultural awareness and expression through art. 
"There were also murals done by the East L.A. streetscapers like Willie Heron, very, very socio-political murals," DEFER recalls. "As a little kid, those murals became my education. I looked at the walls like 'Who's this guy right here? Oh, that's Ceasar Chavez,' you know what I mean? 'This is Emiliano Zapata, Pancho Villa, also known as Doroteo Arango.' I learned a lot about these cultural historical icons on these walls."
DEFER approaches his artwork from a mental and emotional state that he describes as "sublime." Forgoing any preconceived plan or preliminary sketch, DEFER trusts in the mantra that "magic happens on the spot." Each artwork begins freehand, a testament to his depth of skill and years of experience. When focused, DEFER finds that his creative flow comes automatically, sometimes working for hours without gauge for time.
"Sometimes, I'll look at a painting and I'm like, 'I don't even remember doing it.' I was in a dream-like state," DEFER told DISRUPT. "I look at things and lose track of time, and I don't know how it gets done." 
Spirituality is the driving force behind DEFER's every artistic endeavor. What others describe as complex typography, DEFER dubs an inexplicable "spiritual language," or the "obliteration of the structured letter." He describes the process of envisioning each piece in dreams and visions, rendering the movement of words and color onto canvas.
"It feels like I'm channeling something from beyond and that's why I say it's spiritual, I can't explain it," DEFER expressed.
DEFER's artwork speaks to a niche community, bringing together the religious and scientific mind. The repetitive and seemingly continuous trademark to DEFER's creative approach treads the line between ritual and iteration. For DEFER, his designs symbolize the "intersection between faith and reason": tangible creations he brings to life through the power and inspiration of the "unseen force" of spirituality.
"I don't think us humans can comprehend or articulate what [spirit] really is," DEFER ponders. "I think it's of that magnitude that goes back to creation, and we still don't have creation figured out, right?"
DEFER concludes his webinar with parting words of advice for the many young artists at UCLA who aspire to achieve the same mastery and experience he has accomplished.
"[Art] is a gift and a curse. A lot of times, to be great in anything, you have to be kind of crazy. You have to be obsessive about your work and to jump into that paradox, so to speak, can be a dark place," DEFER says. "You have to be passionate about it…You have to be able to do a complete solo show and not sell anything, but [still] get back on your horse, saddle up, and go hit another show."
Glimpses into DEFER's creative process can be found on his Instagram page, where he uploads images of ongoing projects and upcoming exhibitions. A recording of "DISRUPT the Fowler: DEFER" and more information regarding future webinars can be found on the Fowler Museum website, Instagram and Facebook page.