UCLA and the Importance of Supporting Women in STEM on Campus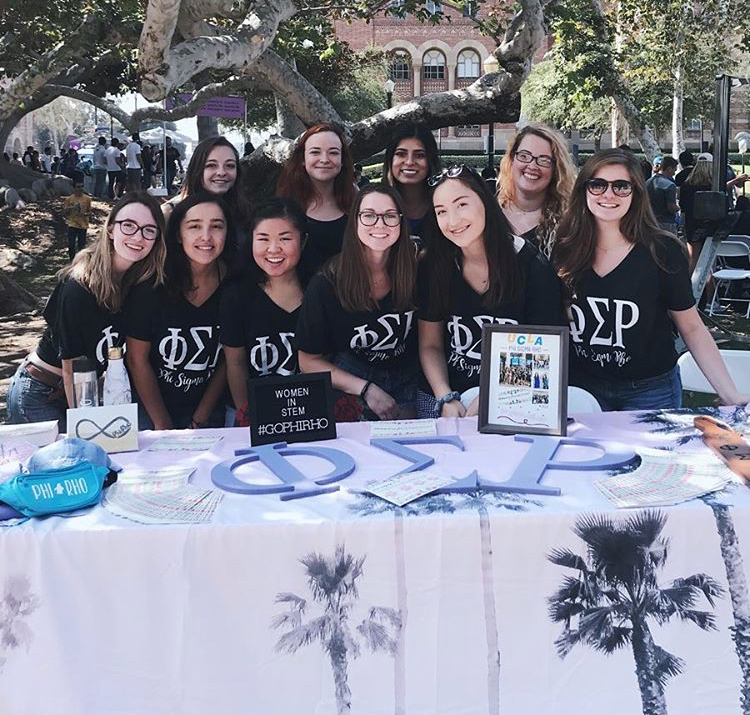 Photo courtesy of phirhobruins.com
Despite some improvement in enrollment for STEM majors for women and minorities, UCLA is still lacking in diversity. In the past school year, enrollment in engineering majors has, on average, increased 0.36 percent for female students. In the Henry Samueli School of Engineering, there were nearly three times as many male students admitted as women in 2018, with 2,694 men to 922 women.
This disparity between men and women at UCLA is a reflection of a national problem in academics. Statistically, women make up just 35.1 percent of college students who earn a bachelor's degree in STEM nationwide. The most underrepresented STEM degrees for women in 2017 were Engineering and Engineering Technologies (18.7 percent) and Computer Information Sciences and Support Services (18.0 percent). It is equally important to acknowledge out of the 35.1 percent of women who earned a STEM bachelor's degree in 2015, only 11.3 percent of those degrees were earned by women of color. Black women made up 2.9 percent, Latina women 3.6 percent and Asian women 4.8 percent.
These gaps in the percentages of degrees earned by men and women, as well as white women and women of color, reflects a need for more diverse support for scientifically inclined students nationwide. In 2016, women in the United States accounted for 25.5 percent of computer and mathematical careers and 14.2 percent of engineering careers. Women of color made up less than 10 percent of working scientists and engineers in the United States. Queer women are often left out of studies on minorities in STEM, and Boston University found that institutions like the National Science Foundation often exclude LGBTQ+ people from their research in STEM fields entirely, which "contributes to a sense of invisibilities among LGBTQ+ scientists."
Often, women of color, and LGBTQ+ students are made to feel unwelcome in STEM courses and jobs due to their boy's club mentalities. A Boston University report on the LGBTQ+ community and STEM wrote that, "an academic culture in STEM fields is sometimes not welcoming…to members of groups underrepresented in STEM fields—including women and minorities, who today constitute about 70 percent of college students but earn only 45 percent of STEM degrees." An article by Robert C. Mizzi, details the problem of heteroprofessionalism, and how organizations often sustain heteronormative values and paint homosexuality as "counter-culture" issues that are not supported by workplace values. Boston University found that almost none of the efforts to increase STEM diversity have focused on the LGBTQ+ communities, and that "over one third of LGBTQ survey respondents considered leaving their workplace or school in the past year after experiencing or observing harassment or discrimination."  Since 2017, The University of Texas System Campus Climate Survey found that 20 percent of women in science, 27 percent of women in engineering, and 47 percent of women in medicine experienced gender hostility, crude sexual jokes, sexual coercion, and sexual harassment.  
The Society of Women Engineers (SWE) estimates that over 32 percent of women switch out of STEM programs during their time in college. Of the women who switch out of STEM programs and careers, 30 percent say that it is due to the organizational climate. These statistics highlight a critical need for UCLA and other colleges to not only admit more diverse students into physical sciences and engineering, but to provide programs and clubs to ensure that these students feel supported in their competitive fields. Admitting more diverse women into STEM fields is only half the battle. Universities and STEM organizations must also focus on maintaining work environments where women are allowed to exercise their voices and to test their knowledge as comfortably as their white male counterparts.
UCLA's resources for women and other minorities and STEM are limited. However, there are still valuable clubs on campus that are dedicated to helping these students succeed in their rigorous courses.
Society of Women Engineers

is an engineering organization that seeks to "demonstrate the value of diversity" by empowering women "to advance in the field of engineering and to be recognized for their life-changing contributions." This organization plans many outreach programs with young female students and advocates for a more inclusive image of engineering with events like #Ilooklikeanengineer and

Engineers for Professional Equality Conference.

Phi Sigma Rho

is an Associate Panhellenic sorority for women majoring in engineering, physical sciences and life sciences. The sorority provides STEM women at UCLA with the opportunity to be in a sisterhood that combines their passion for science with Greek life. Phi Sigma Rho provides academic support for their sisters and encourages women to pursue STEM by participating in events like "

Wow! That's Engineering Day

" and "

Reading with Kids

."

The

Society of Latino Engineers and Scientists at UCLA (SOLES)

provides support for Latinx students in STEM majors. This organization does weekly tutoring and UCLA student-shadowing events for students at local K-12 schools. The group also has mentors for its members who help one another through their rigorous STEM coursework.
The groups listed above all represent supportive environments for women and minorities in STEM. Although there might not be many at UCLA now, the groups that exist are creating a positive impact and working to make STEM more inclusive. These organizations and their philanthropic efforts are not only examples of the great things that can be achieved with more diverse students contributing to the hard sciences, but also a reminder of the progress that must continue to be made.