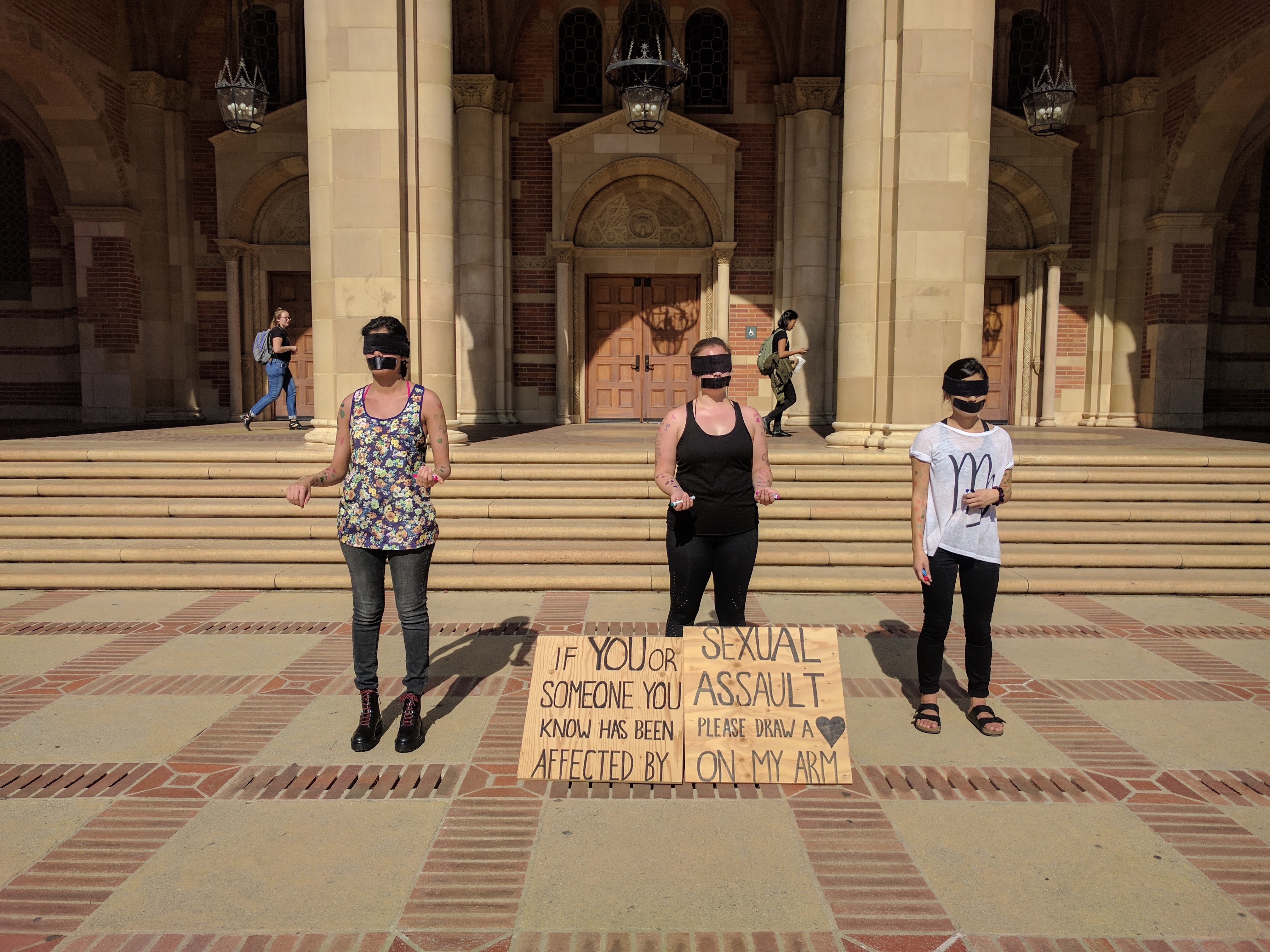 Photo by Jessica Waite
Three women stand in front of Royce Hall, their eyes blindfolded and their mouths taped shut. They hold out their arms, markers in hand.
"If you or someone you know has been affected by sexual assault please draw a heart on my arm," a sign reads in front of them.
On Feb. 1st the V-Day Coalition at UCLA put on a demonstration titled, "It Happens Here." Strangers were encouraged to draw hearts on the arms of the women before them. The demonstration served as a powerful conversation starter and a reminder of the prevalence of sexual assault on college campuses.
Laura Savage, V-Day's Artistic Director, sat to the side, keeping an eye on the V-Day Coalition members who stood in front of Royce. Savage said she hoped to provide a space for survivors to testify to their experiences. According to Savage, the way society talks about sexual assault centers around reporting. We expect women to report, and if they don't report, we expect them to remain silent. Savage said that V-Day Coalition wanted to provide a space for survivors and allies to speak and be acknowledged with no pressure and no contingency on whether or not an assault had been reported.
"The blindfolds and tape represent the position of victims who are silenced," said Savage. They also make interaction more accessible, as those who wish to draw hearts can interact anonymously with another person in a non-confrontational manner.
"It's an opportunity for people to publicly attest to experiences and take ownership," said Savage. "We don't just want to draw attention to the issue – we want to make change."
It seemed to be working. Many passerby stopped to take pictures or began a conversation with friends as they passed.
The public demonstration is an annual part of the V-Day movement, which encourages people to take a stand against gender-based violence and discuss sexuality. This year V-Day will be featuring "LIPS," a "Vagina Monologues" inspired play written by UCLA students, which is inclusive for all womxn.