5 Badass Female Characters from the Shows You Watched As a Kid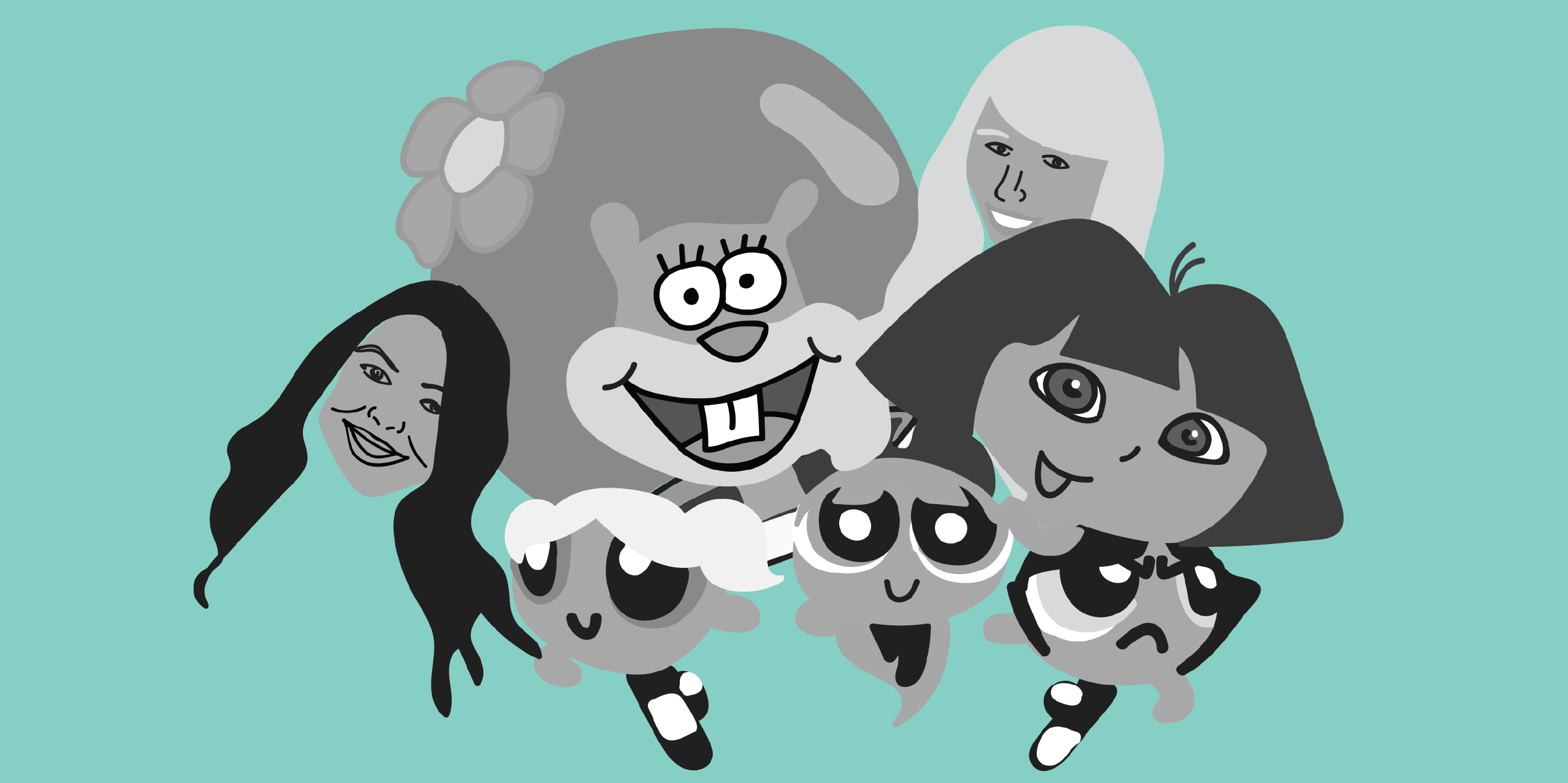 Image: Art by Maddy Pease.
It's 3:30 p.m., and my mom's minivan has just pulled into our garage. No sooner does the engine stop than I bolt out of the car and head straight for the fridge. Fifteen minutes later, happily seated on the couch with a Capri Sun pouch in hand and a plate of dinosaur nuggets in my lap, I'm ready for my favorite part of the day: watching TV. For as many hours as I could before my mom stopped accepting "Five more minutes" as an excuse, I would watch any show that was aired on Nickelodeon, Disney Channel, and Cartoon Network. New episodes or reruns, new shows or old favorites, I loved all of it.
Now, I realize that a daily ritual of processed food, sugary juice, and copious amounts of television sounds like it couldn't have been that good for my development. Nevertheless, I'd argue that my highly questionable "extracurricular activities" prepared me to be a part of the feminist movement from a young age. Why? Because I (and possibly you) may not have noticed back then, but the shows we watched as kids sure had some kickass woman and girl characters.
1. Sandy Cheeks from Spongebob Squarepants:
In a show full of male characters that seem to be entirely incapable of taking care of themselves or functioning in the underwater society of Bikini Bottom, Sandy Cheeks is a badass female who represents rationality, independence, and sheer talent. Sandy is an inventor, a woman of STEM, who singlehandedly builds an underwater replica of a tree home with an air bubble so she could breathe and a food storage center; she never had to depend on anyone to take care of her. Not to mention, she's an immigrant from Texas who is extremely proud of where she comes from, whether she's saving Spongebob from an Alaskan Bull Worm with a lasso made of paper clips and string or inviting Spongebob and Patrick to her house for sweet tea on a hot summer day. And as if that weren't enough, she's a cartoon Ronda Rousey, well-versed in the art of kara-tey. Sandy Cheeks might not be the main character in Spongebob, but she is the only character who is her own savior in every sense.
2. The Powerpuff Girls:
Sugar, spice, and everything nice…and Chemical X? Isn't that for boys? Clearly not, because the Powerpuff Girls are the only thing that stands between Townsville and the evil forces of Mojo Jojo and the Gangreen Gang. Each of the Powerpuff Girls has her own personality that helps her to fight the forces of evil: Blossom with her natural leadership instincts, Bubbles with her kindness, and Buttercup with her no-nonsense toughness. They are a prime example of how you can be badass without being mean, and how you can save the day while still being a part of a team. The Powerpuff Girls not only empowered me to be independent and stand up for my beliefs, but also reminded me that I would always be able to lean on other women in my life for support if I needed it. My childhood TV addiction is starting to not sound so bad, right?
3. Dora The Explorer:
In Dora The Explorer, Dora is doing more than just calling out problematic behavior in others (Swiper, no swiping!) — she's teaching young children how to take small, meaningful steps to eventually achieve their goals. Oh, and a little bilingualism here and there couldn't hurt, either. Dora the Explorer is a show for young kids that presents a little girl just like them who wants to go out and see the world, and doesn't let anything stop her.
4. Megan, the Little Sister from Drake and Josh:
Okay, if you ever watched Drake and Josh on Nickelodeon as an elementary schooler, chances are you didn't know how to feel about Megan (Miranda Cosgrove). On one hand, she's a total trickster whose middle name is S.A.S.S. But on the other hand, a huge chunk of the humor of the show comes from her antics and the hilarious consequences the brothers Drake and Josh have to suffer as a consequence. Megan breaks the quiet and docile stereotype of little girls by taking on the role of the would-be "mischievous little brother". Megan is here to empower young girls by showing them that their job is not to be submissive.
5. Maddie the Candy Counter Girl, from The Suite Life of Zack and Cody:
Responsible, personable, and adorkable are three words that immediately come to mind to describe Maddie Fitzpatrick (Ashley Tisdale), the candy counter girl and oftentimes accomplice to the antics of twin brothers Zack and Cody Martin (Dylan and Cole Sprouse) in the Disney Channel show The Suite Life of Zack and Cody. Maddie is an example of an independent young woman, holding down a job at the candy counter to pay for her expenses. In addition, Maddie is a very conscientious student who is focused on making a good future for herself . As a prepubescent tween, I looked up to Maddie: she managed to keep it together and still have fun every once in awhile.
So, the next time your kid sibling or cousin asks to watch an extra half hour, just think: they're on the right track to becoming the next wave of feminists!