5 Rockin' Female Artists Featured by Gorillaz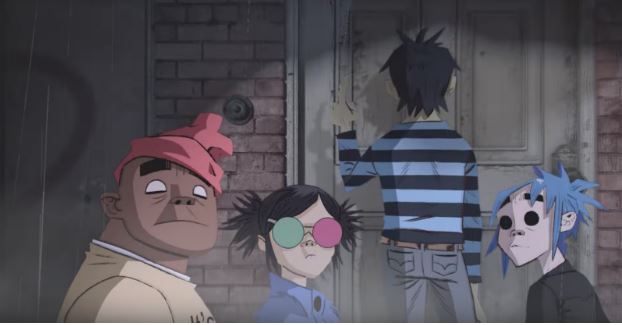 Image courtesy of Gorillaz via YouTube./ CC BY-NC 2.0
Hot off the heels of their newest album, "Humanz" (2017), Gorillaz have managed to change their literal tune once again. Gorillaz, created by Damon Albarn and Jamie Hewlett, allows for anyone to act as a member because the band are cartoon characters. Due to this fact, Albarn often invites people from all corners of the musical universe to create albums that are unique and poignant to their time.  Here is a list of five cool, rockin' ladies that have been featured members of Gorillaz over the years.
1. Little Dragon:
This band was featured on a number of tracks off the fourth album, "Plastic Beach" in 2010. Lead singer Yukimi Nagano is one heck of a frontwoman whose soft melodic voice pairs well with Albarn's on tracks like "To Binge" and "Empire Ants." Some notable  Little Dragon tracks include "Thunder Love" off their sophomore release "Machine Dreams" (2009) and "Seconds" off their third album "Ritual Union" (2011).
2. Neneh Cherry:
Neneh Cherry was featured on the Gorillaz track "Kids with Guns" from "Demon Days" (2005). Cherry started in the British punk scene during her teen years working with all-female bands like The Slits and Polystyrene of X-Ray Specs. Her crossover hit into the American music scene came from her debut solo album "Raw Like Sushi" (1989) with the song "Buffalo Stance" which is a fantastically fun dance club song. Cherry's musical sound has never been pinned down to just one genre, and she has sung or produced enough music to have something for everyone over her more than 30-year career.
3. Kali Uchis:
Kali Uchis is featured on the track "She's My Collar" off the latest Gorillaz album, "Humaz", as well as on the bonus track "Ticker Tape," which also features Carly Simon. Uchis has a honey-glazed 60s tone to her songs that feel like summertime all the time. She released her second mixtape "Por Vida" in 2015 and her career has only grown in popularity from there, working with Tyler, the Creator, The Internet and Daniel Caesar making funky contemporary songs with throwback beats. Songs to check out by her are "I Know What I Want" (2014), "Loner" (2015) and "Get You" (2016) a track by Daniel Caesar she is featured on.
4. Grace Jones:
Grace Jones is a legend, her life is an ongoing foray into all manner of arts and creation from modeling to music to acting and beyond. Jones is featured on "Charger"  off "Humanz", which opens with her haunting echo-filled voice saying "I am the Ghost!" The song features distorted guitar and synth sounds that recall something between a sample of a shoegaze song and the Madchaester rave scene of the 80s.  Here are a selection of her hits "Private Life" off her third album "Warm Leatherette" (1980) and "Pull Up To The Bumper" off her fourth album "Nightclubbing" (1981).
5. Miho Hatori:
Miho Hatori was featured on the track "Left Hand Suzuki Method" off the album "G-Sides" (2001)  released after their first album. She also was the original voice actor for Noodle, the young guitarist of Gorillaz. Hatori has participated and created music with many people both as a part of a band and as a solo act, her most notable probably being Cibo Matto which started as a duo with her and Yuka Honda in 1994. Their debut album "Viva! La Woman" (1996) is full of songs about food and at points even sounds a bit like the sounds of pots and pans being played. The almost loud whisper of the opening track "Apple" is reminiscent of later groups like Cocorosie while the instrumentals sound like a mix between a psychedelic rock band and the fake robot sounds of a cheesy sci-fi show, and I am 100 percent here for it!
    Gorillaz can only exist and change with the times if Damon Albarn continues to curate a host of fantastic artists to feature on their albums. With each passing album, Gorillaz features more and more female artists and bands. Hopefully in the albums to come Gorillaz will feature an even more diverse group of artists, the possibilities are endless because regardless of age, location, ability, race, or gender the artists can be animated into the Gorillaz-verse . Suffice it to say the future of Gorillaz looks to keep promoting an extraordinary cast of characters for records to come.