A Conversation with Neo-Punk Soul Duo OSHUN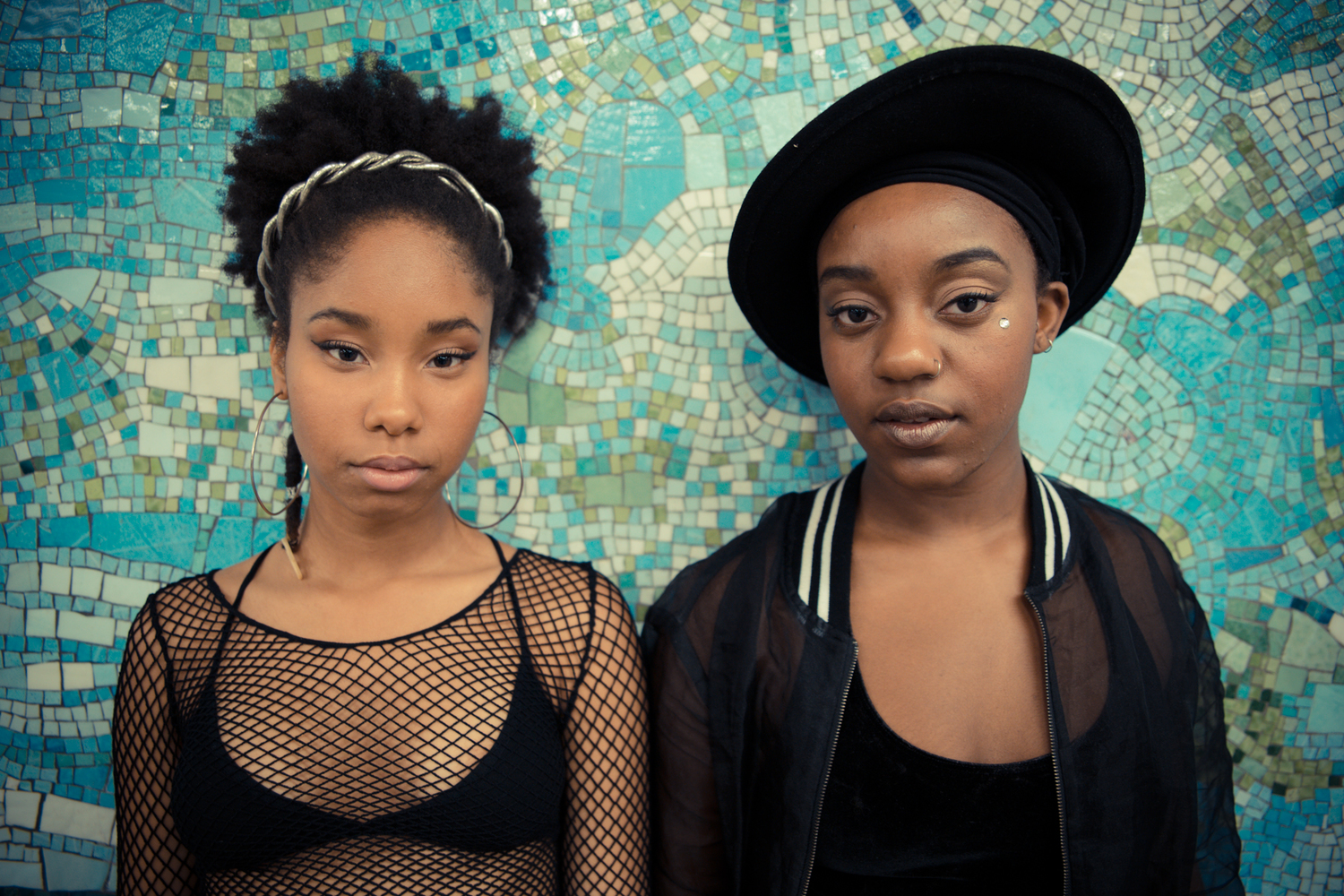 Last week, while catching up with friends from home, I discovered my new favorite angel-punk band: OSHUN. OSHUN is a Brooklyn-based Neo-Punk/Hip-hop band, coming together and making music for the purpose of spreading female empowerment and spiritual light. I sat down with frontwomen Niambi Sala and Thandiwe to converse about spirituality, music and feminism. My conclusion: these girls are rad.
Brittany: Where did you come up with the name OSHUN? It pays homage to a river deity I believe.
Thandiwe: Yes, Osun is a Yoruba river deity. She is basically the goddess of love and female energy, female sensuality. So we came up with her name because we felt her energy. Her energy was very present at the time when we decided to come together and make music. It was also a respect thing. Showing respect to our ancestors, recognizing where we are coming from and dedicating our music, our whole career, to something so beautiful. It is bigger than the music. It is a dedication.
Brittany: As you mentioned, what would you say is your band's relationship with femininity and the way you two try to portray yourselves?
Thandiwe: It is 100% an expression of femininity. Music is a feminine force because of the fluidity of sound. We are women so we can only express as women. We have the feminine perspective and at the end of the day we can only be who we are, and being that we both are women, it shines through in our music.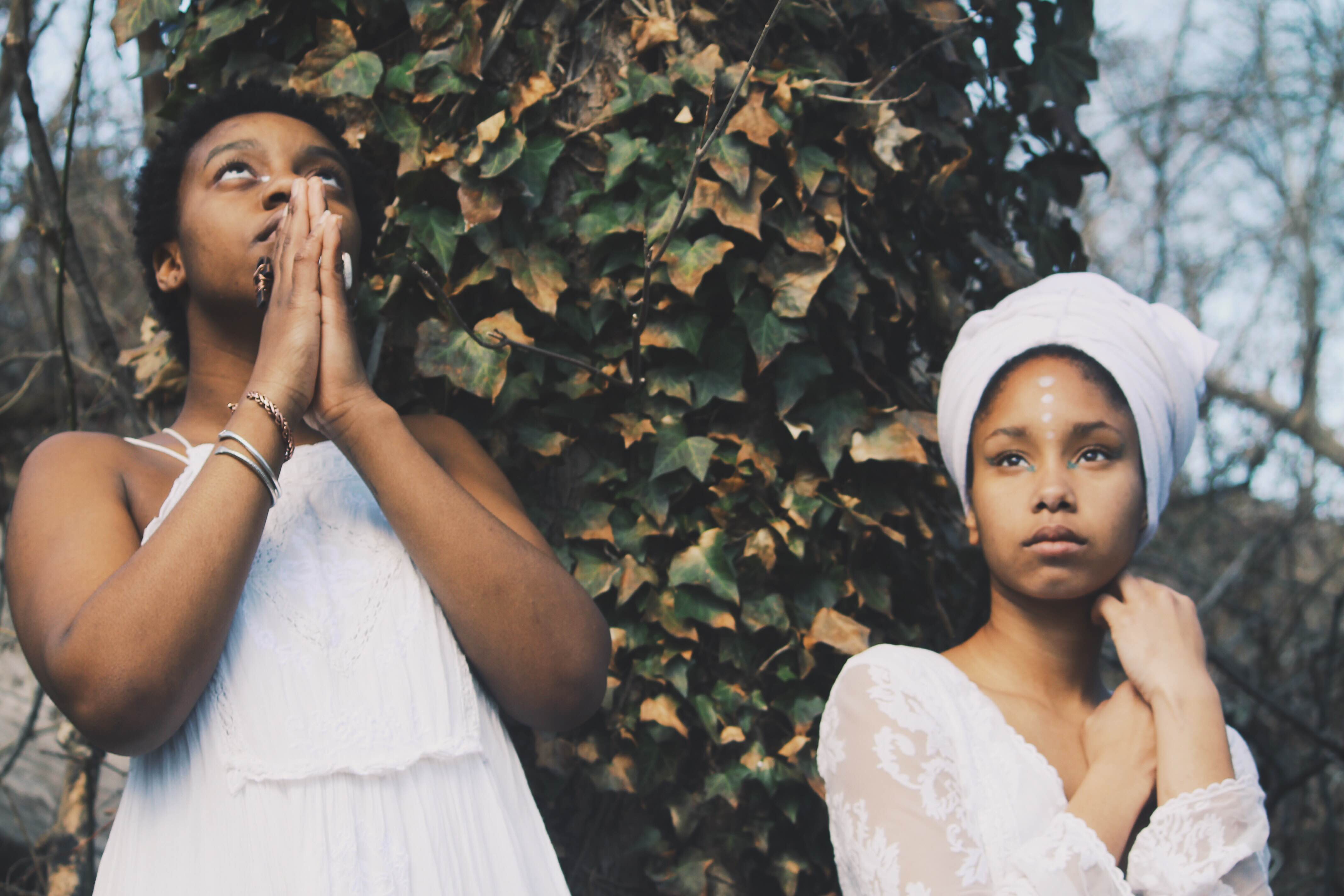 Brittany: I feel as though that must shine through in your musical process as well. So what is your musical process? Do you design first the lyrics in a song or the music behind it?
Thandiwe: Especially on this last project, it has been very much that we will get a beat we like and we'll write with it, or sometimes we'll have the lyrics and then match it with the beat but it is pretty much a simultaneous type of deal. We work shop together, but we just formed our official band, so moving forward we are hoping to work as a collective and create our own thing in-house.
Brittany: Great to know the direction you're heading in. Can you tell me a bit about the formation of your official band? For instance, how you and Niambi came together and what was your impetus to create a band?
Thandiwe:  We met in school. Both of us are students at NYU. Upon admission, we were both awarded scholarships for students that show distinct leadership skills and interest in social justice. With that being said, they had an orientation for admitted scholars at the end of our senior years. We were like we like NYU and are best friends on sight so let's just have fun and do this together. So we came to NYU in the fall and by the end of the first semester we were making music. It was a random thing. It seemed as if Osun herself was like, "You guys need to do this."  We both felt her energy heavy at the time and I wasn't even singing but it just came to be. We were already best friends attached at the hip, so it just made sense.
Brittany: You mentioned that you had this experience with the goddess Osun as a sort of driving force for the collaboration. Would I be correct in calling her a goddess? What is she to you?
Thandiwe: She is a deity, a manifestation of God. She is associated with sweet waters – rivers, streams, and things like that.
Brittany: Would either of you consider yourself either religious or spiritual?
Thandiwe: Definitely not religious, but both Niambi and I are spiritual people because we have spirits. We have spirits so there's no way that we really can't be spiritual. Of course we take influence and we have a relationship with this culture and these particular ancestor deities, but at the core of it, we are just two young women on the journey to finding balance and on the journey to finding truth. Everything evolves; everything changes. At the end of the day, if we are religious, our religion is truth and love.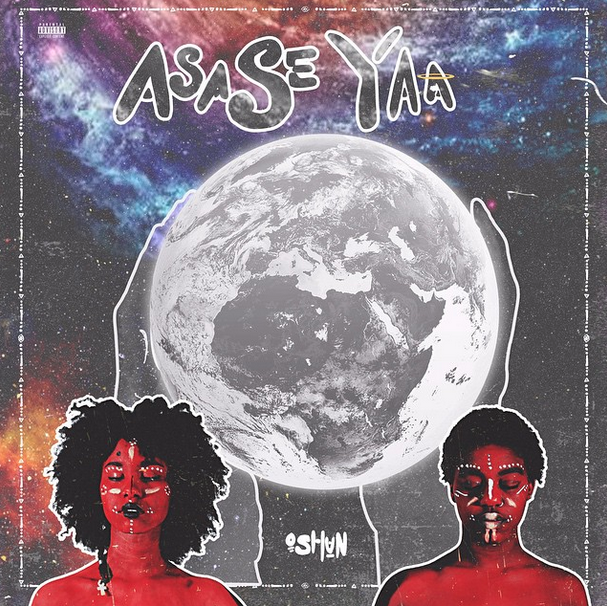 Brittany: And I think that is a powerful message to send to everyone and that you convey in your music. Would either of you two consider yourselves feminists?
Thandiwe: I think we consider ourselves to be empowering of females. I think that the term feminism gets a little jaded. When I think of the feminism, I think of anti-patriarchal movement that is overly focused on creating certain congruences between men and females – that may not have been the right word, but it is focused on showing why women are the same as men or better than men. I don't believe that we are the same, I think that there are differences that we can't deny and that is the balance of life. We should understand how those differences work together to create a complete, whole being. When you think of feminism, I think it is attached to a specific definition and movement that is not necessarily what we embody. For us, [through OSHUN] we are uplifting women. It is part of our path to help women recognize their power, to recognize what we can do and what we are. The fact that we call ourselves OSHUN, the deity dedicated to female energy, being water, women are water, pays tribute to this. Our whole new project coming out, called ASASE YAA, is about this system. Asase is another deity from Ghana, Mother Earth. Mother Earth is a woman. The female body is a microcosm of planet Earth. The womb has the same system as planet earth. Once you just associate the female with the planet that we live on, then you have to recognize the power and divinity in being a woman.
Brittany: Pulling from a quote you once wrote: "Oshun/JAH/LOVE/LIGHT 's peaceful omnipresence for the bigger purpose of empowering women, and all people, instilling confidence, cultural pride, and self-respect." Can you speak to your goal of empowering women through your lyrics, videos, anything of the sort?
Thandiwe: We are evidence of the power of women. For example, we can rap and that is not generally a female genre. We are extremely good at what we do – not even from an egotistical standpoint, it is the fact that we work hard and we present our best work for the people. That in itself is a testament to empowering women – showing young girls that you can do this and have a positive message and get attention and feel proud of yourself.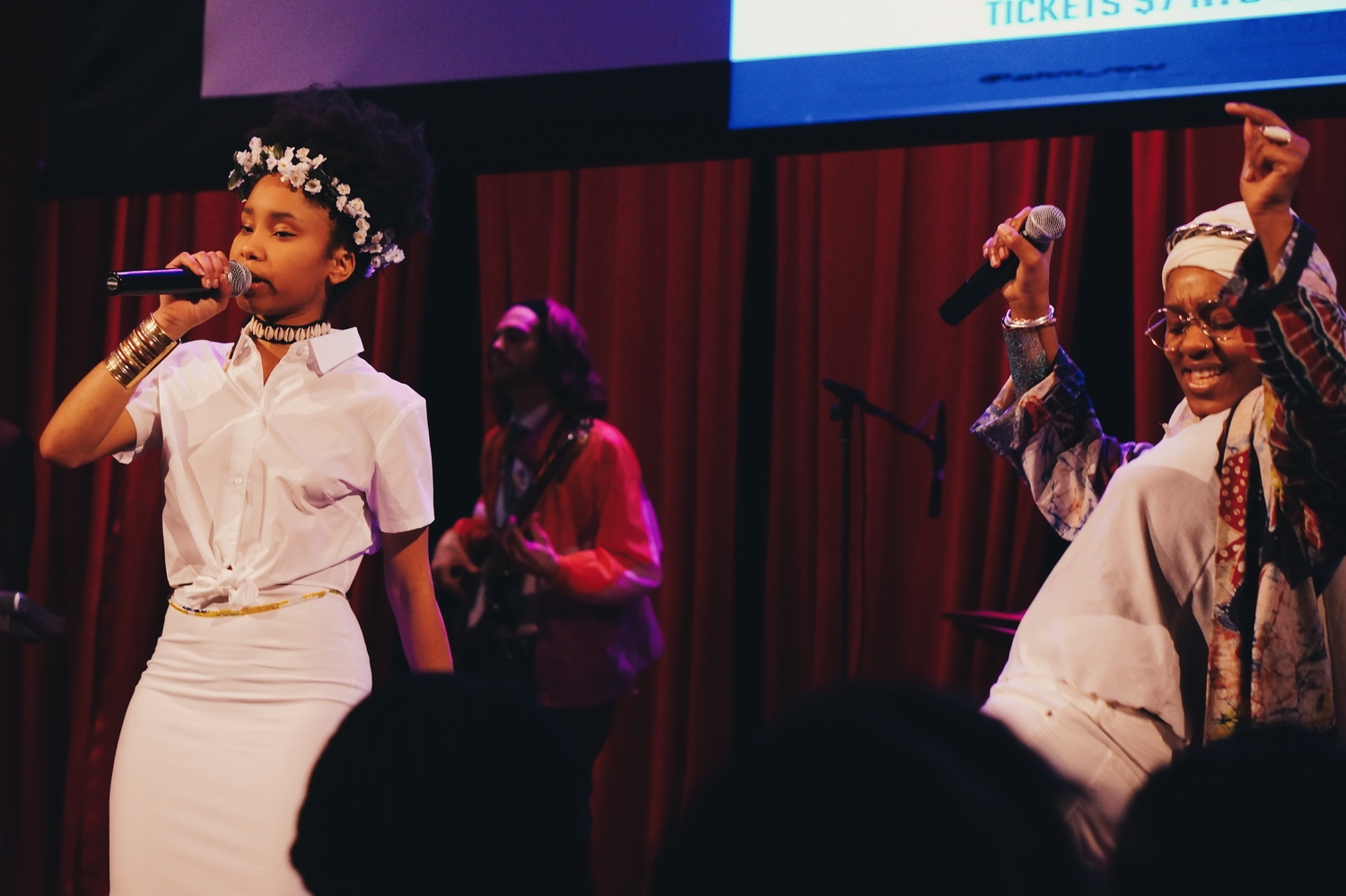 Brittany: I feel that I see your message of female empowerment and gratification through the Earth integrated in every aspect of your creative innovation. In the music video "Gyenyame," for example, all of the long shots admiring the cinematography seem to be appreciating the beauty around you. When you're creating these music videos what is your goal with your visual representations?
Thandiwe: A lot of it is trying to bring our message across. Our music is definitely vibey music. People will agree that this sounds good and our music resonates with people's spirits. With that being said, being able to integrate a visual component is very important. When you think about anything you can feel, your visual understanding of that has to be in sync or else it messes up the whole message. But with those [videos] in particular, we wanted to express really just Africa and Brooklyn – this culture being stuck in the wrong place. Stuck not being a bad thing, just about portraying what we really want to say. Every video we have ever done has been very special, months of planning, searching for spaces and resources for what we want.
Brittany: What is your spirit animal?
Thandiwe: Chuckles, Definitely a lion. The Lion King is my favorite entity of all time and I have a fro so people think I'm a lion nowadays.
Brittany: Do the two of you feel you have ever faced any set backs as women of color in the Rap/R&B industry?
Thandiwe: We have tried our best to keep everything green, keep everything organic and stay uninvolved in the logistics in the music scene and the politics of the underground scene. We are just doing things naturally and being dope females. We maybe even get an advantage as females as people tell us "you guys rap and you're females" which I think is a good sign. I'm sure there's stuff we don't see or care to know about though.
Brittany: Do you think you haven't faced as much discrimination for being women because you received your fame through the Internet, Soundcloud, etc. where there is less face-to-face contact?
Thandiwe: Yes, we'll see how things change once the next project, which is larger, drops, but right now are we receiving lots of support from everyone as we are playing shows and just putting out music from a local standpoint.
Brittany: Do you have any favorite concert moments?
Thandiwe: A little over a month ago we had a show with AfroPunk and Red Bull Sound Selects and that show was amazing because we got to perform with so many of our inspirations which was a big deal for usand the show was completely sold out, hundreds of people.
Brittany: That sounds spectacular. Was that your first sold out show?
Thandiwe: Yes, it was really enlightening. Our band was so amazing, it was a great experience.
Brittany: Looking towards the future, what would you say is your life mantra?
Thandiwe: Life mantra – Love. Just love, period.
Niambi: Ask and you shall receive.
Portions of this interview have been cut together to form an abridged version.