Adrian Piper at the Hammer: Constructing Her Own Story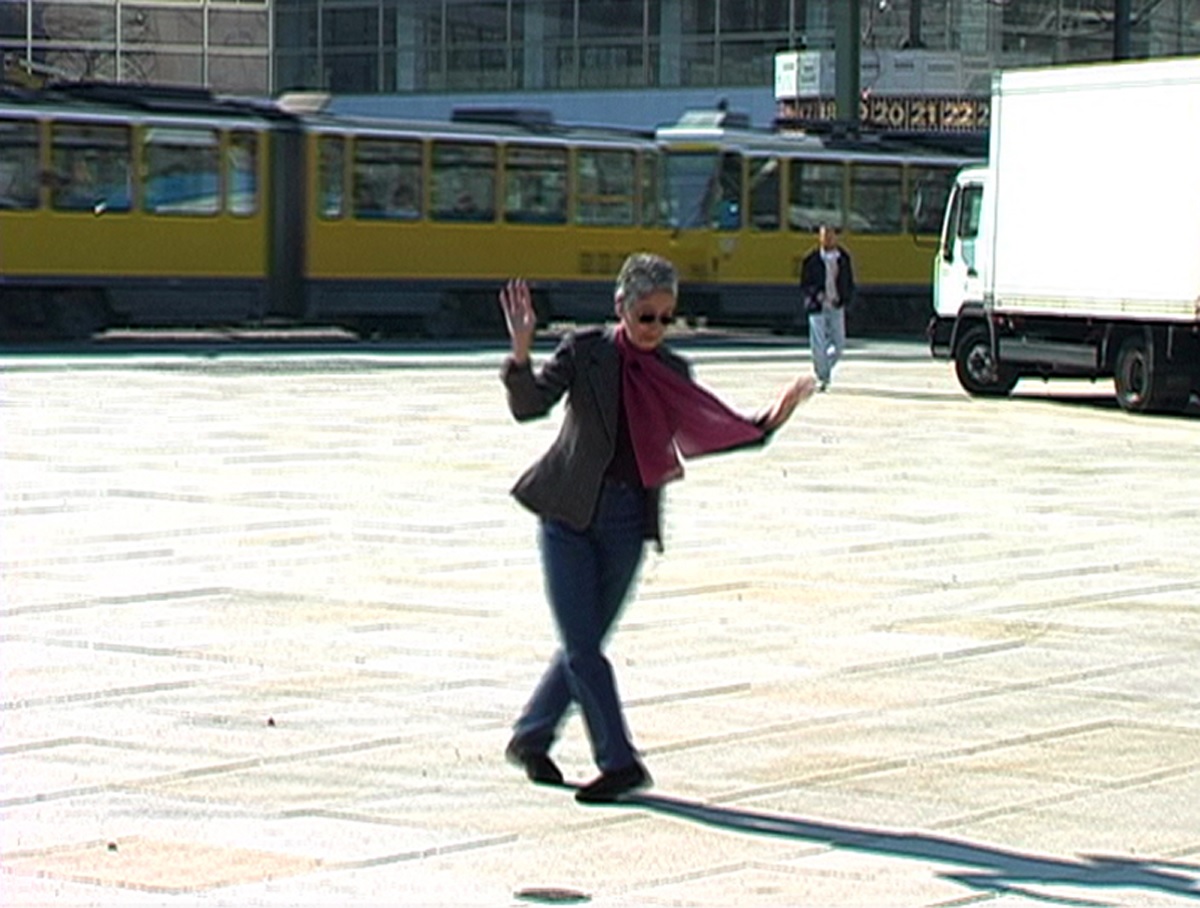 Image by Hammer Museum

When I entered the Hammer Museum's comprehensive exhibition on Adrian Piper's work, the first thing I noticed was the variety of mediums that Piper utilizes. From painting to photography to film, there are very few limits for her in terms of materials or subject matter. Though I did not know much about Piper upon entering the exhibit, it was abundantly clear from the outset that she is a highly skilled, versatile, and perceptive artist. I came to find that "Adrian Piper: Concepts and Intuitions, 1965-2016" is the summation of her obvious talent and robust artistic voice. Unbeknownst to me, I was viewing the work of one of the most influential conceptual artists of the 20th century.

Piper, a light-skinned Black woman who often writes and muses about her ability to "pass" for white, has a formal background in philosophy, including a Ph.D. in the subject from Harvard University. She's taught philosophy at several renowned institutions and this is evident in her art: her work buzzes with the metaphysical ruminations that are also often the subjects of her papers, and often focuses on questions about consumerism, race, gender, and class.

Piper once looked at her Wikipedia page and was unhappy with the way her biography was presented – so she reached out to Wikipedia about the inaccuracies. When their replacement page still failed to live up to Piper's standards, she created her own. Her page embodies what makes Piper such a force to be reckoned with: she is unafraid to exit the mainstream to craft her own unique narrative, imbuing it with the proper nuance and complexity.

Piper's work covers a variety of mediums and subjects. One of the first pieces that caught my eye was a photography series she created entitled "Food for the Spirit." The photographs were taken after Piper became engrossed in Immanuel Kant's seminal Critique of Pure Reason (I have read excerpts of this esoteric book personally, so I know for a fact how disconnected one can become from it). Each photo is a self-taken picture (I refuse to reduce these to "selfies"), taken in the same body position throughout her reading of the book. I appreciate how Piper, a philosophy scholar, acknowledged how esoteric and confusing works of philosophy can be even for someone who studies them intensely. Due to institutional barriers to a certain cultural education, a variety of intellectual works can seem out of grasp for many people.

In another photography piece that caught my eye, entitled "Five Unrelated Time Pieces (Meat into Meat)," Piper tracks the transformation of a pound of pork into four patties, grilled on a stove and then consumed. The piece was pretty comical in terms of subject matter, but I truly appreciated its meditation on the how the material transforms and changes over short periods of time, as well as the different ways that material goods can appear to be the same while actually being quite different from each other.

Piper also focused on activism and its ethical and moral questions in a series of artworks created in the 1970's during the widespread romanticism of an "activist" lifestyle. Most notably, in her piece "This is Not the Documentation of a Performance," Piper rewrote the signs of protestors fighting the gentrification of their government housing. The new sign says "This is not a performance," emphasizing the necessity of political protest to ensure quality of life. Though not explicitly connected to allyship, the pieces made me think of recent conversations about the meaning of "saviors" versus legitimate allies that have come to the forefront of activist dialogue. I found these pieces to reinforce the need for allies of all marginalized communities to reevaluate their priorities and intentions. True allies must subsequently adjust their approach to social justice to amplify the voices of the marginalized rather than speak on behalf of them; Piper has always emphasized this in her work.

Some of the other interesting pieces in the collection include the film pieces that Piper created. In "Adrian Moves to Berlin," the legend herself discos for nearly two hours on the streets of Berlin her dance moves a "fuck you" to the former, and sometimes current, totalitarianism of the city. Another piece, entitled "Adrian Piper, Funk Lessons, 1983-1984," is a video of Piper teaching a diverse audience of young people how to dance to funk music while simultaneously commenting on the racial past of funk music, and how it was co-opted in particular by white artists.

Next to me, I heard a patron mutter that she found Piper's work to be too "out there" or "weird." I have to admit, I could not connect with, or even make sense of, all of Piper's work. But, I think that pieces that are extremely unconventional are often some of my favorites, even when the true meaning is lost on me. I appreciate that they represent a clear artistic vision with little regard for widespread public understanding. I think that's profoundly brave and important, particularly for an artist that is a woman of color.

I'm hesitant to say that her pieces that focused on race were some of my favorites, as I feel as though that plays into a common theme we recently discussed in one of my classes: the burden that is often placed on Black artists, or really any artist that is part of a marginalized group, to always create art that centers on their oppression. There is a great essay from a few years ago that discusses whether or not black art can, or even should, be freed of the politicalization applied to Black people. It feels reductive for me to single out Piper's pieces about race when they do not encapsulate all of her identity or her artistic breadth.

But I have to say that I think these pieces were often the ones that were the most difficult, and thus the most important, for me to view as they often utilized historical, as well as modern, photographs to demonstrate the horrors of American racism. As an intersectional feminist, and particularly as a white woman, it's crucial for me to consume as much content from artists, writers, and activists of color in an attempt to understand the experiences of others and improve my own notions of allyship (even though I will never truly understand what it is like to be a woman of color). Piper's pieces about race were often the most unfamiliar for me to personally connect with, and thus the ones that I found most enlightening, not just because of their insight but because of the way that Piper expertly uses diverse mediums to tightly construct commentaries on race.

For example, there was a photograph of a white woman and child, squished between visceral images of impoverished women and children from other parts (though unnamed) parts of the world. The photographs were captioned with the words "Pretend not to know what you know," implying the willful ignorance of white families of white supremacy not just in America but throughout the world. The same phrase captions photos of horrific scenes of racism and police brutality, including attack dogs on top of an unarmed Black man, a Black man passed out on the street and surrounded by white officers, and Martin Luther King Jr., the non-violent civil rights leader himself, held over a police car. In a separate room, the photos of smiling, happy black families are captioned with the phrases: "We are among you. We are around you. We are within you. You are safe." It seems as if it is meant to point out the great lengths that Black people must go to to appear non-threatening to white families, or to the general public; people of color are constantly forced to kowtow to the fragile sensitivities of white America.

The piece that moved me the most in the entire exhibition, though, was a portrait of a young Black girl underneath words of doubt, ostensibly about her inevitable experiences as a Black woman. The words "calm down," "I can't imagine what makes you think that," and "you're overreacting" blazed against the piece in bright red, clinical typewriter font, and were juxtaposed against the image of the young black girl, smiling with hope and joy. The phrases, like most microaggressions, weren't outright harsh or difficult to read, but nevertheless dismissive and hurtful. It's difficult to know that the innocence of the girl would not only be crushed by the white patriarchy institutionally, but also people who perpetuate oppression by invalidating her experiences. In my opinion, the piece is one of Adrian's strongest works, and I'm sure it is something that comes from a wealth of painful personal experiences.

In any case, Piper's work is so diverse and emotionally rich that it is absolutely worth discovering for yourself, and is particularly crucial if you call yourself an intersectional feminist. More than that, I think that in the confusing world we live in, especially one in which the identities of marginalized groups are constantly politicized and defined by outsiders, it is refreshing to see an artist swim against that strong tide and do whatever the hell she wants.

At the very least, though, you should read her Wikipedia page.