Aja Monet and Reyna Biddy: Reclaiming Femme Identity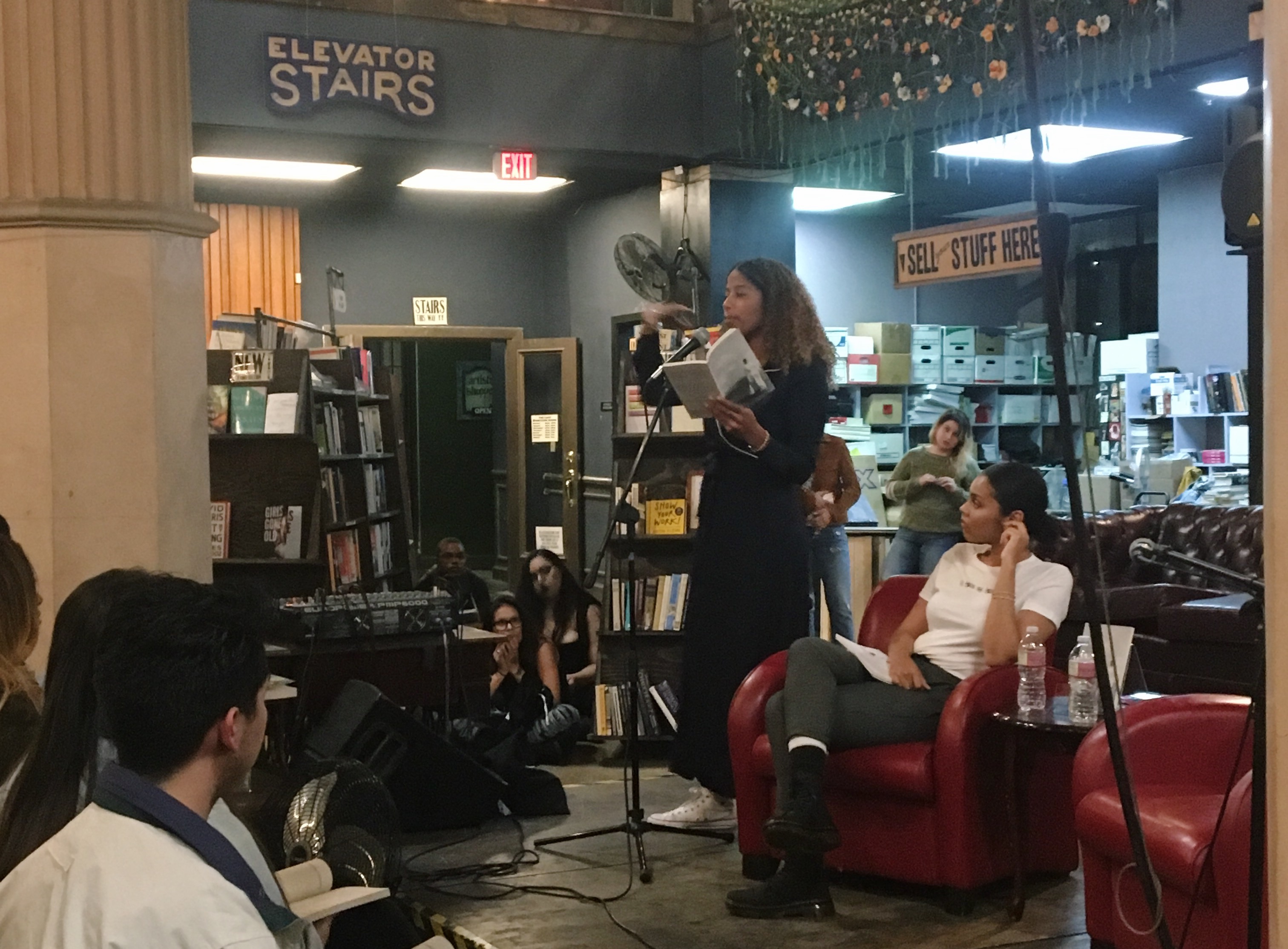 Photo by Greta Altmeyer
This past Wednesday, The Last Bookstore in Los Angeles held a poetry reading featuring two women of color: Reyna Biddy and Aja Monet. Both have recently released poetry collections centering on femme identity in adolescence and young adulthood.
Biddy read aloud from her work, "I Love My Love," sharing intimate details of the emotional journey she has gone on over the past few years. Many of the stories centered on themes of emotional labor within romantic relationships, such as the interplay between partners' femininity and masculinity. In particular, Biddy spoke about femme identities in heterosexual relationships, telling stories of a man who told her that she could not live without him – and of one that always depended on her to save him.
As she wrapped up her reading, Biddy told a story about the preface of "I Love My Love" and her experiences in developing faith. At the time that Biddy originally self-published in September of 2015, she had a following of around 15,000 people. However, after dropping out of college to pursue writing, she sold less than 100 copies within the first month of "I Love My Love"'s publishing. Biddy said that she never had felt like a failure before and reconsidered her career in writing; yet, this experience made her more intuitive and made her relationship with God a more spiritual unity. Biddy explained that while writing "I Love My Love," she would lock herself in her boyfriend's closet to work. After its publishing, she instead locked herself in and prayed to God for a sign that she should continue on her journey. In the next month, sales of her book jumped from 100 to 5,000, restoring her faith in her abilities.
Monet shared similar stories of emotional journeys from her work, "My Mother Was a Freedom Fighter." However, these centered more on the emotional labor of all kinds of relationships, including familial, as well as the greater trauma that femme and female identities experience as whole. Monet highlighted women in her own family, including her own mother, who struggled to survive as a single parent.  
A common theme throughout these poems is Monet's belief that "all violence is a violence against women," whether that violence is direct or indirect. She spoke briefly of her relationship with her grandmother who left several of her children behind, and of the double standards that the whole family imposed upon her grandmother because of her female identity. Moreover, she spoke about the lack of choice that women have, especially in their family lives. Even in her own family, Monet said that "we rarely listen to the women who didn't have the choice not to have children."
Biddy and Monet are signs of a turning tide in popular 21st century poetry – one that most associate with renowned poet Rupi Kaur. These works focusing on the toils of femme identity, especially the struggles of women of color, resonate strongly with readers who have never been exposed to these voices, as well as readers who have never been able to hear their stories told until now.