ALOK Tackles Texas, Trauma, and Trans-Resistance through Stand-Up Comedy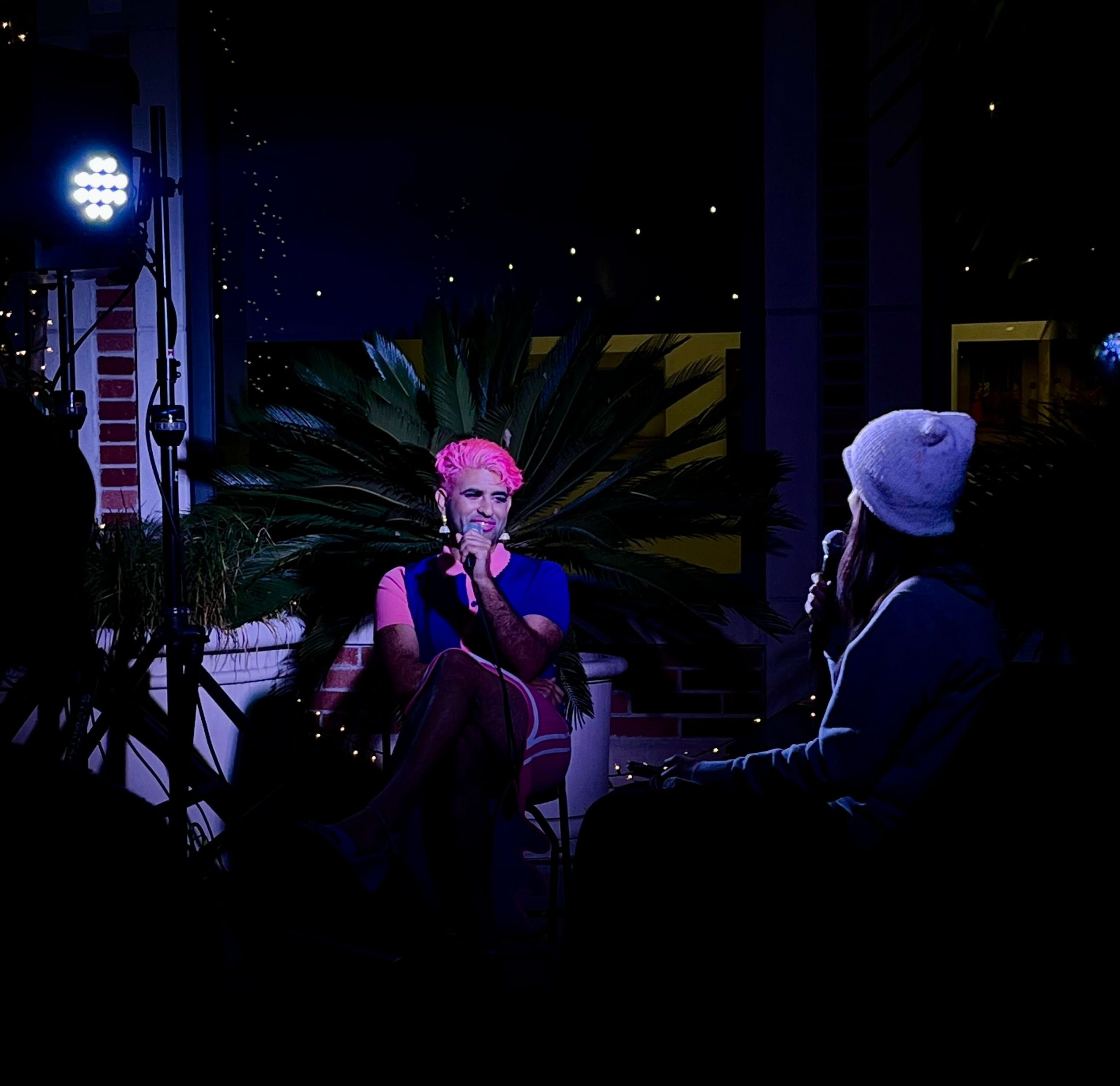 Image description: ALOK, an individual with pink hair wearing a pink and blue dress, sit in front of a plant. They are smiling and holding a microphone. They are looking towards another person, who is shown from behind, holding a microphone and wearing a beanie.
Internationally recognized for their advocacy work, fashion sense, and poetry, transfeminine writer and performance artist ALOK livened the Fowler Museum's courtyard venue on March 4. UCLA's Campus Events Commission (CEC) hosted this event, which was a combined performance of comedy, poetry and music. Between seamlessly interwoven moments of blithe laughter and reflective pause, ALOK's performance spoke to matters of trauma, healing, and gender nonconformity from their experiences growing up in small town Texas to becoming an acclaimed media personality.
Musical guest Shea Diamond opened the show with a soulful rendition of her song "I Am Her," narrating the years Diamond spent incarcerated in a men's institution. Lyrics bound to themes of trans-exclusion and resistance effused the courtyard in an atmosphere that celebrated vulnerability and healing, setting the stage for ALOK's following performance.
ALOK sparked laughter among audience members through witty commentary on heteronormative politics and social conventions, poking fun at trans-exlcusive cultural norms and the individuals who uphold them. In one shtick, ALOK commented on the archaic gender norms heterosexual and cisgender social media influencers often reinforce through online trends, such as gender reveal parties and performative allyship.
They also spoke on issues of political violence directly threatening trans youth in their home state, condemning the dozens of anti-trans bills that have recently flooded Texas legislation. Among these is a proposal to ban LGBTQ+ books, including ALOK's own "Beyond the Gender Binary," from Texas state school curriculum, a move to which ALOK sarcastically quipped, "Honestly goals, right?"
Intermittently, ALOK took moments to share brief excerpts of spoken poetry, detailing deep emotions of grief, rejection and disillusion through verses that chronicalled crucial experiences in their life. In one poem, ALOK recalls the overwhelming helplessness and loss they felt in the aftermath of their grandfather's passing. In another, ALOK speaks to their longing for a world wherein "trans life is not only integrated and accepted, but celebrated and seen in its beauty."
The evening concluded with a series of questions posed by a CEC moderator, who inquired details surrounding ALOK's activism and social media presence. Beyond their performance, ALOK is a staunch advocate of the movement to #DegenderFashion. The campaign is dedicated to dismantling the nonsensical gendering of inanimate clothing items and encouraging uninhibited self-expression through fashion, a mantle that has weighed on generations of transfeminine people of color.
"#DegenderFashion, of course, is about fashion, but it's also a larger poetic impulse that says, 'What would it mean to create a world that affirmed the dignity of trans feminine people?'" ALOK said. "Everything I do in the fashion industry is with that in mind."
Creatively or comedically, ALOK's work remains impassioned by the spirit of trans-resistance and liberation. Students interested in following ALOK's upcoming performances and advocacy projects can find more information on their website or Instagram page.