Anti-Blackness and the Case of the BBRC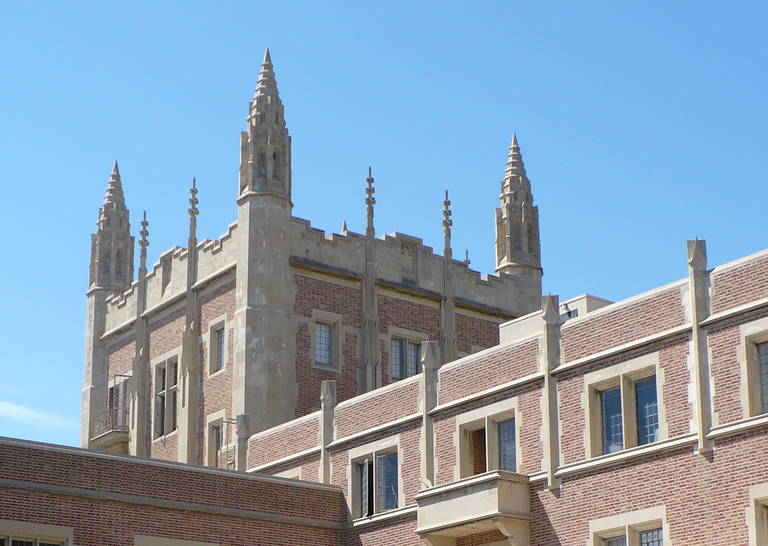 This work is licensed under Creative Commons
Image description: A side view of Kerckhoff Hall showing the roofline.
Anti-Blackness is not some dissipated ideology. It is a structure established by actions and aggressions which have worked to devalue the presence of Black students at UCLA.
Having been at the forefront of performative discourse and politics alike, this form of racism resurfaced when 51.97% of students did not vote to pass the Education, Access and Retention, Now! (EARN!) referendum in last year's student government election. This referendum would have provided adequate funding for the curation of the Black Bruin Resource Center (BBRC) through a minimal student fee of $3.75 per quarter.
When compared to other campus resource centers, which receive significant student funding, the BBRC exists on a nominal budget. Funding expansion and potential endowments for the center were continuously struck down during previous elections. For this reason, the EARN! referendum was uniquely structured to require minute contributions from students in order to hire staff, expand accessibility to the center's resources, and support Black student retention.
The BBRC describes its mission as working to "uplift, support, and inspire the UCLA Black and African Diaspora Community." The center's necessity lies in its ability to provide reprieve for Black students, whose educational experiences are worn-down by systematic prejudice and aggression. Opposition to the center stems from the BBRC being a pro-Black space, whose existence signals a path towards restructuring the dynamics that fuel anti-Black discrimination on campus.
Quite frankly, it is disappointing to witness racism damage the educational quality of Black students at UCLA. As much as our campus is at the forefront of many social and political movements, it is clear that we remain complicit in anti-Blackness.
Since the EARN! Referendum called for support of the BBRC, its failure to pass indicates a tendency for piecemeal reform visible at UCLA and within society at large. Nevertheless, it is crucial to discuss the events leading up to vote on this referendum, which included a series of targeted social media accounts and platforms that persuaded a silent majority of students to vote against funding for the BBRC.
Third-year student Candace Eje explains how a series of Instagram accounts surfaced right before the election, spreading false information about the semantics of the EARN! Referendum and the individuals spearheading the initiative. When Black students reposted profiles spewing racist rhetoric 'to expose them', they were inadvertently helping reach a silent majority of 'no' voters who were now informed about proposed funding to the BBRC. Subsequently, on platforms such as Yik Yak, students circulated anti-BBRC content manufactured to dissuade individuals from voting in favor of EARN!.
This manipulation of Black outrage was not only a horrific display of racism within our campus community, but according to Eje, it also resulted in the referendum becoming one of the most heavily contested measures voted on during student elections. Witnessing the futile efforts of students working to hold these racist profiles accountable resulted in feelings of disappointment and eventual apathy in students like Eje. Consequences to these events surrounding the EARN! referendum are found in the burdens they placed on the mental well-being of Black students at UCLA.
Eje finds that the dehumanization of Black students is conducted by both institutions and individuals, though more consistently carried out through everyday interactions with students and faculty. Moreover, UCLA administrators have normalized racist actions and behaviors by individuals on campus due to a lack of disciplinary measures. This makes for extreme distrust between Black students and the university, and a general sense of despondency that their material conditions have not improved as quickly as desired.
These forms of hostility work to toy with the health of Black students who aspire to make the BBRC a place of belonging and mental wellness. Simply put, pro-Black activist movements at UCLA did not necessarily correlate with the actual outcomes of the referendum to fund a pro-Black space. However, visceral consequences formed when the presence of Black students on campus was further threatened online and in voting booths by non-Black students.
It is evident that there is a cyclical pattern of fierce resistance against attempts to combat anti-Blackness on campus. Rather than uplifting the cultivation of spaces for Black excellence, student retention, and empowerment, we have collectively chosen to knock down such efforts. Our school is an objectively unsafe place for Black students to exist unapologetically as themselves. Considering that this community has been at the forefront of most social and political movements at UCLA striving for equity, inclusion, and accessibility for all groups, non-Black students must push to hold ourselves accountable for failing to show up for Black students when they required voter support.
A lack of access to adequate funding for the BBRC rehashes social harms which lead to the imposter syndrome effect that many Black students experience. It is time for non-Black students to settle in discomfort and recognize where we have gone wrong in putting words into action. It is apparent that we only cater to social reform when it abides by the barriers put in place to hinder the advancement of Black students. This should give us much to think about in regards to how we actually treat our fellow students and the ability of outcomes of such events to reflect the true nature of our school.