Arts in L.A. — Dec 18 – Jan 6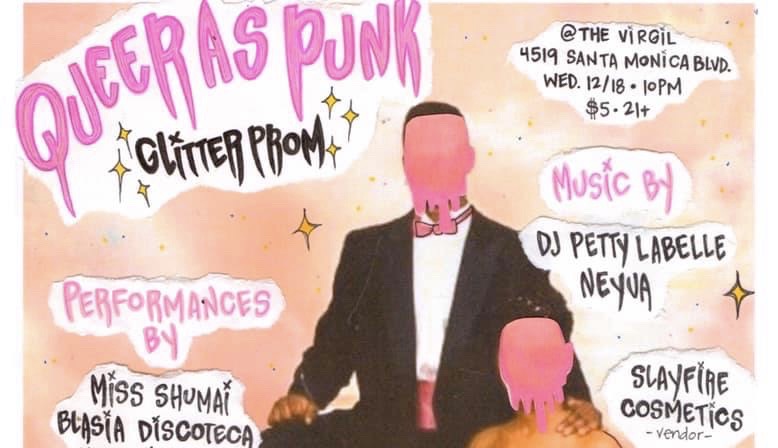 Los Angeles has arguably one of the most thriving arts and music scenes in all of the country. From the influence of Hollywood to the independent works that come out of DIY scenes, there is a special kind of creative energy flowing through The City of Angels.

However, sometimes there's so much happening in L.A., it's hard to actually know about all the events you can possibly attend! Luckily, Fem Newsmagazine is here to help.

Below is a list of arts, music, and film events happening throughout the Greater L.A. area during the next few weeks! These events have been chosen specifically for the way they support or are created by feminist, queer, marginalized artists. They are spaces you should be able to feel safe in, and also feel good about supporting!

We hope one (or more!) of these events can bring you a sense of joy and community! Feel free to share your experience with us through our social media accounts if you go out and enjoy yourself at any, and check back with us later in January for more event suggestions!

December 18

Feminist Book Club at The Last Bookstore

Time: 7:30 pm-9:00 pm
Address: 453 S Spring Street
Age Range: All
Price: $41

Publisher Julia Callahan of Rare Bird Books leads this book club at The Last Bookstore once a month! A variety of intersectional, feminist literature is covered, and this month the book of discussion is In the Dream House by Carmen Maria Machado. Tickets are not the cheapest at $41, but this price does cover the cost of a copy of the book, snacks and beverages, and also helps to pay the moderator. Definitely a cool option to have when you want a low-key night out! You can get your tickets in-person at the store or online here. Make sure to plan for this ahead of time to get your reading in!

MEND: Screening, Conversation, and Performance with Chris Emile at Institute of Contemporary Art

Time: 7:00 pm-9:00 pm
Address: 1717 East Seventh Street
Age Range: All
Price: Free

MEND is a meditative short film from choreographer Chris Emile and filmmaker Jackson Kroopf that explores what it means to perform masculinity in different spaces. There will also be a live performance from Emile and a conversation between himself and Kroopf, moderated by film curator Jheanelle Brown. The event is free, so check it out and show support to this project!

Purple Garden Cinema: Just Mercy Screening at The Underground Museum

Time: 7 pm
Address: 3508 W Washington Boulevard
Age Range: All
Price: Free

As a part of their Purple Garden Cinema series, The Underground Museum will be screening Just Mercy, a new Michael B. Jordan film that tells the true story of wrongly convicted Walter McMillian. The film doesn't hit theaters officially until December 25th, and this screening is FREE, so take this opportunity if you can!

Queer As Punk Glitter Prom at The Virgil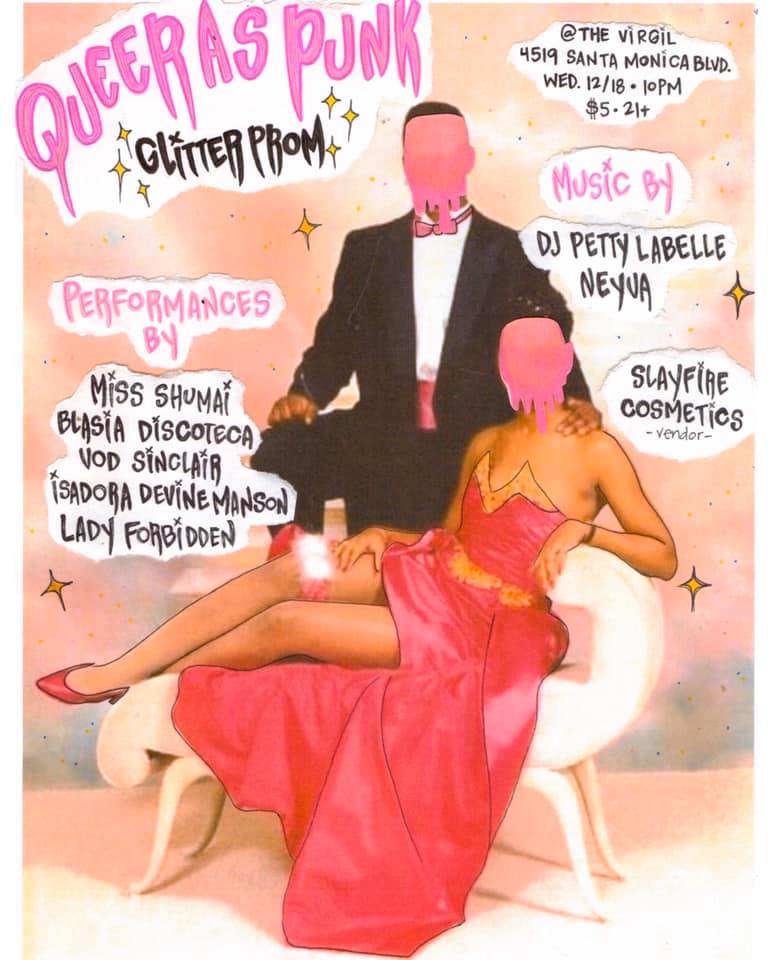 Time: 10 pm
Address: 4519 Santa Monica Boulevard
Age Range: 21+
Price: $5

Queer As Punk is an art collective made up of leaders in the L.A. queer nightlife scene that strive to create a safe, encouraging community. On December 18th, they'll be holding their 3rd annual prom featuring a variety of musical acts, performances, a cosmetic vendor, and more! Tickets are just $5 dollars at the door and the theme is glitter, so dress accordingly!

December 20

Chewing Foil Holiday Party at TBA Location

Time: 9 pm-1:30 pm
Address: TBA
Age Range: 21+
Price: $5.75

The arts collective Chewing Foil is hosting a holiday party with a variety of amazing, genre-bending artists including Gemma Castro, Foushee, Hirakish, and more. Tickets are available here for just $5.75! Make sure to reserve your spot so you can stay updated on the party's location.

December 26

Club Surge: QTPOC Dance Party at Que Sera

Time: 9 pm-2 am
Address: 1923 E Seventh Street
Age Range: 21+
Price: $5

Held in Long Beach, this post-Christmas party will get you dancing and joyful with music from DJs and drag performances from Vivvi the Force, Sissy Slays, Anna Yacht, and Polly Amber Ross! The $5 fee at the door will go entirely towards paying the performers, so go out, have fun, and support these artists!

December 31

Megan Thee Stallion NYE Concert at The Novo

Time: 8 pm
Address: 800 W Olympic Boulevard
Age Range: All
Price: $50+

Don't have any New Year's Eve plans yet? How about starting off the new decade with Megan Thee Stallion? Tickets for her December 31st show at The Novo are still available, so get them here while you still can!

January 6

Queer Book Club at The Last Bookstore

Time: 7:30 pm-9:00 pm
Address: 453 S Spring Street
Age Range: All
Price: $27.99

This book club at The Last Bookstore is led by Los Angeles-based CB Lee, the author of Lambda Literary Awards nominated book Not Your Sidekick. In January, the novel Crier's War by Nina Varela will be the center of attention for the club meeting. This ticket price is a bit cheaper than that of the Feminist Book Club because there are no snacks included, but still make sure to purchase a ticket in the store or online to get your book ahead of time!

Ongoing

Chiron at The Gallery at REDCAT

Time: Tuesday-Saturday, 12 pm-8 pm; Sunday 12 pm-6 pm
Address: 631 West 2nd Street
Age Range: All
Price: Free

Artist Adelita Husni-Bey's exhibition here features her most recent film, Chiron, and showcases other works of hers including Postcards from the Desert Island and 2265. Through non-hierarchical forms of pedagogy that Husni-Bey explores, she invites visitors of this exhibition to think critically about the concepts of culture and collectivity. Her work can be seen at REDCAT now and until January 26th for free!