Arts in L.A.: November 5-16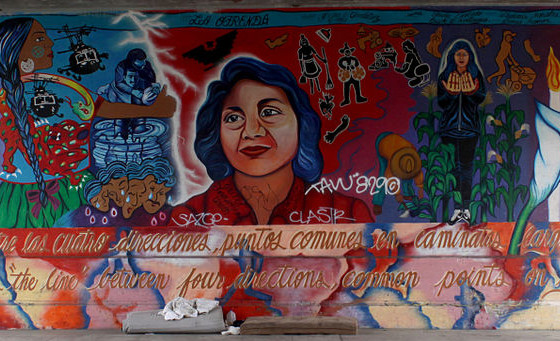 Photo by T. Murphy | Wikimedia Commons
Here are some of the events the Arts and Creative staff is looking forward to!
Writers Vivien Mejia (Ugly Betty, East Los High), Carolina Rivera (Jane the Virgin, Devious Maids) and showrunner Gloria Calderon Kellett (One Day at a Time) discuss the importance of bringing new narratives about women of color to the screen. Moderated by UC Irvine film and media studies professor Bambi Haggins.
Where: Hammer Museum, 10899 Wilshire Blvd, Los Angeles
When: 3 pm
Admission: Free
Come enjoy an afternoon of life drawing with some fast beginning exercises leading to long poses. No artistic ability required, this is a relaxed, inclusive figure drawing workshop to raise funds for a good cause and socialize, everyone is welcome. There will be a potluck dinner, drinks and music and some basic drawing materials provided.
Where: Junior High Los Angeles, 5656 Hollywood Blvd, Los Angeles
When: 3-6 pm
Admission: $20, all proceeds go to Unidos Por Puerto Rico
The Last Bookstore is pleased to present an evening of readings by poets Aja Monet (MY MOTHER WAS A FREEDOM FIGHTER) and Reyna Biddy (I LOVE MY LOVE).
Where: The Last Bookstore, 453 S Spring St, Los Angeles
When: 8 pm
Admission: Free
The Festival is a showcase for new work by American Indian & Indigenous international independent filmmakers, bringing together decision makers and content creators with the goal of ensuring media representation of American Indian & Indigenous content to the world at large.
Where: Laemmle's Monica Film Center, 1332 2nd St, Santa Monica
When: Various times
Admission: $8.00 per screening online, $10 at the door
The Latino Comics Expo is the nation's first convention dedicated to highlighting the work of comic book creators, illustrators and others in the literary and visual arts  whose work reflects the influence and celebration of Latino culture.
Where: Museum of Latin American Art, 628 Los Alamitos Ave, Long Beach
When: 11 am
Admission: Free
YOU WOKE? Join us for our 2nd annual "Woke" Short Film Showcase!! Our lineup is growing, as of 10/1, we just signed on a new filmmaker with a short film that will blow your mind on how to find your voice! We have another powerful story dealing with a black woman in an interracial relationship and the struggle to get her white boyfriend to wake up to what's going on!! Another terrific short film deals with a black man, a white man and an alien trapped in one room. You will not believe what happens next!! This is an action packed line-up of exciting, new voices – something unseen in Hollywood.
Where: MOments Theater, 665 N. Heliotrope Dr, Los Angeles
When: 3 pm
Admission: $10
A documentary about Dolores Huerta, who tirelessly led the fight for racial and labor justice for farm workers alongside Cesar Chavez. The film reveals the raw, personal stakes involved in committing one's life to social change. The documentary has been widely acclaimed and brings well-needed attention to a history that has shaped America. Camila Chavez, Executive Director of the Dolores Huerta Foundation and daughter of Dolores Huerta and Richard Chavez, will do a Q&A following the screening.
Where: James Bridges Theater, UCLA
When: 6 pm
Admission: Free
Can you see me now? Women writers read and discuss identity in their work, their own self-identification, and experiences translating their identity for a society that views race, gender, and sexual orientation as individual categories. Panelists include Désirée Zamorano and Thea Monyee. CSUN English and Africana Studies Professor, Dr. Shubha Venugopal, will moderate the reading and discussion. Additional participants will be announced.
Where: Annenberg Community Beach House, 415 Pacific Coast Hwy, Santa Monica
When: 6:30 pm
Admission: Free, RSVP
Recognized as the first feature film by an African-American woman with a wide theatrical release in the United States, Julie Dash's Daughters of the Dust follows a multi-generational family on the Sea Islands off of South Carolina. These former West African slaves, who adopted many of their ancestors' Yoruba traditions, struggle to maintain their cultural heritage and folklore while contemplating a migration to the mainland, even further from their roots. This cult classic filled with lush imagery and poetic dialogue will serve as entry into candid discussion about cultural identity on and off screen. Followed by Q&A with Julie Dash and Ava DuVernay.
Where: The Theater at Ace Hotel, 929 South Broadway, Los Angeles
When: 7 pm
Admission: $25