BAMN Calls for Student Response to Executive Orders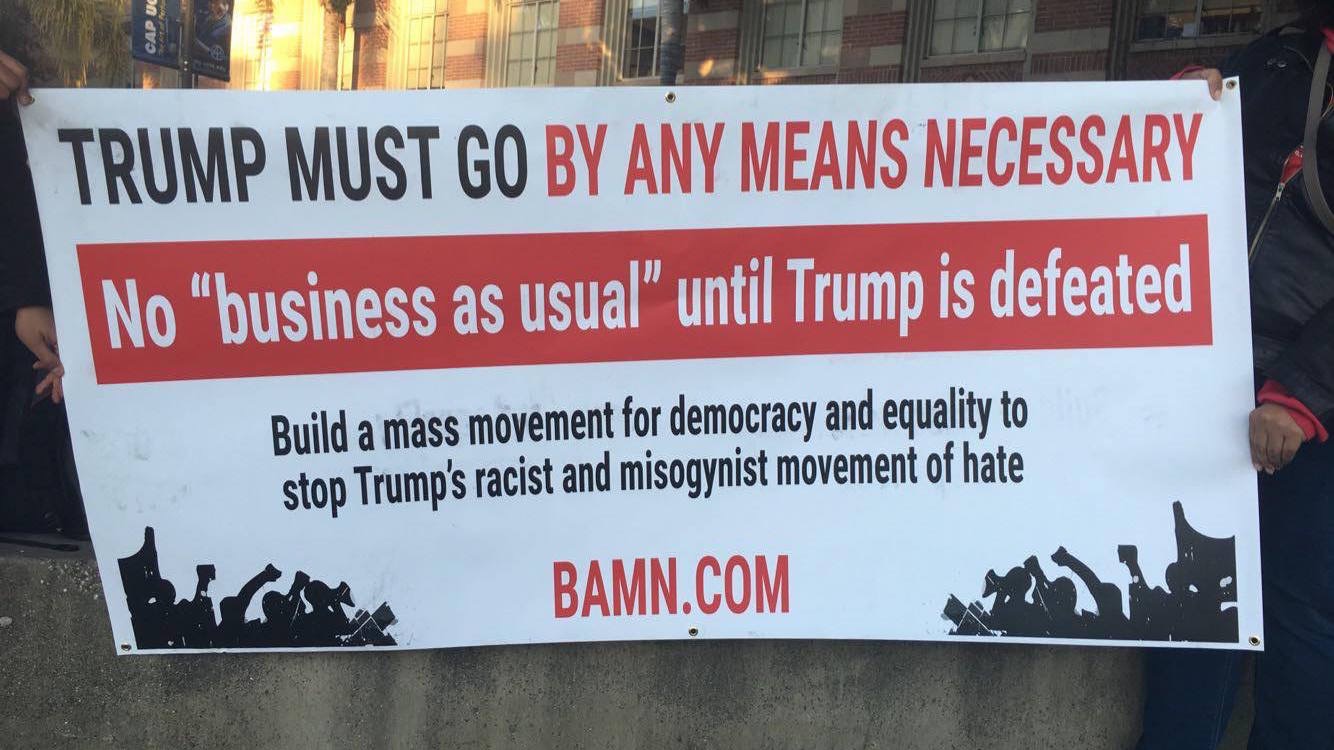 Photo by Natalie Delpino
On Jan. 25,  President Donald Trump started to reshape U.S. immigration policy through executive action. Trump signed executive orders that demands the construction of a wall on the U.S.-Mexico border, the increase of border patrol forces, and the increase of immigration enforcement officers. These executive orders continue Trump's attack on minority rights, an attack many activists are prepared to fight.
That same day, in response to Trump's executive orders, the Coalition to Defend Affirmative Action, Integration, and Immigrant Rights and Fight for Equality By Any Means Necessary (BAMN) called for an emergency rally and march, to defend immigrant students from Trump's anti-immigrant policies at UCLA. BAMN is a student and youth-based organization whose goal is to build a new civil rights movement that will shut down Trump.
Maricruz Lopez, a member of BAMN and one of the rally organizers, emphasized the importance of creating a "new civil rights movement that will shut down Donald Trump", including his dangerous and harmful policies. She advocated the importance of people protecting sanctuary cities and of student's establishing their campuses as sanctuaries for immigrant students. She argued that students had the power to protect immigrant students and need to be prepared to use that power. She believes that if immigration officers attempt to come on campus, "we need to walkout, we need to occupy buildings, we need to make it impossible for them to enter".
Due to their immediate response to the executive orders, BAMN didn't have much time to spread the word for the rally and gather a large group. But despite the rally's low turnout, the goals and message of the organization should not be dismissed. UCLA students have participated in numerous rallies and marches against Trump and his agenda. This motivation to challenge his harmful actions must continue for the next four years and we should treat our campus as a sanctuary for those who feel threatened by Trump's administration. We can't continue as if it's business as usual. We have the power to prevent his discriminative laws from becoming a reality, therefore we have to be disapproving and we have to be disobedient. We must take active roles, whether it's protesting, protecting a campus as a sanctuary, donating to programs that are in danger of being defunded, and volunteering our time. By remaining aware of the administration's actions and actively responding to them, we can mitigate the harm.