Bantu Knots on the Big Screen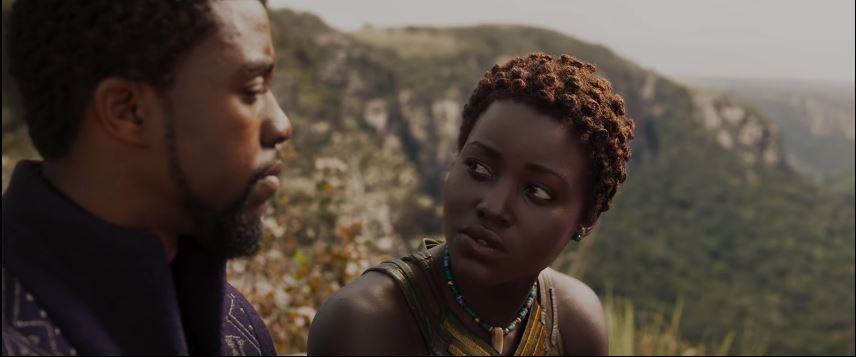 Image courtesy of Marvel Entertainment via YouTube. / CC BY-NC 2.0
Many Black women still remember the sharp sizzle produced by a hot comb raking through hair or slabs of gel layered to create a "presentable" ponytail or bun or the amount of Advils that followed on the heels of a fresh, new weave. These hairstyling efforts were the horrors that marked our childhoods and teens, after all. And these encounters are some, but not even close to all, of the experiences that come with having Black hair: the most policed, criticized, nicknamed, and appropriated hair type of all.
On television and film screens, Black women typically have luscious, wavy or straight hair, presumably from hours of slicking, braiding, gluing, and pressing by several different hair stylists. Media has informed us that Black women who do not have a coil in their locks are the norm, that Black women sporting hair that resembles their non-Black counterparts are the only ones worthy of respect. But this poorly reflects and targets the women on the other side of the screen whose hair ties are struggling to hold together an afro. The problem is not Black women who wear weaves and wigs, they are never the problem. It is the media's belief that this is the only type of Black woman that exists, or deserves to exist.
Representation in film and television, whether it concerns the uniform portrayal of race, sexuality, gender identity, ability, or neurotypicality, is an ongoing struggle. However, a lesser known issue that comes with the intersections of Black womanhood is the topic of hair.
Historically, Black women's hair has been regulated since as early as the Antebellum. Slave codes were created to desexualize and maternalize Black women; they were forbidden from wearing their hair down, as it was a privilege given to white women, and forced to wrap their hair in scarves to enforce their lower social status. An example of this includes the infamous Aunt Jemima, who wore a scarf on her head since the brand's conception in 1889 until 1989, when she finally got to debut her curls. The worst part of this historical fact is that society's general feeling towards Black women's hair hasn't changed.
The results of a recently conducted study regarding what was considered "good hair" in the workplace showed that Black women were two times more likely to be pressured to straighten their hair than their white counterparts and that regardless of race or gender, most of the people who participated had bias toward Black women with natural hair. It's not only older Black women who are affected by the bias against natural hair, even young girls have been subject to suspension in school only for wearing natural hair.
But the bias now extends beyond a problem inflicted by another race, it has become an issue that has permeated every level of society and convinced us to believe that only hair that falls under Eurocentric standards is "clean" and "acceptable." In other words, we are led to believe that Black women should strive to make their hair fit into this conventionally attractive box that is drastically different from their natural hair.
Still, this issue has not been met without backlash.
Social media has exploded with protests in favor of the natural hair movement. Now Instagram and Twitter are flooded with images of Black girls wearing their natural hair, whether it be in the form of twist-outs or bantu knots or even afros with sunflowers stuck all over them. The effects of social media exposure are irreversible and powerful. It is evident through reports such as the 26% decline in the sales of relaxer between 2008 and 2013 and estimated growth of the natural hair product industry projected to reach 1.4 billion dollars by 2020, twice as much as it was less than five years ago. Even the small amount of representation of natural hair on old television and films such as "Girlfriends," "A Different World," and "She's Gotta Have It" cannot hold a candle to the flame produced by movements sparked by social media. But these social media movements can influence the big screen.
In recent years, representation of natural hair has increased. In 2014, ABC's "How to Get Away with Murder" made waves by having Viola Davis's character, Annalise Keating remove her wig and makeup in an emotional scene. Davis herself came up with the idea for the scene, in order to affirm a sense of reality in her character and show the natural version of herself. Davis has always been a proponent of natural hair, even when her young daughter was dressing up for Halloween she said she told her, "You gotta wear your hair exactly the way it is. You can be Wonder Woman, but you gotta be Wonder Woman with your hair. You can be Elsa, but you gotta be Elsa with your hair." The importance of natural hair representation in television and film can be explained through this. Not only is representation essential for non-Black viewers to understand the versatility of Black hair, but it is essential for young girls to see themselves in characters too.
Freeform's "Grown-ish" debuted in January of this year and features a cast of three main Black girls who all wear natural hair. Twins Chloe and Halle portray characters with dreadlocks, which they actually sport in real life. Yara Shahidi's character Zoey, also on the show "Black-ish," however, usually has a different hairstyle in each episode, and sometimes different hairstyles within the same episode. This is monumental. In present-day television, it has been difficult to locate young Black girls who play main characters and have cornrows, box braids, and wash-n-go's every episode. This shows that television is shifting.
Even more hope comes from the long-awaited "Black Panther" film. The hair stylists for the film did not use relaxers, hot combs, or straighteners to style any of the actors' hair and instead focused on accentuating their natural hairstyles. This is huge as the movie has one of the highest budgets for a predominantly Black cast seen on the big screen.

Natural hair doesn't need validation from commercial industries in order to thrive, but it helps. Recognition from such an impactful and dominant agent of social interaction, however, determines the climate. With more representation of Black women with natural hair, the less it becomes taboo in real life. With more "Poetic Justice" braids and Tracee Ellis Ross on screen, the less Black girls are kicked out of school. With more Zendaya wearing dreadlocks on the red carpet, the less Black women are victimized in the workplace. Bantu knots on the big screen make the world a better place.