#BearBoss: Inside the Polished World of Social Media Influencer Josie Bruin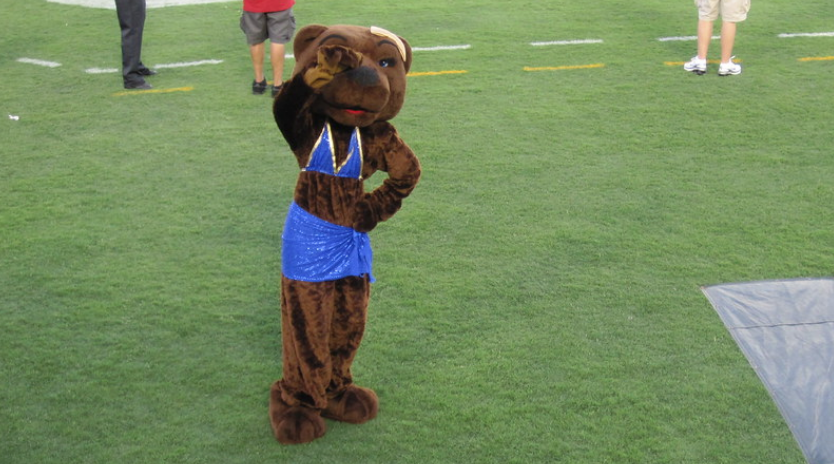 Photo by dabruins07 via CreativeCommons
For some, UCLA calls to mind a top ranking public university, for others a research institution. But the common thread for all is Los Angeles: A place where students rub shoulders with celebrities, witness pop culture in the making, and in 2019, make those LA memories into monetized, social media moments. It's no wonder, then, that one of our mascots is a burgeoning influencer.

Josephine Bruin — or Josie, as you may know her — is a Himalayan brown bear, and comprises one-half of UCLA's mascot team (the other half, Joe Bruin, is also Josie's other half; the two have been in a committed relationship for as long as the mascots have existed). Her status as a symbol of UCLA athletics has also allowed her to amass an (ever-growing) online following.

Since 2014, Josie's regular postings on Facebook, Twitter, and Instagram have amassed her a combined total of about 2,800 followers. Her main brand deal is her promotion for UCLA athletics, though how much of her content is monetized remains a mystery, as she's somehow evaded tagging her under-the-radar advertisements (Starbucks comes to mind).

But Josie doesn't exclude herself from the distinct "influencer" territory of social media posts: among the ads for UCLA basketball and gymnastics one finds boomerang videos of Josie posing for Valentine's Day, squad photos with her mascot friends from other schools, and a treasure trove of couple's pics of her and Joe. Here, Josie really comes alive as a relatable and breathing being, and after scrolling for a few minutes I was heartbroken to remember that Josie is a bear, posting remotely on the internet, and not a personal friend.

On the surface, Josie has everything — the man, the look, the squad. All of which, by the way, are totally normal things for a bear to have. Long, fluttering eyelashes, an hourglass body type, a weirdly muscular bear-boyfriend: I see bears like this whenever I go to the Los Angeles Zoo.

But there's a darker side to the facetuned digiscape Josie thrives on. For an influencer to be truly popular they have to be willing to "bear" all, even at the expense of the creator's personal life.

And for Josie the cracks have begun to show: in a tweet from last April, Josie proclaimed herself "cuter than Berkeley's @oski," stoking the flames of negative self-image that already plague social media.

But where social media appears to take its worst toll is on Josie's relationship with Joe. Despite the consistent messaging concerning the romantic nature of their relationship, Josie's feed is still clogged with followers who are confused about this (a comment on a recent post featuring Josie and Joe together reads "are u guys dating or are you siblings?"). Other followers seem to fear for the fidelity of the couple, with any post showing Josie with another male mascot met with followers anxiously tagging Joe and asking where he is. Though the couple seem happy in their posts, one has to wonder about the detriment this pressure to perform love must have on the young bears.

So despite Josie's self-proclamation as a #bruinwarrior and self-branding as a regular bear who loves her boyfriend, ultimately she is subject to the same social media turmoil as any other sprouting female influencer. And in some strange way, doesn't this make Josie all the more human?