Beyond the Bars LA: The End of Mass Incarceration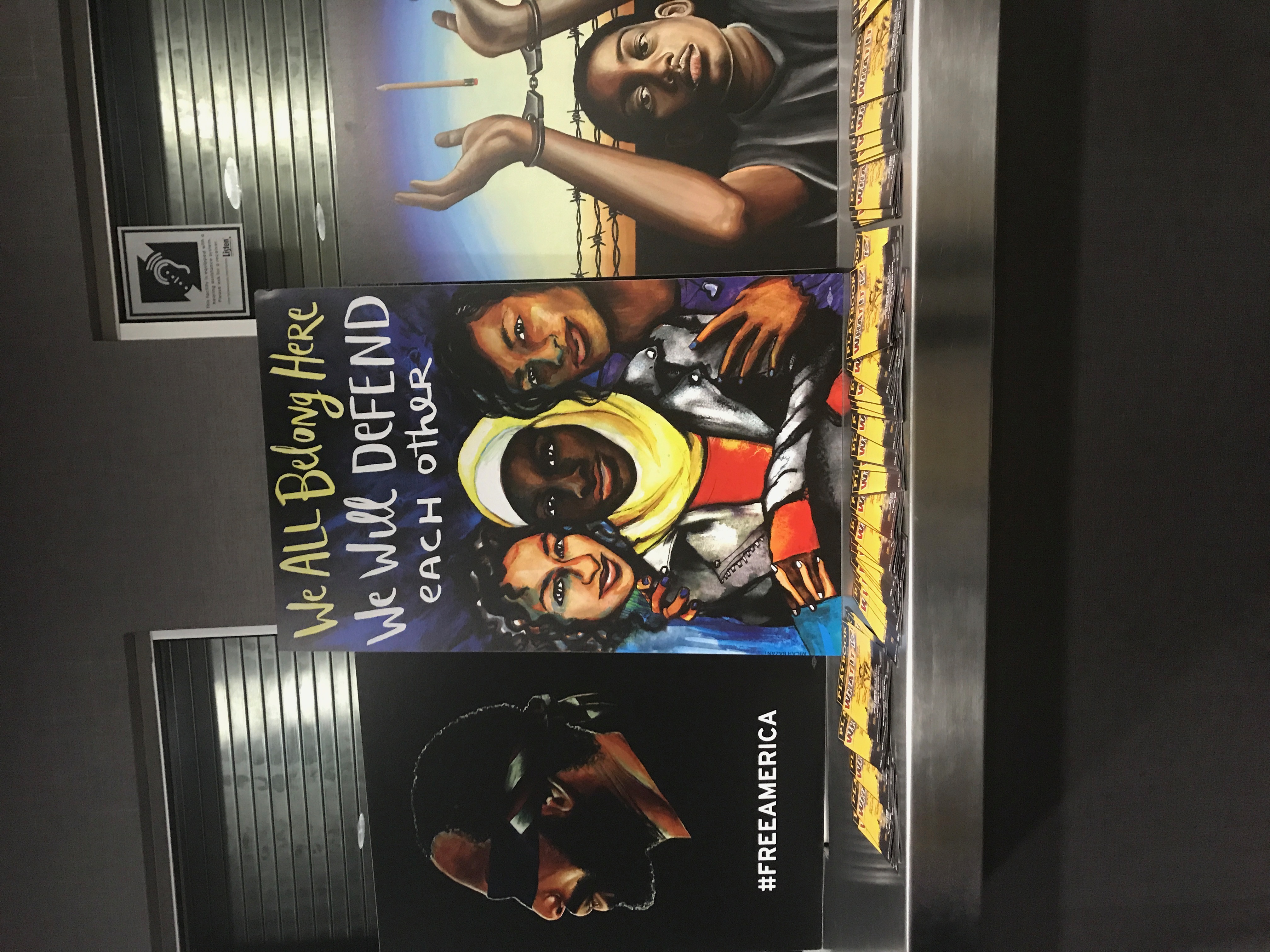 Photo by Lia Cohen
On Oct. 13, 14, and 15, the Beyond the Bars LA Fellows and Justice Work Group at UCLA held their first conference: Beyond the Bars LA: The End of Mass Incarceration. The conference organizers hoped to connect "community organizations, activists, policy makers, researchers, students and those directly impacted by issues of incarceration from across the nation." The weekend featured panels, guest speakers, plays, and group conversations in order to spark discourse about the severity of mass incarceration today. By facilitating discussions on the issues at hand, the conference offered an opportunity for those involved to begin to vision the possibility of a future without mass incarceration.
The conference agenda focused on bridging the gap between educating and taking action, preparing participants to make a tangible change. Friday, Oct. 13 consisted of various kick-off events, while Saturday, Oct. 14 and Sunday, Oct. 15 were titled "Awareness" and "Action." Saturday's events consisted of three breakout sessions where attendees could choose a program to attend within each block, and ended with a couple of live performances about the impacts of mass incarceration on individuals and society.
Rupini Kamat, a fourth-year physics student, attended a panel during a Breakout Session entitled "Re-Entry for Profit: The Manipulation of the Formerly Incarcerated Population." From the panel, she noted a disparity in funding and action. The police, who principally fail to prevent recidivism of formerly incarcerated peoples in communities, receive money to alleviate the consequences of mass incarceration rather than grassroots organizations who have the ideas and the reach to truly make a difference.
Kamat's main takeaway from the panel was that the organizations who have experience and "working solutions to the problems of mass incarceration and recidivism … are exceedingly under-resourced and undervalued. [They] are constantly fighting an uphill battle to get the funding they need and the respect they deserve." Kamat mentioned that Kim Carter, a representative from the Time for Change Foundation, was particularly impactful and moving. Other panelists included Khalid Shah (Stop the Violence Increase the Peace Foundation), Aquil Basheer (License to Operate), Nate Williams (Choices for Freedom), and Mark Fawcet (Amity Foundation).
Another powerful aspect of the conference was the Saturday performance of "What It Iz," a "Spokenwordical Prison Abolitionist Hip Hop Theatre Remix of the Wiz," adapted by women at the California Institute for Women (CIW). Directed by former wrongfully incarcerated UCLA professor Bryonn Bain and starring Marquesha Babers, Sabra Williams, Chante Lewis, Derrick Kemp, Malik Perkins, and Irvin Mason Jr., the show brings light to the inequalities that arise from America's systemic perpetuation of mass incarceration. Presented by the UCLA Department of African American Studies in collaboration with the Institute of Inequality and Democracy at UCLA Luskin, along with support from the UCLA Department of Chicano/a Studies and the School of Theatre at UCLA, the play was a creatively crafted and brilliantly executed spin-off of the "Wizard of Oz," adapted to take place in a fictional inner city environment.
The story centers around Dorothy, a young woman who is struggling with her identity as the daughter of her incarcerated father, as she dreams of fame as a singer. The play features spoken word poetry and hip-hop musical numbers instead of the classic "Wizard of Oz" soundtrack, and follows Dorothy on a harrowing adventure through her imagination. After fighting with her mother about why she refuses to visit her absent father, Dorothy enters the dream world. There she is accompanied by various characters that embark on a journey to find the Wiz, a man they are told will make their dreams come true.
The characters face many challenges along the way that help highlight the inequity of America's systemic and institutionalized race problem, ranging from limited socioeconomic opportunities to police brutality. Eventually the Wiz, played by Bryonn Bain, turns out to be the dream world incarnation of Dorothy's father.  Feeling guilty for not being present in his daughter's life, the Wiz kills himself in prison. Dorothy is charged with his death by a lawyer (the Wicked Witch) who, in Dorothy's dream, is her mother. When Dorothy wakes up, she hugs her mother and agrees to see her father. The nightmare of losing her father leads her past the guilt of having an incarcerated father and inspires her to visit him.
The play is an eye-opening journey into the hardships of the justice system in America and is a poignant reminder of both the corruption of the prison system and the resilience of the people most threatened by it. "What It Iz" is definitely worth the watch.
Sunday began with a Resource and Ally Fair held in the Covel Grand Horizon Ballroom. Here, organizers set up various booths from non-profit organizations to stem mass incarceration and its far-reaching effects. Organizations represented included Youth Justice Coalition, ACLU (LA Chapter), Critical Resistance, Inland Valley Recovery Services, and Incarcerated Youth Tutorial Project at UCLA, among others. Conference attendees made their way around the tables and picked up information to aid them in making a real difference in the community.
The Fair was followed by Action Work Groups, two-hour interactive sessions led by a particular organization. Attendees could pick which of several sessions they would like to attend: Community Based Deportation Defense, Untangling California "Expungement", What White People Can Do To Help End Mass Incarceration, Transformative Justice as an Alternative to Policing, Mass Incarceration, and Deportation of People of Color, or Digital Storytelling: Narratives of Incarcerated and Formerly Incarcerated People.
At the Transformative Justice (TJ) work group, the Youth Justice Coalition (YJC) spoke about their practice of TJ as an ideology in the context of conflict resolution and their mission to create an alternative solution to policing for conflicts in their community in South-Central LA. TJ is a method for conflict resolution and law practice which treats the systemic causes of a conflict as just as important as the conflict's impact on the community. It also shifts the purpose of justice from punishing the wrongdoer to understanding and dismantling the structures which caused the wrongdoer to create conflict. In addition to actively drafting criminal justice legislation, YJC runs the FREE L.A. high school for students aged 15-25.
At this site, they practice TJ, which is different than restorative justice, to dismantle the aggressive and assuming police state that puts many of the youth in the area behind bars rather than inside classrooms. They accomplish this by employing Peacebuilders, or community members trained to solve disputes by long-term communication and counseling rather than punishment without understanding the problem's root. The latter method is how police are routinely trained, and TJ aims to restructure the way people look at justice by focusing on the people affected by conflict and why the problem arose rather than focusing on punishing the wrongdoer.
The organizers compiled different mediums of education, such as arts, lectures, fairs, and interactive sessions to reach as many people as possible. The strengths of the conference were in its diversity of subject matter and activism as well as its commitment to community-based leadership and organizing. If another conference like this one comes to UCLA, the education and resources provided make it a must-attend for all who care about lifting up underserved communities. Listed below are some action steps to help you get involved with the pressing issue of mass incarceration.

Send a letter to Gov. Brown (CA) regarding bills for youth criminal justice.
Prop 57 is a recently passed CA bill that allows prisoners to facilitate their own rehabilitation through a good behavior-credits system and activity opportunities, accelerating their re-entry and easing their transition.
Send a letter to push for Prop 57 credits to be applicable retroactively.
By Mihika Sridhar and Lia Cohen