CAC Art Series Presents: Taking Up Space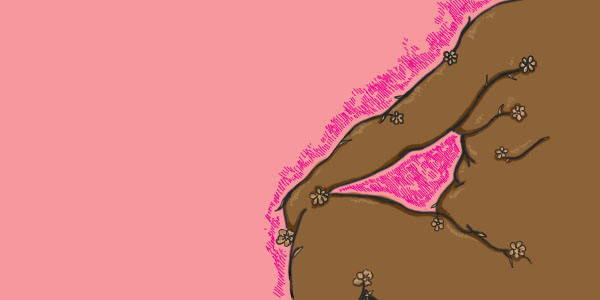 Design by Malaya Johnson
During Week 6, UCLA's Cultural Affairs Commission (CAC) will present "Taking Up Space," an Art Series exhibit featuring fat-identifying individuals and their personal narratives. The exhibit, presented by Art Series and The Word, aims to confront the deeply entrenched fatphobia that persists in the UCLA community and in American culture. I sat down with Graciela Barada, the Art Series Director for CAC, to learn more about the exhibit and its intentions.
JC: What is the CAC Art Series?
GB: The Cultural Affairs Commission's Art Series curates exhibits in Kerckhoff Art Gallery to create dialogue for marginalized groups and communities at UCLA. These exhibits strive to educate, inform and inspire students through a variety of artistic disciplines. The Art Series works with student organizations and local artists to showcase artistic talent and creativity to ultimately promote the arts and critical consciousness on campus. The content of Art Series' exhibits reflects a myriad of identities and experiences, as well as of talents and approaches to edu-tainment.
JC: What is CAC's The Word?
GB: The Word is a space for students and members of the Los Angeles community alike to express themselves through innovative performance art forms of poetry and comedy, embracing the power of words and the art of laughter. The Word hosts a weekly open mic lounge, which takes place every Wednesday in Kerckhoff Art Gallery. The open mic lounge is a space in which students are able to explore discourses and experiences concerned with issues of identity, self-reflection, struggle, and community through the art of spoken word.
JC: Can you tell me more about what will be happening at the "Taking Up Space" exhibit?
GB: The "Taking Up Space" exhibit features the portraits and narratives of fat-identifying UCLA students and members of the Los Angeles community in order to challenge fatphobia on campus and in greater American culture. The portraits, taken by photographers who identify as people of color, queer, and/or fat, highlight the beauty and resilience of those who face fatphobia in their daily lives. The exhibit explores themes of fatness, stigma, and self-celebration, and will be up in Kerckhoff Art Gallery during Week 6. On Wednesday Nov. 7, Art Series will be co-programming with The Word to feature a guest speaker who is an LA-based poet and activist of color.
JC: What inspired CAC to create an Art Series about fatphobia?
GB: The idea for the exhibit was borne by third-year Art Series staff member Princess Amugo (she/her/hers) at the very beginning of fall quarter 2018. Through this project, the CAC Art Series aims to de-stigmatize "fatness" at UCLA by centering the bodies and experiences of fat folks in ways that challenge conventional notions of beauty and self-worth. People seldom consider the ways in which fatness complicates issues of access to employment, pop culture representation, the politics of medicine and healthcare, and the development of self-esteem. "Taking Up Space" is as creative and artistic as it is political. Thus, Art Series urges you, as a member of our audience, to interrogate your own understandings of body-shaming, in order to then acknowledge your complicity in perpetuating fatphobic cultures and attitudes.
JC: Anything else you want audiences to know?
GB: In the days leading up to the exhibit, CAC Marketing will be uploading media resources to our social media pages (namely, Facebook) in order to educate the UCLA community about issues of body-shaming, fat-phobia, ableism, thin privilege, etc. Additionally, Marketing will be uploading profiles of various body-positive and anti-fat-phobic activists written by members of Art Series. Our aim as a Series is to spread awareness of the various educational resources and social justice labor that is being done or is available for the general public to be conscious of invisibilized yet violent systems of oppression.
"Taking Up Space" will be on exhibit for all of Week 6, and will feature a guest speaker on Nov. 7 from 7 p.m. – 9 p.m. Be sure to stop by the Kerckhoff Art Gallery to check it out!