"Carol" and the Golden Globes: Paying Tribute to Strong Women in Film?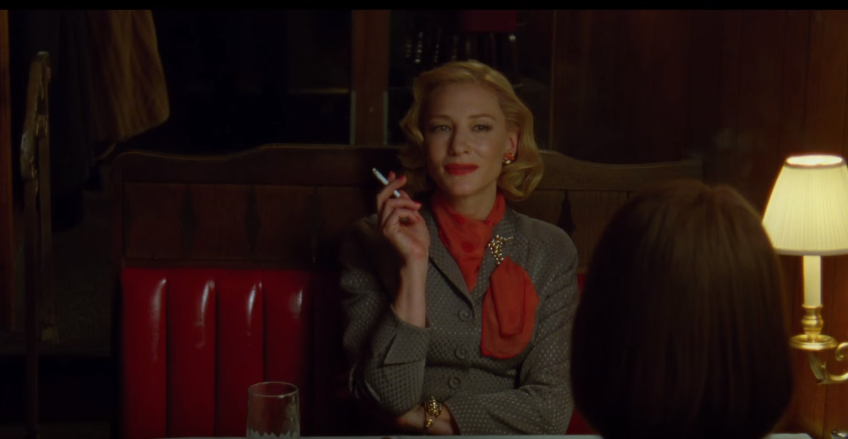 Image courtesy of The Weistein Company, available under fair use
This year's Golden Globe Awards could have turned into a night of victory for women in Hollywood. It could have celebrated the medium-budget, intimate female drama "Carol." Instead, the Hollywood Foreign Press Association (HFPA) went for Leonardo DiCaprio's action-thriller "The Revenant," crowning it with three prizes for best director, best male actor and best drama.
While The Revenant's victory came as a surprise to critics and viewers alike, even more surprising and disappointing was what happened to "Carol." The movie, which stars Cate Blanchett and Rooney Mara in a bitter-sweet lesbian love story, had gathered 5 nominations, thereby leading the pack with best actress nods for Blanchett and Mara, best director for Todd Haynes, best picture and best soundtrack. The result? Not a single award went to "Carol."
This is sad not only because "Carol" is a great movie, but also because the HFPA could have used the ceremony to put the spotlight on current gender issues. After months of debate about the wage gap and the status of women in Hollywood, a movie with two female leads and a female topic could have sent a strong signal about female (Box Office) power.
Apparently, the industry isn't ready for that yet. "Hollywood has a persistent problem with female subjects," director Todd Haynes said in an interview with The Guardian last November, where he lamented the industry's "retrograde reaction toward feminism."
Critics have fallen in love with "Carol" since it premiered at the Cannes Film Festival last May. Rotten Tomatoes gives it 94%. Next to all the big budget Hollywood productions often loaded with special effects, "Carol" feels much closer to the heart and takes its audience onto an emotional journey whose end might be perceived as somewhat surprising.
Set in New York in the early 1950s, the movie depicts the blossoming, fragile relationship between naive shop girl Therese (Mara) and elegant suburban housewife "Carol" (Blanchett).
Carol and Therese's relationship is tender and loving from the start. The somewhat mysterious Carol helps the much younger Therese turn into a more mature, self-assured woman, while Therese provides Carol with unconditional love and affection.
The women's relationship with each other is somewhat encircled (and threatened) by the relationships they have with men: Therese's pushy boyfriend wants to marry her, and Carol's soon-to-be ex-husband threatens to deny her shared custody of their daughter if she refuses to give up Therese.
The film was shot in Super 16mm film, which is how movies used to be shot in the late 1940s and which gives the picture a cozily old-fashioned feeling. "Carol" never seeks to condemn or idealize its characters, and even the men in the movie come across as human. While their actions have a big impact on the course of the story, it is the women who dominate the film.
Flanked by Rooney Mara and Sarah Paulson, who plays her best friend, Cate Blanchett gives an award-worthy performance as a 1950s housewife, mother, and lesbian lover. Her raunchy voice and ceaseless cigarette smoking complete Mara's doe eyes and childlike head covers (when their characters meet for the first time just before Christmas 1953, Mara wears a Santa Hat, due to her position as a sales clerk in a department store).
Carol has all the ingredients a good movie needs: a well-crafted story, strong performances and a director set on shooting a classic love story "that functions in all the best ways love stories do," departing with Hollywood's mainstream depiction of same-gender relationships.
It is a quiet movie and Cate Blanchett for the longest time thought it wouldn't make it to the theaters. "Midrange films with women at the center are tricky to finance. There are a lot of people laboring under the misapprehension that people don't want to see them, which isn't true," she said in an interview with Variety last year. She seems right: with the grosses of its limited domestic release plus international release, "Carol" has already recouped its budget of $11.8 million.
"Carol" has its nationwide release on January 15. It could have used the Golden Globes buzz and the attention that comes with winning one of the most prestigious film awards in the world. However, the Golden Globes snubbed the movie, missing their chance to send a signal about strong female cinema.
[This article was written by a contributing author, Claudia Oberst. Oberst is currently taking the journalism certificate at UCLA Extension. She is both an ardent reader and subscriber of Fem.]