COVID-19, Condoms, and Conversations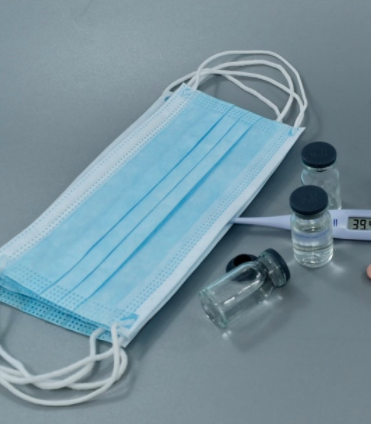 (Image Description: Personal Protective Equipment (PPE) used during the coronavirus pandemic is shown. Blue face masks are on a countertop, next to several vials filled with a clear solution.)
When it comes to sex and relationships, the pandemic has created a situation where partners are living in close proximity or navigating long distance or separation. For those who weren't already in a relationship and are seeking romantic and/or sexual partners, the pandemic has presented a roadblock. On December 4, Sexperts and PAC (Pediatric Aids Coalition) collaborated to host a virtual event, "COVID and Condoms: Sexual Health in a Virtual World," aimed to delve into sexual health and relationships during COVID-19.
We are entering the ninth month of quarantine, and with the cuffing season in full swing, it is not easy to navigate old and new relationships. Many couples are experiencing tensions perpetuated by the ongoing pandemic and stay-at-home orders while singles have to choose between their safety and celibacy. Having sexual encounters and navigating relationships right now is scary. People should not have to choose between intimacy and security.
How to meet new people safely:
The safest and easiest way to meet new people during this time is — you guessed it — through virtual means. The presenters talked about different dating apps such as Hinge, Bumble, Coffee Meets Bagel as good examples of apps that can be used to connect with people. Additionally, there are some apps tailored toward finding new friends such as Bumble, Friender, and Flox. UCLA has many clubs that are great places to meet people: social clubs, academic clubs, professional clubs, and even research programs. The presenter emphasized the social benefit of clubs and suggested that the attendees plug their clubs in the chat, encouraging new membership.
Keep COVID-19 in mind:
Don't let social distancing measures prevent you from getting it on. There are many creative and new ways to explore sexual relationships both virtually and in person. Sexting, remote meetings, and phone sex could be exciting avenues to explore and help the with intimacy problems caused by many partners separation. Added bonus: going solo is the safest form of sex with no risk of STDs, unwanted pregnancy, or spreading COVID-19.
For those who are looking to meet people in person, it is important to remember that you should be limiting close, intimate contact as much as possible. Presenters highlighted this as they aimed to keep most of the discussion based on ways to avoid in-person meet-ups. However, for those who plan to have sex, limit to a few partners who are COVID-conscious and trustworthy. Before meeting up, take some precautionary steps to ensure your safety as well as those around you. Instead of meeting up right off the bat, ease in by starting with remote communication first and wait until a connection is established. When you have established a good comfort level, that is when it is the right time for an in-person meet up. A tip for meeting up with someone for the first time: drive yourself. Driving yourself is COVID-safe and allows you to leave whenever you want. Ease in with socially-distanced meet-ups like hiking or having a picnic. Before hooking up, make sure to have a COVID-19 talk. Some topics to include in this conversation are: their feelings on COVID-19, the number of people they are regularly in contact with, and if they have had any symptoms recently. Do not be afraid to request a test. There are many free and easy ways to get tested in Los Angeles, especially for UCLA students. Testing on campus is available at Covel and Wooden and it was highly recommended by the presenters as it is free, fast, and simple.
Where to find free condoms:
There are many places where you can find free condoms, but not all of them are of equal quality. Planned Parenthood and Teensource are two good resources to get free condoms. Teensource is a great source during COVID-19 as it is an online service where you can sign up to receive free condoms delivered to you. The presenters recommend local LGBTQ centers because they often have better quality and greater variety in selection. An extra recommendation by Elsa Dubil, the co-director for Sexperts is to email sex toy and lube companies describing your situation (e.g. financial troubles). Dubil finds that companies often have a community service budget built in and often respond to those emails by sending free merchandise or supplies.
How to have difficult conversations:
The event closed out with a discussion on difficult conversations. COVID-19 has pushed many families back into the same house for the first time in many years. For many young college students, moving back home has caused old problems to resurface. Just because you moved away for a while and developed independently, does not mean your parents know how much you've grown. Now that you're an adult, engage in these difficult conversations with a plan, and be prepared for it to be an ongoing conversation. When entering into the conversation, remain calm, try to be empathetic, and listen to their point of view, even if those things are upsetting to hear. These are difficult conversations, so don't expect them to go away overnight. Circle back to them after leaving them time to reflect.
More questions on sexual health? DM Sexperts on Instagram or submit an anonymous question that they will answer in a post on their Instagram page.