"Crazy Rich Asians" and a New Era for Asian-American Representation in the Media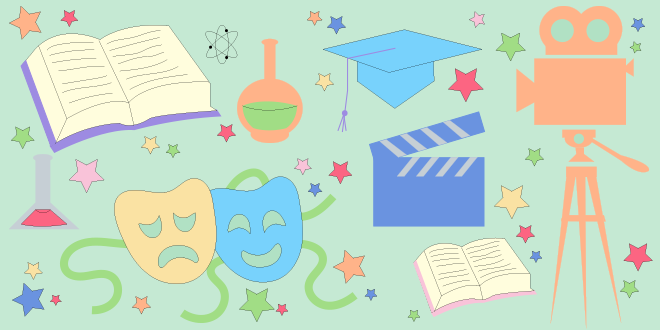 Design by Monica Juarez
This Monday, Oct. 30, an alumni panel called "Crazy Rich Bruins" was held at UCLA Northwest Campus Auditorium by Lapu, the Coyote that Cares Theater Company (LCC). Following the success of "Crazy Rich Asians," the movie that has won over the critics by a 91 percent rating on Rotten Tomatoes, five alumni working in the entertainment industry were invited to talk about their own experiences as Asian-Americans in the industry, the representation and diversity within the industry, and suggestions for students planning on working in theater and television.
The event was divided into two parts: first, panelists answered questions that were prepared by the host, then they took questions from the audience. All UCLA graduates, each panelist possesses an unique story.
Tom Chiou, a Los Angeles-based actor who is known as Ed Chen on HBO's "Silicon Valley," fought with his parents for two years after he "came out" as an actor to them. He taught SAT preparation and sold ice-cream for a living earlier in his career. Meanwhile, he kept actively engaged with LCC, where he had found support through tough times and a sense of community.
Anisha Adusumilli, an actress and writer, graduated from UCLA with a business economics major and theater minor degree. She spent half of her college life performing, and strove to build a supportive community within the industry after college.
Caroline Park, an award-winning filmmaker, once struggled to choose between going to law school or a career in filmmaking. With time, she eventually came to the conviction of her true destiny–filmmaking.
Janet Lo, with over 10 years of experience in food and media, battled with her disheartened feelings on the theater program upon graduation by finding a life outside the traditional theater, in which she tells her cultural story.
And last but not least, Stan Pham, a Director of Current Programs at CBS Entertainment, studied biochemistry for three and a half years but graduated with a degree in political science. After graduation, he gradually figured out his way in the meritocracy of the entertainment industry through building networks. All active members in LCC, they discovered their passion and community through college life.
When asked to talk about the success of "Crazy Rich Asians," what change has been made and what directions the industry may take in the future, Pham pointed to the specificity of the movie content. He perceives a huge victory in the success of the movie that stories like that in "Crazy Rich Asians," stories that target to the experience of relatively narrow identities, can survive and be exposed to the public eye. Lo believes there are more platforms that exist nowadays to make one's voice present. The conversation has changed, and the representation of Asian-Americans has become louder. The success of "Crazy Rich Asians" can be interpreted as a crack in the system, an opportunity to open up more conversations about ethnic experiences and more possibilities for Asian-Americans to engage in the industry.
Adusumilli reflected on her own experience with the movie, how she was surprised to witness an all-Asian cast. "Crazy Rich Asians" propels the re-assimilation of the Asian community. The success of the film creates more room for Asian representation, and if more effort is made, room will continue to open up resulting in less competition for the community. Chiou concluded that the film showed many people in the industry, including directors and producers, the possibilities in telling Asian experiences, and visualized the need from the market for such narrative. Progress has been made, he added, but more is needed, as from his experience, many people still cannot remember the names of Asian-American actors or actresses and still refer to them as "the Asian guy in that film."
The panelists also shared their opinions about the accuracy of Asian representation in the media as well as the roles they take to fix misrepresentation. Chiou pointed to the diversity of Asian-American experiences — the diversity that has long been overlooked.
"Obviously, Korean is different than Chinese, which is different from the Vietnamese culture, but the way the American culture has treated us is a point that we can probably find some common ground on," said by Constance Wu, who played Rachel Chu in "Crazy Rich Asians." Chiou contends that it is impossible to define which representation is the most accurate. Different experiences should be represented to counter the tendency to generalize Asian-American experience.
Despite the applause "Crazy Rich Asians" has won for its representation of diverse experiences, some critics argue that the story focuses on predominantly Eastern-Asians comes at the expense of representations for other ethnic minorities.  Ng Yi-Sheng, an author and gay rights activist said in an email: "Mind you, I'm happy that there are non-East-Asian actors involved in major roles. But judging from the trailers, the browner Asian characters are predominantly guards and domestic workers and drivers. That's kind of oppressive, don't you think?"
Instead of being critical of the material, panelists called for the celebration of the fact that it came out. "There are already enough haters," said Park. According to Adusumilli, due to the fact that Asian-Americans are so underrepresented in the media, there's little allowance for each attempt to fail. Therefore, support is needed.
As for the future, the panelists all hold a positive attitude. A couple of suggestions were offered for up-and-coming students interested in the entertainment industry: do tell one's own stories, as Adusumilli explained that one's self is the greatest source of material. Lo also believes that one's feelings can be the biggest tool to wield influence. Moreover, diversify one's skill, which can then facilitate to break the specified roles for Asian casting — roles that sometimes require an offensive accent and often portray the nerdy, meek, Kung fu expert asian stereotypes — and make an individual known for their skills instead of for their Asian appearance.
The panel also provided students with opportunities to bring their personal questions to seasoned professionals. Students could learn about Asian-American representation and careers in entertainment industry in an interactive and relaxing atmosphere.