Dating in High School – A Shakespearean Tragedy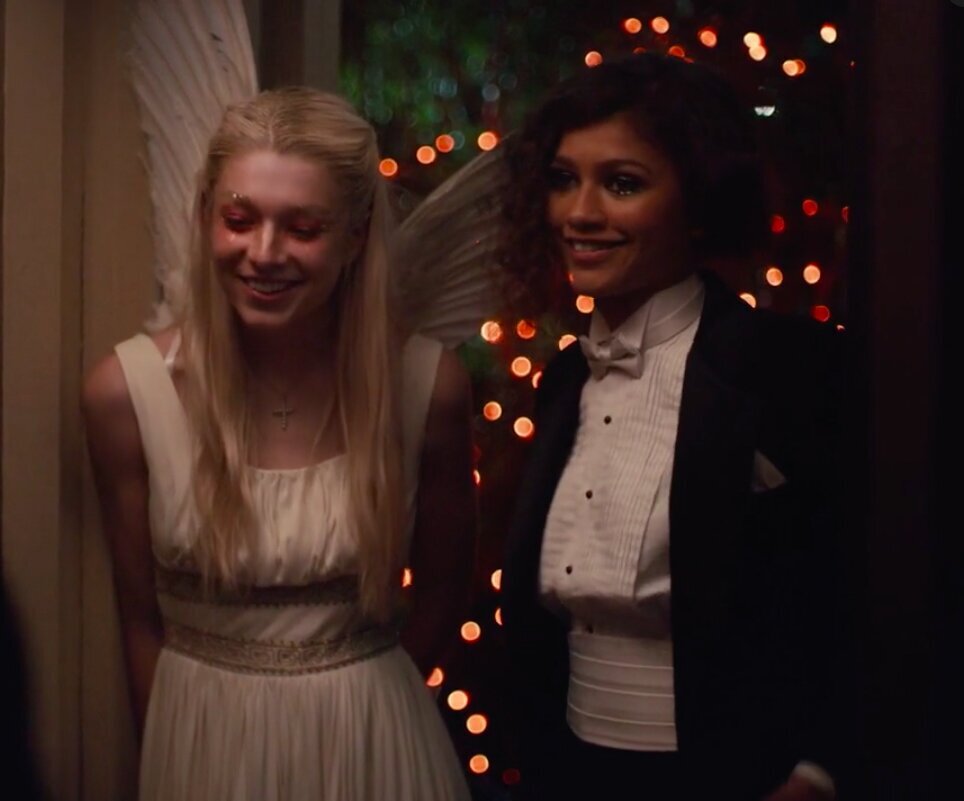 Image description: Screenshot of Jules (left) and Rue (right) at a Halloween party in Euphoria S1xE6, emulating the aesthetics of Baz Luhrmann's film Romeo + Juliet.
Image source: screencap from "Euphoria" on HBOMax
While there are many aspects of Euphoria that make my high school experience look like kindergarten nap time, the portrayal of high school relationships reflects an unfortunately familiar, largely overlooked, and often harmful experience of one's formative high school years: dating.
Maybe I'm just fresh out of a relationship, surrounded by newly lovestruck Bruin couples on the Hill, and righteously bitter, but nonetheless, the dynamics between various romantic relationships on the show portray an all-too-familiar scene.
Despite the will-they-won't-they aspect of the first season, Rue and Jules' relationship does not reflect so much a romantic entanglement but a Shakespearean tragedy. Behind the angel wings, bright lights, glitter, and loud music, the two fall into each other in a mesh of toxic behaviors. They become dependent on one another: Rue reaching for a reason for sobriety, and Jules craving belonging, but they only find themselves painfully consumed by infatuation. It is expressive of the emotional maturity many teenagers experience. While many teen romance movies like to present these behaviors as things that are resolved by a final kiss and the roll of credits, Euphoria portrays just the opposite.
The show reminds us of how we were reaching towards each other, needy and hopeless, looking for the love we wished our parents had given us. Within this often neglected conversation of teenage romance is an affair that succumbs many teenage girls to a certain patriarchal tension between the roles that have been carved out for women and the needs and wants of any human being.
It isn't a gendered experience; Rue, Jules, Nate, and Maddie's dependence on one another still illustrates a dynamic that is important to dissect with consequences that disproportionately burden young girls. Whereas Rue and Jules consistently look to each other for validation of their self-worth, Nate looks to Maddie to constantly reaffirm what he already feels: that he is amazing, hot, and wanted. When Maddie fails to do so, she is punished. When she succeeds, she's not even acknowledged because she's just doing what is supposedly expected of her. In the aftermath of this cycle, Maddie is left with the taxing consequences of codependency as Nate continues to bask in his own narcissism.
Rayne Fisher-Quann describes in her article "The Pain Gap" the unshared emotional labor that befalls younger women, particularly when dating older men. She writes, "I am absolutely sure that the men whose actions I think about to this day never think of me at all." Fisher-Quann refers to this phenomenon as "the pain gap," poignantly suggesting that there is a "cosmic injustice" in the way that a relationship can "change a woman's psyche while barely even inspiring the man to change his communication style."
I argue that this pain gap exists even outside of age gaps. The portrayal of Maddie and Nate's relationship is mostly reflective of this. In season 1 episode 4, the audience watches Maddie gingerly touch the bruises quickly forming on her neck from an altercation with Nate. She is crying, not because of the pain, but because she knew she still was undeniably in love with him. Nate, however, continues to use Maddie as a pawn in a violent, power-hungry game he had created out of his life.
Euphoria may allude to dysfunctional family relationships or mental illness as reasons for these toxic behaviors, but when we take into account the way men and women have been socialized for centuries, the presence of these dynamics is unsurprising, becoming a bit too close for comfort even for audience members who find themselves far removed from Euphoria's characters.
For generations, women have been welcomed as mothers. We nurture, take care of, clean up after our husbands, boyfriends, sons, brothers, and fathers. Conflicts in our lives are not understood as a manifestation of the immense emotional and physical labor that is constantly expected of us. Instead, in hopes of changing all of the things about us that seem to hurt those we care for, we sit in therapy, cry, read, pray, and meditate. We will be the perfect girlfriends, perfect wives, perfect mothers, and perfect daughters even if it means taking these vulnerable pieces of ourselves and scolding them for ever being human—for ever wanting more.
Men, on the other hand, follow a much lighter path. It is best illustrated in Lily King's fictional novel "Writers and Lovers" where she writes of men's apparently innate right to exceptionalism. The novel's main character Casey Peabody affirms "nearly every guy I've dated believed [that] greatness was their destiny and they were already behind schedule." She continues, "it's how boys are raised to think, how they are lured into adulthood. I've met ambitious women, driven women, but no woman has ever told me that greatness was her destiny."
When men see conflict, they look to their environment to find what is causing this problem. When you are taught that you are born into excellence, why would there ever be a need to look inward? There is no yearning for change or growth unless it is within their mothers and partners who just don't seem to comprehend their divine prophecy for greatness yet.
As young people, we can think we are immune to this. Yet, it is really the systemic rhetoric and institutions of the patriarchy that are immune to our objections. It is why when former president Trump said to grab women by their p*ssies, it was the journalists that needed to change. It is why when men are charged with sexual assault, it is the victim that must realize what an accusation could do to his potential. It is why when young girls are crying over boys who haven't developed a sense of empathy yet, we tell them to get smaller until they can't recognize their own needs. It is why when these girls turn into wives and mothers, they are constantly reminded of the fact that they will only ever be a wife and a mother.
The cries of Jules and Rue, of Nate and Maddie, can seem so tragically Shakespearean, and in turn, far from the comfort of our homes. But when the social norms and institutions that sustain the patriarchy continue to thrive, we will continue to see young girls turn into tired women, and young boys turn into entitled, angry men. It is then that we see how love between fictional characters, how a woman's romance under the patriarchy, can turn into violent delights with violent ends.