Diane Guerrero at UCLA: Her Life, Career, and Activism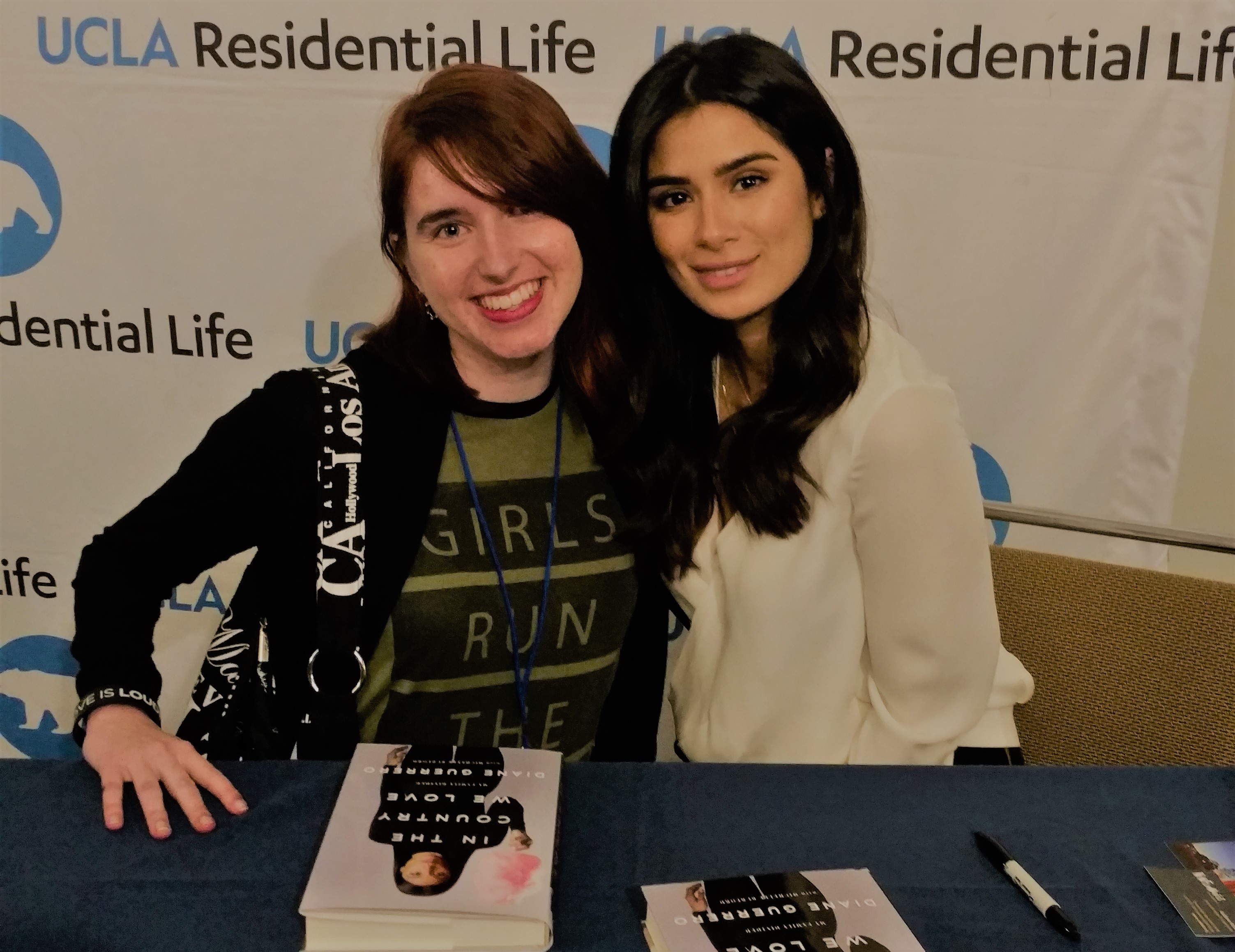 Image: Diane Guerrero (right) next to the author (left) on January 31, 2017.
Just two days after the 2017 SAG awards where she won for Outstanding Performance by an Ensemble in a Comedy Series for Netflix's "Orange is the New Black," Diane Guerrero spoke at UCLA about her new memoir, "In the Country We Love: My Family Divided." With a stirring combination of humor and solemnity, she shared details of her life to a crowd of hundreds. Audience members clamored to know what she's doing next, because she has made a name for herself as an accomplished actress, author, and activist. She replied instantly with an exclamation of "Oh my god, you tell me!"
The event, held in the Grand Horizon Room of Covel Commons on Tuesday, January 31st, was a team effort by many on-campus groups: UCLA Residential Life, Equity Diversity and Inclusion, the Undocumented Students Program, Equity, First Year Experience, UCLA Social Sciences, the Institute for Research on Labor and Employment, and the Department of Spanish and Portuguese. The groups set up tables outside with resources and information to get involved. Many students had been wearing wristbands for entry as early as a week before the event, while others showed up as early as two hours before the event was scheduled to start at 7:30 PM in hopes of getting in on stand-by.
The crowd was teeming with excitement as the crowd entered by the ushering of patient staff in single file lines to claim seats. Everyone was talking, buzzing with excitement. A few attendees hugged each other, and I overheard a few exchanges of, "are you ready!?" As the time inched closer to 7:30 and the student onstage began to introduce the event, the audience was tangibly impatient. When the undocumented Students Center was mentioned, there was a burst of applause from all around the room. Some members of the crowd started looking around for a glance of Guerrero herself.
When she finally entered, she met onstage with her discussion companion and moderator for the night, Denea Joseph. Joseph is an undocumented student who immigrated from Belize at the age of seven. She now majors in African American studies and Political Science and aspires to become an attorney fighting for the rights of the oppressed. Guerrero and Joseph hugged and bantered about becoming a girl group in the future due to their similar first names, before taking their seats facing each other on opposite sides of the small stage.
Guerrero, who previously went to university and struggled with learning disabilities, began by telling the members of the crowd she was proud of them for being college students and making it, because she knew how hard it could be. This empathy for the lives of others was at the core of her presence on campus that night.
Then, she opened herself up to the audience, describing the circumstances that have shaped her entire life, and were relatable to many in the crowd.  Her parents were undocumented immigrants to the United States from Colombia. When she was fourteen, she came home from school to her neighborhood in Boston to find that her parents were gone. They had been detained and were later deported.
Faced with this reality, Guerrero made a difficult choice . She decided to stay, because she loved (and says she still does love) the United States and the opportunities it has to offer. This event, and all that led up to and came out of it, is the focus of her book.
When asked about what specifically motivated her to write about her story, Guerrero cited multiple reasons. When she first started coming to fame from performing in "Orange is the New Black" and "Jane the Virgin," she felt that she was living in half-truths and lying by omission. It caused her to feel unhappy, and that she was not being honest about her life.
She also mentioned that when she was fourteen she felt isolated by her experiences. She now knows her life story is not an uncommon one, as hundreds of thousands of immigrants are deported from the United State every year. Guerrero wished she had known someone else in her youth who understood what she was going through. Now, she offers her memoir in the hopes that others will be able to connect with it, and know they are not alone. Through her memoir, she aims to "create a space where we don't have to be ashamed of ourselves and who we are."
Furthermore, she wanted to be a part of the dialogue surrounding immigration, and help dispel the stigma of being undocumented. Guerrero felt that in recent years, it has become easier to say that you are undocumented, and the subject does not feel as taboo.
Guerrero looked at the crowd and declared that she aims to make it known that, "being undocumented…doesn't make you a bad person. It doesn't make you less than anyone else." The crowd erupted into a chorus of applause, cheers, and snaps.
Being the child of immigrants shaped Guerrero's entire life. Her parents worked an array of labor-intensive or low-end jobs to make ends meet, and they moved multiple times in her childhood when prices increased. Her parents' deportation was not a singular event in her life, either. Looking back, she remembers being filled with fear and worry on the day her parents were taken. But, she admitted that could be fabricated in her memory, because she lived every day that way, knowing that their safety was never guaranteed.
When Joseph remarked upon Guerrero's maturity and strength at deciding to stay alone in the United States as a teenager, Guerrero explained that she knew even then her chances would have been over if she went to Colombia. "We're really strong as children," she said. "You'd be surprised by how much we can take."
In college, Guerrero studied Political Science, feeling she had to move away from her passion for the arts to study something more respectable and realistic. She described how she felt as if she had something to prove, to herself and to her family, that she wasn't just another statistic. "I was just trying to be this person that I thought I was supposed to be," she recollected.
In time, she found herself feeling deeply unhappy, isolated, and lonely. She ended up visiting a therapist, and decided to take an acting class. Right away, she felt that art and acting made her a better, happier, and more connected person. It was a passion she decided to pursue, and while she has achieved a great deal, she says she still has much further to go.
Once she had this platform of fame, she knew she could not be silent. She was inspired by the work of others and realized her own complacency. After opening up about her story in an op-ed for the LA Times in 2014, she has been extremely vocal ever since. Guerrero shares the truth of being an immigrant in the Unites States in the twenty-first century at every chance she gets, and will not be silenced.
When asked by an attendee if it gets easier, Guerrero responded with a serious, "no, none of it's easy." She went on to explain that it's hard everyday. She wants stability and to have her family with her, but even without this she works hard every day without anyone stopping her. With her book released, she hopes to take the story further and possibly make a television series or a film depicting her story, or stories like hers.
She urged the audience to get involved, to show up, to be connected, and to know that sometimes change can start with a simple conversation.
"'How can I help?' It's as simple as that," she said.
Guerrero insisted that it is especially important in our current political climate to keep fighting for everyone and every group of people who is oppressed. Though unsure of what will happen to the United States in the next few years, she promises to keep fighting. Self-identifying as an intersectional feminist, she passionately stated the importance of showing up for other peoples and supporting their battles. That is the cause she believes in, and knows it is the only way towards true change and freedom.
"This movement is intersectional, and if it's not, it won't work", Guerrero said adamantly, aware of the importance of unity, and the crowd understanding her words. "If you really want to make a difference, you care about all of us or none of us."