Disney Movies' Shifting Narratives: Queer-Coding to LGBT Spotlights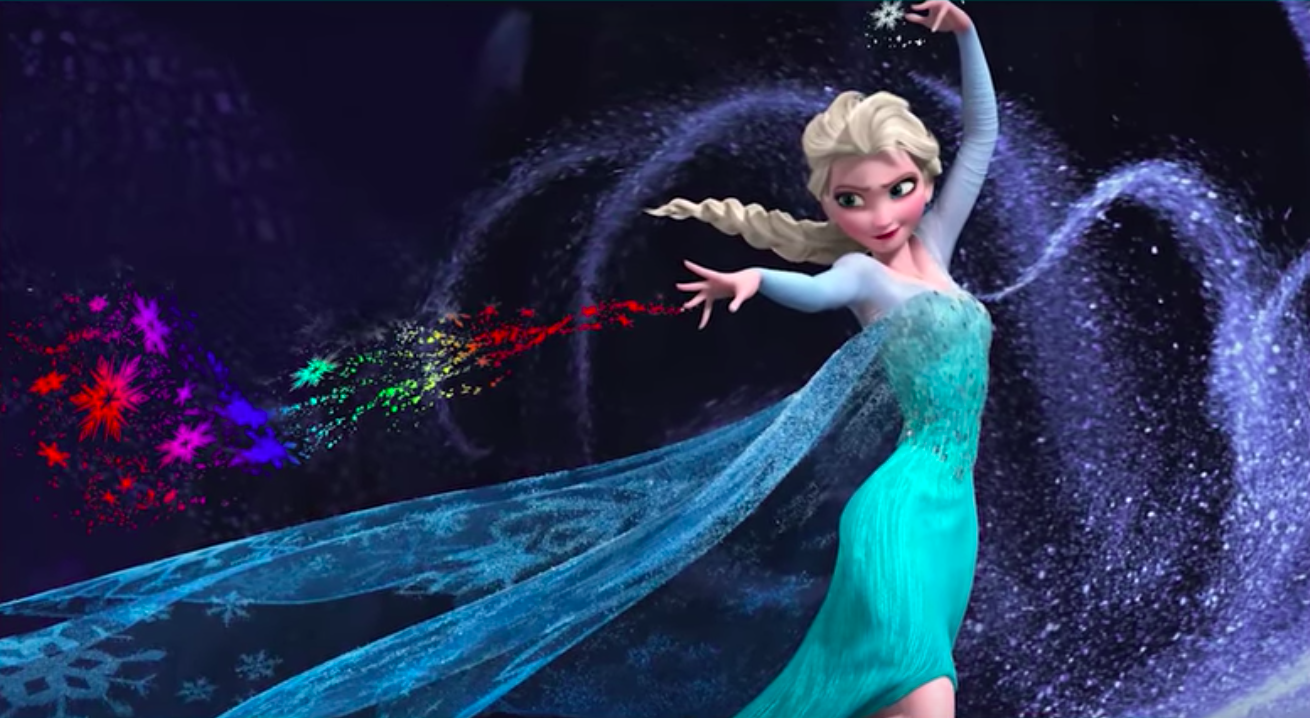 Image courtesy of TheThings via YouTube. / CC BY-NC 2.0
With the recent resurgence of the hashtag #GiveElsaAGirlfriend, Disney is seeing an increasing demand for more LGBTQ representation in the central storylines of its upcoming releases. Since 1937, Disney has crafted narratives around beautiful princesses and courageous heroes. However, while the company features these traditional protagonists in the spotlight, it fills the margins of its movies with characters and storylines that are on the fringe. Its audiences are recognizing this trend and are challenging Disney's historical use of queer-coding in their animated films. By voicing the need for a shift towards highlighting queer stories, fans hope to achieve more inclusive representation in the movies that the brand targets toward younger viewers. With over three million children being frequent movie goers and with this number increasing each year, Disney must centralize the representation of LGBTQ individuals in its films to achieve its mission of truly inviting everyone to "be its guest."
Walt Disney once said, "Movies can and do have tremendous influence in shaping young lives in the realm of entertainment towards the ideals and objectives of normal adulthood." Disney films have fallen under scrutiny for promoting traditional gender roles, racial stereotypes, and failing to have intersectional representation in the past, yet the minds behind Disney imprints such as "Moana" have facilitated some larger changes. Moana's mission to save her island serves as a refreshing new storyline for audiences who have criticized the "damsel in distress" narrative that is typical of past princesses, and Disney took steps toward more accurate representation of ethnic minorities through its utilization of cultural consultants for this film.
Despite a slow change on Disney's end in movies such as "Moana," its efforts have not addressed all of the problems of representation. Audiences still frequently criticize Disney's history of queer-coding. For instance, the company created "Flower," the skunk in "Bambi" emphasizing his coy and bashful nature. "The Lion King's" Timon and Pumbaa also have stereotypically queer attributes which become apparent while they parent young Simba.  
However, critics mostly highlight the company's use of queer-coding in the making of Disney villains. Feminine mannerisms and melodramatic attitudes typically characterize antagonists such as Jafar in "Aladdin" and Scar in "The Lion King." Even the creators of Ursula from "The Little Mermaid" looked to the drag queen, Divine, as a model for their sassy and temperamental villainess. By using queerness as a defining feature of a large portion of Disney villains, the company fuels children's association of those characteristics with evil figures or immorality.
While Disney movies have juxtaposed queerness with villainy to reinforce the heteronormative standard, the company has addressed recent concerns regarding the lack of diversity in its characters' sexual orientation. In February, "Frozen's" director, Jennifer Lee, acknowledged the resurgence of #GiveElsaAGirlfriend which originally appeared on Twitter in 2016. In her interview with the Huffington Post, Lee said, "I love everything people are saying [and] thinking about with our film…It means the world to us that we're part of these conversations." LGBTQ viewers have claimed Queen Elsa as their own after many found the lyrics of the movie's "Let it Go" as a source of empowerment and self acceptance. Like many, a fan by the name of Ryan C. Robert claimed that "Disney's Frozen may not have intended for one of the main characters, Elsa, to have a story that is such an easy parallel to the world of growing up in the closet, but it happened… and now we're gonna celebrate."
This isn't the first time Disney fans have sparked discussions about a character's sexuality or queerness. Audiences admire the relationship and love that Shang and Mulan share after she reveals herself as a woman, yet some suggest that Shang is actually bisexual, arguing that he fell for Mulan when she was disguised as a male soldier named Ping. To add to the speculation surrounding "Frozen" characters, audiences have drawn attention to Oaken, the owner of the trading post and sauna whom Anna meets in the mountains. When Oaken says hello to his family inside the sauna, four children and one burly man wave back, leading viewers to believe that the burly man is Oaken's husband who is raising the four children with him.
As these conversations gain more media coverage over time, the impact that Disney has on its younger audiences also grows. In 2016, 3.1 million children in North America between the ages of 2-11 were deemed frequent moviegoers, and during that same year, Disney garnered $7 billion in ticket sales worldwide from its children's movies. Of the 13 movies that Disney and its subsidiary studios released that year, "Zootopia" was the only film that included an appearance of LGBTQ characters. This representation was an arguing antelope couple featured in one scene, yet the film was the fourth highest grossing movie of the Disney releases and also the fourth highest in 2016 overall. Despite the inclusion of storylines such as Oaken and the antelopes, Bucky and Pronx Oryx-Antlerson, these plots are still only side stories which many viewers have debated and missed.
Audiences are seeing a shift in Disney's use of queer narratives, but much work still needs to be done to achieve accurate representation. One film that displays characters with diverse sexual orientations more candidly is the 2017 remake of "Beauty and the Beast." The macho and manly Gaston serves as the movie's villain, but his sidekick, LeFou became the main topic of discussion when Director Bill Condon revealed that he intended LeFou to be a gay man. The acknowledgement of LeFou's sexuality was a big step for Disney's children movies, yet his queerness was still a side story. As Harper Bazaar's Nico Lang puts it, this contemporary adaptation of the original character was merely a "blink-and-you'll-miss-it aside that's more of an Easter Egg for LGBT viewers."
Despite LeFou's sexuality acting as a subplot in the remake, it pays homage to the original movie's AIDS subtext. Howard Ashman, was a gay man and composer for the 1991 release who suffered and eventually died from AIDS, and the character of the Beast was a queer-coded metaphor for his struggle with the illness. Ashman's implementation of LGBTQ narratives is not only incorporated in "Beauty and the Beast" but also in "The Little Mermaid" as he was the main advocate of Ursula's resemblance to the drag queen, Divine. Ashman's contribution to some of Disney's most popular classics only shows that the need of LGBTQ stories has always been present. Ashman proved that utilizing these perspectives is doable and can positively impact Disney's audiences as well as the company's overall success.
Disney continues to grow as a cinematic empire, and its movies play a big role in shaping children everywhere. Some parents consider LGBTQ stories to be inappropriate subjects to introduce to their kids and oppose the incorporation of queer narratives into children's movies. This is rooted in the homophobic idea that homosexuality is inherently "sinful;" therefore, movies that include these relationships are unacceptable to show children. All types of romantic relationships should receive the same recognition and representation, yet many of Disney's classic movies center around heterosexual relationships and in turn deem these emotional ties as the only ones that are appropriate and respectable.

Similar to any large enterprise, the underlying motivation for the Walt Disney Company is to make a profit despite its vision of increasing inclusivity and overall representation in their films. The company serves as another example of a corporation that reinforces a larger capitalist climate, and after achieving a $150 billion valuation in 2016, Disney may not see a reason to pursue explicit LGBTQ movies, which have not garnered the highest returns for other companies in the past. However, with the power and resources that Disney has, it can normalize homosexuality and LGBTQ relationships, while positively highlighting stories of individuals who feel as if they are in the margins of society. By bringing queer narratives out of the shadows and into the spotlight, Disney's children movies can help the company truly create content intended for all of its viewers. Disney can use these storylines to help shape its young audience into a larger community that values queerness and overall inclusivity.