Dolores: A Celebration of a Civil Rights Icon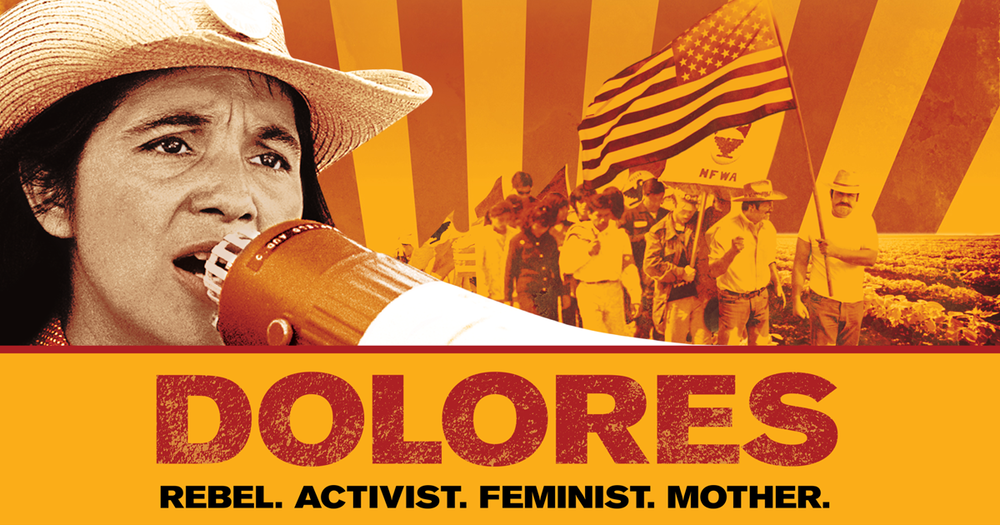 When people think about the farmworkers' rights movement of the 1960s, they think about César Chávez. But let me set the record straight: United Farm Workers, the labor union that Chavéz is known for founding, had a co-founder, and her name is Dolores Huerta.
Dolores, a new documentary directed by Peter Bratt, finally grants Dolores Huerta the recognition she deserves by shedding light on her remarkable life and activism. On November 13th, UCLA hosted a screening of Dolores followed by a Q&A with one of Dolores's eleven children, Maria Elena.
The film portrays Dolores Huerta's lifelong fight for Latinx farmworkers in the Southwestern United States. As a young adult, Dolores saw that people's rights within her community were being violated through wage slavery and deadly working conditions. Workers were being paid so little that they could not support themselves or their families, and they were dying from being sprayed by pesticides while they were working. In response to the problems she knew people were facing, Dolores began her lifelong social justice work.
Dolores Huerta not only co-founded the UFW, but she was also behind the grape boycott that led to America's first farmworker contracts. She chose the crop they were going to boycott (César Chávez wanted potatoes, but Dolores insisted on grapes) and led the entire East Coast portion of the boycott. She was also the chief negotiator during the historic discussions between the farm owners and laborers that led to the creation of the labor contracts. Dolores Huerta is indisputably one of the most significant civil rights and feminist icons of our time, but she is systematically written out of history.
Dolores's contributions were and still are often overlooked because of sexism within her own movement. Dolores was one of the few voices advocating for women farmworkers and acknowledging the specific issues women face, including being disproportionately affected by hazardous chemicals in the fields. Yet having a woman in charge of a labor union was unheard of, so people often tried to diminish what she was doing. Once, in an interview with Dolores and César Chávez, the interviewer belittled Dolores by asking her is she was planning on going to the spa soon to take a break from her work. Meanwhile, he asked Chávez serious questions about his work and accomplishments. Additionally, Dolores had many children across multiple relationships, so people often used their judgements of her personal life to discredit her.
It is no accident that even though I grew up in Arizona where Dolores did much of her work, I never learned about her in school. Conservative school boards fear that teaching her ideas to children will turn them into socialists. The Texas Board of Education deliberately erased her contributions by voting to remove her from the Texas elementary school curriculum. The Arizona Superintendent of Public Instruction dismissed her in a 2010 speech as "a former girlfriend of César Chávez," even though, according to the documentary, she and Chávez were never romantically involved.
Sometimes, people who claim to be civil rights champions do their work simply for the glory. They swoop into a community that they're not from or don't know anything about and claim they can wave a magic wand and single-handedly fix everything. Dolores makes it clear that Dolores Huerta embodies the complete opposite of that problematic mindset.
Dolores's life is deeply rooted in the community she works to empower. She sacrifices her own comfort to live among the people she works with and to be out in the fields alongside them. To Dolores, the best way to make change is by forging meaningful relationships that allow other people to seize the power within themselves. She is so committed to empowering others that in the Q&A session that followed the movie, Dolores's daughter informed the audience that Dolores wanted the documentary about her own life story to focus on the countless other leaders that fought for change alongside her.
The sustainability and selflessness of Dolores's activism are what make her work so effective. The documentary tells the story of a woman who at the age of 25 began marching, speaking, negotiating, organizing, and getting arrested to fight for her community. Dolores could have retired when she was forty years old and would have already contributed a lifetime's worth of indispensable civil rights work, but that is simply not how Dolores Huerta operates. At 58, she was still fighting on the front lines of the movement and was hospitalized after a life-threatening police beating. Now, at 87 years old, she is still fighting for human rights through the Dolores Huerta Foundation that trains new activists to organize their movements, including not only the labor movement but also groups like the feminist, environmental, and LGBTQ+ movements.
Dolores Huerta's sheer tirelessness and commitment to people led her to becoming one of the most influential leaders in the world. Her influence led 17 million Americans to boycott grapes. It led Gloria Steinem, a friend of Dolores's, to reshape her understanding of feminism to make it more intersectional. It led President Barack Obama to award her with The Presidential Medal of Freedom in 2012 and to adopt her famous rallying cry, si se puede, for his own campaign slogan: yes we can.
This film not only opened my eyes to the icon that is Dolores Huerta, but it made me want to jump out of my seat and join her in chanting si se puede. The release of the film could not be more timely. In the midst of everything happening in the world right now, I sometimes find myself discouraged, but Dolores's story filled me with energy and optimism. So go, watch the movie, and experience for yourself the force that is Dolores.