Event Review: "Black Panthers in Los Angeles"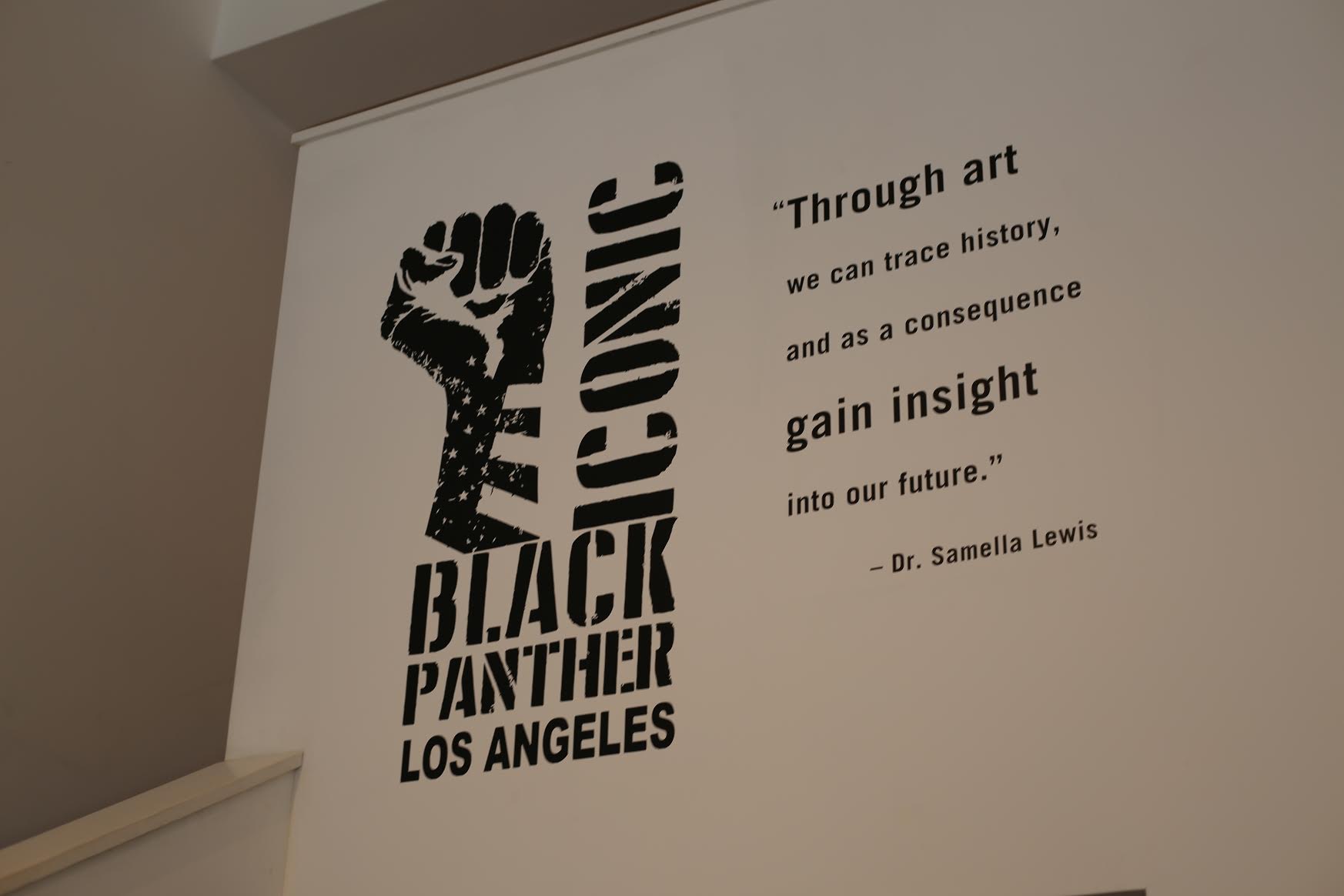 Photo by Mahsa Sheykhsoltan
The Gregorio Escalante Gallery in Los Angeles' Chinatown is running an exhibit called ICONIC: Black Panthers Los Angeles through May 14th. Produced by SEPIA Art Collective, this exhibit features homages to the Black Panther party, its ideologies, and its lasting legacy upon American politics, culture, and social movements. The implementation of the party's ideals included activism that sought to combat the negative impacts of capitalism, misogyny, and White supremacy.
American author Ta-Nehisi Coates has said that, "In America, it is traditional to destroy the black body." Violence by the state has inspired several social movements, including the founding of the Black Panther party and  Black Lives Matter. In the decades since the Civil Rights era, many White Americans have come to believe that racism and police brutality remain in America's past. The Black Panther exhibit deconstructs this myth by narrating the cultural history of the United States and its disposal and disregard for Black bodies through state-sanctioned violence and the school to prison pipeline. Paintings and photographs by contemporary artists such as Shepard Fairey ("My Florist is a Dick") and Ryan McCann ("Evidence of Assault") depict violence against Black Americans and the evolution of America as a police state rooted in slavery and White supremacy. This violence is artistically reflected, without commodifying Black bodies for shock value or ulterior motives.
This compilation of pieces is unique in that it simultaneously reflects violence committed against Black Americans while celebrating the beauty of Black identity. Images of Malcolm X, Dr. Martin Luther King, Bobby Seale, Muhammad Ali, and many more embellish the walls, celebrating Black beauty, power, and intellectualism.
The art here portrays Black history with a necessarily intersectional perspective. The Black Panthers were one of the first political groups of the last century to emphasize female leadership. As such, no homage to them that ignores Black women, as many do, would be complete. Powerful images of Rosa Parks, Angela Davis, and Nina Simone scatter the walls of the gallery, paying tribute to the years of toil, service, and power that Black women have offered the world.
While the exhibit offers space to celebrate the beauty of Black culture, which is frequently appropriated by White America, these pieces beckon to a broad range of viewers. Art holds a mirror up to humanity. These works challenge America, and in particular White Americans, to think critically about both the nuanced and obvious traces of White supremacy in contemporary American culture. In an age where the President of the United States and his advisors have garnered praise from the KKK and the American Nazi Party, this perspective is critical.