Event Review: Robin Coste Lewis at the MOCA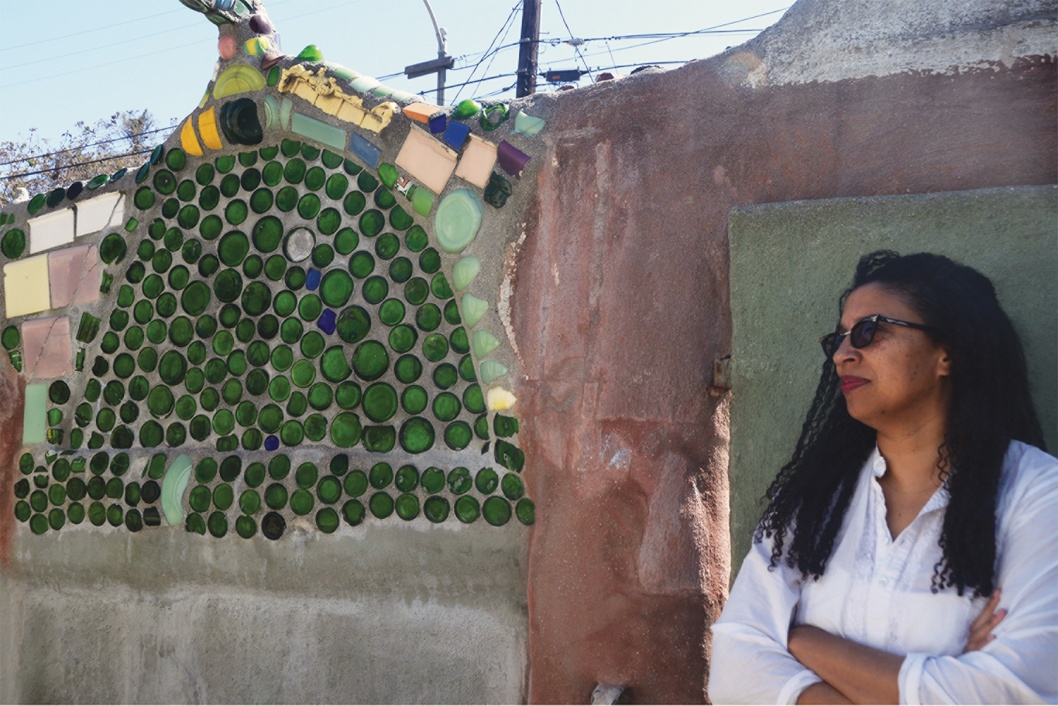 Photo by Kate Flint
Recently named Poet Laureate of Los Angeles, Robin Coste Lewis performed works from her National Book Award-winning collection "Voyage of the Sable Venus" as part of The Museum of Contemporary Art's Readings on May 7, 2017. The event was held in the Kerry James Marshall career-spanning exhibit, "Mastry." Marshall's work takes the Black body as subject and examines its role within the realm of fine art. His work seeks the normalization and elevation of quotidian Black experience through accentuation of Black skin by literally painting it black.
Like Marshall, Coste Lewis' poems perform a similar form of excavation, taking the Black body as subject. According to MOCA's website, "Coste Lewis considers the roles desire and race play in the contradiction of the self, juxtaposing actual events with research into the representation of Black female figures through-out art history." To have Coste Lewis read at the MOCA during Marshall's retrospective was monumental. In her opening remarks, Lewis alluded to this fact, pointing out that the celebration of Black artists within a hegemonically white space when such a concept would not have been possible until very recently.
The poet read several works ranging from terse to substantial. Of the shorter works was a bit of esoterica from Robin's childhood, a fiddling with language that proved delightfully playful and subversive. The last stanza of the poem "Dog Talk" goes:
"A-banse-se-bers,   que-bues-tio-bens,
na-bames,  se-be-cre-bets.       We-be
be-bent     E-ben-gl-bish,
em-bem-bra-baced       i-bit
the-ben   e-be-ra-based      i-bit
a-bat   the-be   sa-bame      ti-bime."
Translated, the stanza reads:
"Answers and questions,
names, secrets. We
bent English,
embraced it
then erased it
at the same time."
Lewis mentioned that "Dog Talk" originated from a language devised with a female cousin. It was not until years later, as an established poet, that this childhood device proved useful in her poetic lexicon. Aside from this wonderful anecdote, "Dog Talk" serves as a great example of the resonant creative powers of girlhood.
"Plantation," one of the Lewis' longer pieces, proved devastating. The poet shared humorously that the poem was commissioned as a Valentine's Day poem. Although it can be perceived as a love poem, it delivers none of the treacly sentiment associated with the holiday. The first couplet makes certain of that: "And then one morning we woke up / embracing on the bare floor of a large cage." The speaker's love interest possesses the ability to shapeshift "from a prancing black buck / into a small high yellow girl; pigtailed." Lewis hits upon something wonderfully enigmatic yet emotionally resonant with the following couplets:
Or just as quickly you'd become
the girl's mother, pulling
yourself away from yourself.
Because my whole head was covered
with a heaving beehive, you thought
I didn't notice. I noticed. I cried honey.
When asked about her process, Lewis said that she never considers whether a line sounds too prosaic or poetic, opting for the work to lead the way. Aesthetic is subsumed by the actual content of each piece, accounting for formalistic variety in Lewis' work. By treating aesthetics arbitrarily, Lewis manages to create an aesthetic that is dynamic and arresting.