Event Review: Roxane Gay Reading of "Hunger: A Memoir of (My) Body"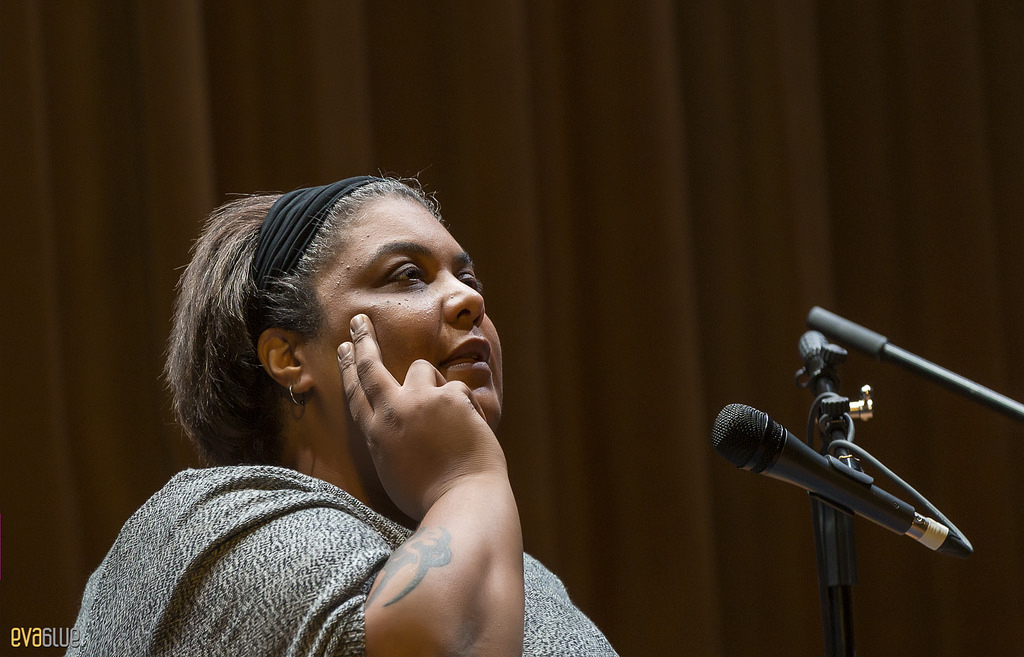 Image by Eva Blue via Flickr / CC BY 2.0
Roxane Gay is one of the most important authors alive today. She is the brilliant, unapologetic author of "Bad Feminist," "An Untamed State," and "Hunger: A Memoir of (My) Body," books that cover themes like gender, race, fatness, sexuality, pop culture, and politics. She also has a legendary Twitter account that features tweets like: "Why do men speak to me," and "Fat free yogurt is disgusting, an abomination, and I am banning myself from eating it ever again." On Monday, February 12th, she paid a visit to the Hammer Museum to read excerpts from her latest book, "Hunger," despite revealing during the reading that she personally hates being read to. She also took the time to chat with the audience about her experience writing and touring the book and to share some of her endless wisdom and wry humor.
"Hunger" deals with Gay's life story told through the lens of her body. During the reading, she revealed that the subject she wanted to talk about the least was her body, so naturally, she knew she needed to write a book about it. Indeed, "Hunger" is a difficult book; it deals with raw, personal truths about living in the world in Gay's fat, Black, queer woman's body when the world tells her to not take up space. The book begins with Gay recounting being gang raped at age 12 and consequently intentionally gaining weight in order to feel safer, until, as she describes it, she was "three or four hundred pounds overweight." It spares no details about the trauma Gay has experienced, but it is also revealing of her resilience, strength, and humor.
Gay believes that "the personal is political," or that lived experiences are inextricably linked with larger social and political systems of power and oppression. To Gay, the more marginalized people write about their experiences from their perspectives, the more people who are not part of that group can develop empathy and people who are part of that group can feel less alone. Marginalized people, particularly women, are often expected to be silent, to take up as little space as possible, and to be reduced to one-dimensional stereotypes. In "Hunger," she demands dignity and respect. It's not a weight loss transformation book, nor does it make fat women into a punchline; it is a complex, multidimensional story about a complex, multidimensional person.
Gay's writing has touched countless people, some of whom shared their stories about survival or fatness while expressing deep gratitude for Gay's writing during the Q&A portion of the event. That being said, according to Gay, some people's reactions to the book made touring it incredibly difficult. Fatphobia is such a deeply ingrained part of our culture that her many of her book tour audience members were quick to offer unsolicited diet and exercise advice, even though in the book, Gay literally states: "When you're overweight, your body becomes a matter of public record in many respects. Your body is constantly and prominently on display. People project assumed narratives onto your body and are not at all interested in the truth of your body, whatever that truth might be." Since the book came out, so many people who claim to have read the book have reacted in this way that she had to tweet: "Just going to make a book out of all the random diet advice people sell me after reading Hunger and clearly missing the point."
Of course, the positive outcome of the book has greatly outshined anything the trolls could say; since the book's publication, Gay has connected with activists working to end fatphobia and reports that she is in the best place she has ever been in terms of her relationship with her body right now. In her own words: "This body is resilient. It can endure all kinds of things. My body offers me the power of presence. My body is powerful."
While Gay's work is often heavy, it is also humorous, wise, and hopeful. "Hunger" is filled with delightful, hilarious segments like the numerous passages in which she discusses her love for Ina Garten, host of the cooking show Barefoot Contessa. Gay describes admiring that she's a "pleasantly plump" woman who is excellent at what she does, loves food, and never apologizes.
Every word she spoke at the Q&A was profound and meaningful. For example, she revealed that she doesn't believe in "allyship" because if you are truly committed to a cause then you will work for it as if it were your own and not expect a trophy for being a good person. When asked about how it felt to deal with the limitations of writing a screenplay (she's currently working on a film adaptation of her novel "An Untamed State"), she stated simply that she doesn't believe in limitations.
These days, not a day goes by without seeing an ad for a new weight loss plan and then seeing an ad about "body positivity" immediately after. In this world of contradictions, Roxane Gay provides a truthful, genuine voice that everyone who has a body can learn from. Reading her work and listening to her speak feels like listening to a friend you've known for your whole life––just an incredibly eloquent, discerning friend. It was incredible getting to hear her speak, and until she comes back to share more of her wisdom with us, you can do the next best thing: read "Hunger."