Featured UCLA Feminist: Ipsita Dey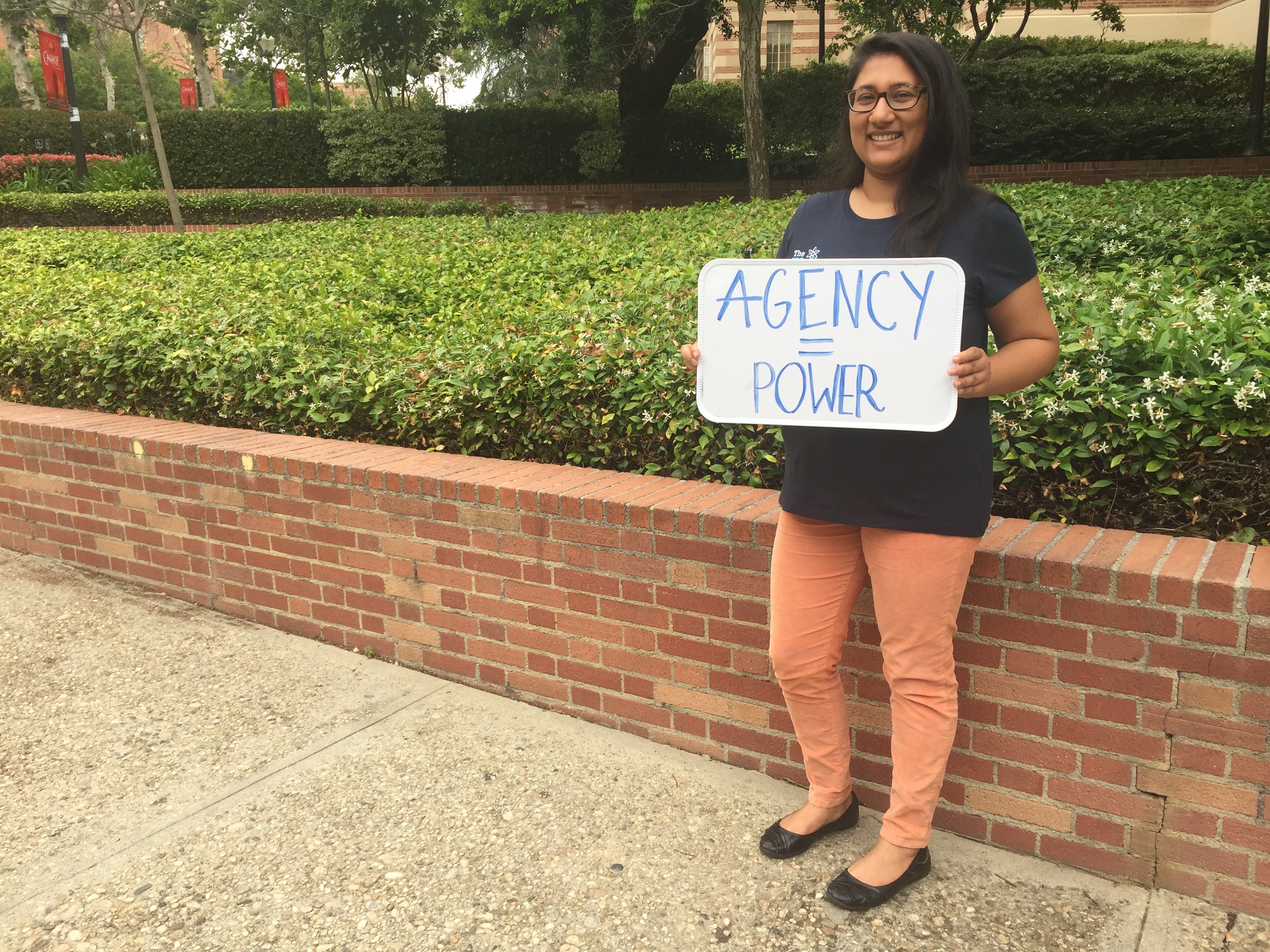 Photo by Mihika Sridhar
For Ipsita Dey, a fourth-year student studying microbiology, immunology, and molecular genetics with a minor in anthropology, feminism leads her through her academic and professional life on the daily. She believes that "Feminism is the equality of all genders, all people, in all places, regardless of economic status and racial background. Feminism means I always have the privilege of choice in my life." For much of her life, she has been exploring the feminism both present and needed in her communities.
Since high school, when Dey was introduced to the term, she has always considered herself a feminist. She grew up in a South Asian immigrant family where "all the women were extremely accomplished," ranging from her grandmother who studied up to the fifth-grade yet "had the best poems [she] had ever read" to her mother, who has a PhD. She credits her family with empowering her throughout her life with the ability to choose and support her choices. Making her own decisions and thus having an agency are aspects of life which feminism should guarantee for all people, especially for marginalized communities.
Dey first began working with women who were survivors of domestic violence in high school. Initially drawn to this experience because Dey knew she wanted to work in a space to empower women, Dey met women who were approaching a very "transitionary, precarious stage in their life after or in a domestic abuse situation." At a domestic violence shelter near her home, she started an art therapy initiative to fundraise for the shelter's needs.
Dey recalls: "I met this amazing painter who had no professional experience with art but had always just done it at home. I remember having this realization that women and people of color perform or create or produce such good work that goes unnoticed. This woman's work had not only gone unnoticed but also had been hidden by her previous abuse. After working with the shelter, the privilege of my education as a platform stood out to me; education was a platform where women could once again or for the first time pursue something of their liking and prove to the world that they're worth of their attention."
At UCLA, Dey participated in the Lemelson Anthropological Honors Program, where she spent ten weeks at the Saheli Asian Women's Project in Manchester, UK during the summer of 2016. The Saheli Asian Women's Project is a domestic violence shelter for South Asian women who are fleeing or have fled abusive relationships. Her project helped to illuminate many aspects of domestic violence survivorship and rehabilitation. Dey drew an important conclusion regarding the empowerment of immigrant women in foreign countries, "It is not the community itself that provides the largest support for post traumatic recovery, but the process and precarity of community formation, during which domestic violence survivors learn to exercise agency and choose to engage in social relationships, developing self-esteem and self-confidence," she said.
Along with her work, feminism is a leading force in Dey's daily life. In college, she began to understand what it meant to truly be empowered. During her adolescence, she struggled with body image insecurity. Coming to UCLA taught her that "in an equal world, how I look shouldn't matter and shouldn't be dependent on someone else's expectations of me," continuing to mention how the only person whose standards she has to meet is herself. After this realization, her body confidence skyrocketed.
Dey's experiences with intersectional feminism have shaped what she sees feminism growing to be in the future. As feminism in the past and present has largely focused on cisgendered women, she spoke about her excitement to see how the movement transforms to include transgender and genderqueer womxn. In addition, she hopes to see this inter-feminist theory as a main goal of the movement rather than how it is currently pigeonholed into a further marginalized "LGBTQ+ theory" sector. After all, she concludes, equality is for everyone.
Dey's contributions to feminism, whether by her daily actions or her professional work, advance the scope of the movement for all people by seeking to give them agency through education and awareness. Her quest for visibility and choice for all enriches the movement and broadens its goals. UCLA will sorely miss her next year but the world will have gained an empowered woman, ready for the challenges it throws her way.