Featured UCLA Feminist: Lena Rodriguez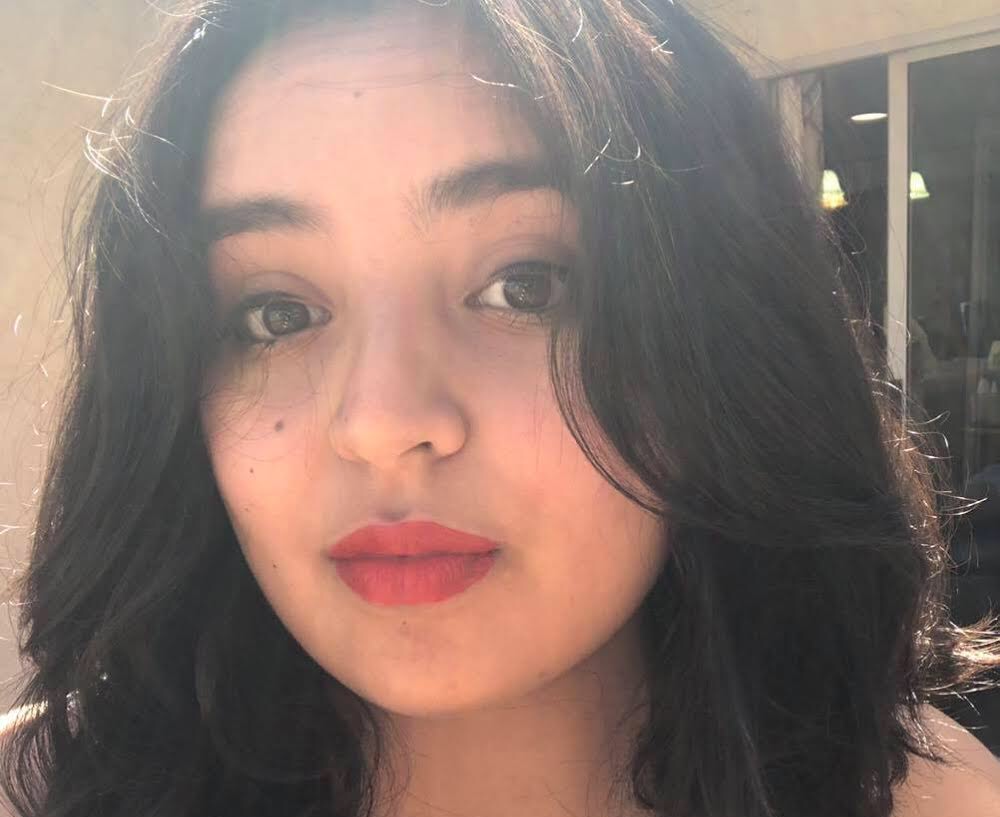 If you only had three words to create a snapshot of UCLA's Featured Feminist — Lena Rodriguez — the words "outspoken," "passionate," and "resilient" would immediately come to mind. As a fourth-year art history student concentrating on Ancient Near East and Egyptology studies, Lena is passionate about studying and bringing recognition to non-western perspectives on art. To Lena, art acts as a tool of knowledge, self expression, and reclaiming one's history and space.
For Lena, her childhood laid the foundations of her role as an outspoken feminist. As a Latina with relatives from the indigenous Central American Nahua tribe, Lena's childhood was shaped by moments of racism and discrimination. When asked about how she first became aware of racial prejudice, Lena recalled a white first-grade teacher saying that "her people" didn't deserve to read. While reflecting upon this moment, Lena remembers this as her first experience of feeling absolute outrage. "Even as a kid, I knew this wasn't right and that I deserve an education and to do what I choose," she explains. "I have been pushing against labels put on me and against others my entire life." From this moment on, Lena began to speak out against acts of racism in the classroom and the workplace like those she had been subjected to. "It hasn't made me the most likeable person because I am usually the one to speak out first," she adds.
To Lena, feminism is all about stepping in and speaking up. "I always try to stand up and be a supportive force for everyone I meet." Furthermore, she believes that feminism means taking action even when there's no one else willing to do the same. Since transferring to UCLA, Lena continues to speak up against racist ideology that is frequently referenced in white-dominated perspectives on art history. She has also frequently spoken out about instances of sexual harassment on campus.
One particularly formative moment for Lena occurred on a cold Friday night last winter. While walking to her dorm, she saw a barely-conscious girl being carried by a group of men. She remembers noticing that the girl was foaming at the mouth and instantly knowing that something was wrong. She called after the group of guys, who then argued with her and attempted to drag the girl away. Lena immediately called the police, who transported the girl to the hospital. The police later told her that the girl had been drugged and would have overdosed if she had not intervened. For Lena, this night brings up a complicated mix of emotions. "What struck me was how young and small she looked," she explains. "As a survivor of sexual assault and harassment, it was a full circle moment. I realized that I was her. I didn't have people step in when they could and should have, so I try to be the person I needed for others."
Being the person she needed for others also translates into many other aspects of Lena's life. Lena currently works as the Director's Office Intern at the Hammer Museum in Westwood, as her journey into the art history field has been about reclaiming museums as a place for people of color. "As a Latina in art history and archaeology, I realize that there are not many of us in this field. I am very lucky to have the support of my parents so that I can study what I do and to have been exposed to museums. It wasn't until I was older that I realized these spaces don't really welcome people of color."
At one of her museum internships, Lena discovered that she was the first Mexican intern. During her time at the museum, she took the time to translate each art piece's caption into Spanish, so non-English speakers could understand them. One day at this museum, she remembers meeting a little girl named Lena who was with a group of elementary students from Mexico. This interaction with the little girl stood out to Lena and reminded her of the importance of representation in every career field.
"It's difficult to have to pave a path in a place that isn't meant for you. I hope that one day, people can see that people like me belong in these spaces and our voices deserve to be heard. I want to be visible and unapologetic about claiming my space."
On Dec. 5th, 2019, this article was updated to include more accurate information at the request of the interviewee.