Featured UCLA Feminist: Namita Anand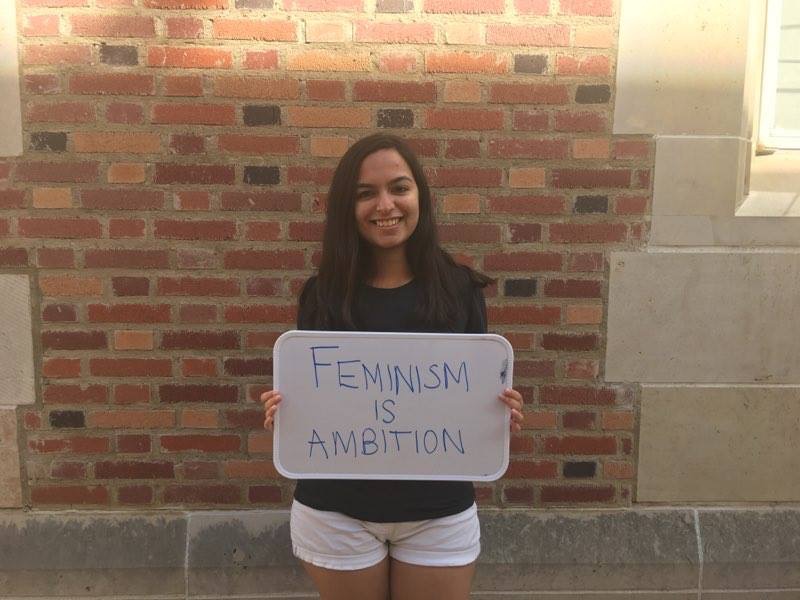 Photo by Natalie Delpino
According to third-year Business-Economics student Namita Anand, feminism is "an ability to achieve your dream without any obstacle in your path because of your gender." Namita feels it is unacceptable for a society to prevent someone from achieving their dreams due to the gender they identify as. She finds it extremely frustrating that an individual's gender could potentially be used to limit their opportunities.
Realizing that gender barriers exist, and that they are often harmful to an individual, brought Namita to feminism. This occurred while Namita was attending middle school and high school in India.  While in India, she "realized girls weren't able to achieve an equal education or equal pay in the workforce" and found that fact unsettling. The thought that she could be prevented from doing something she wanted to do "just because people were saying 'oh you're a girl'" made her furious. Feminism entered her life as a way to oppose any obstacle created by societal views on gender.
Since then, Namita feels that feminism has given her a basis to fight on. "It starts conversations that need to be had" and these conversations allow us to move towards gender equality. She argues that while politics complicate issues like equal pay and access to reproductive rights by competing interests of political parties, the fact that people are still fighting means we can be optimistic about the future. While "politics [can be] sad, and worrying", Namita states there are things that inspire hope, such as the large turnout for the women's march.
There are also changes that have occurred in her major which make her hopeful about the future. She enjoys the fact that there are more women entering and excelling in business and states "it gives you a lot of hope because you know it was a field where there weren't a lot of women [in charge]". During a time when women's rights and opportunities are being threatened, it's important to focus on the people's responses to those threats. As stated by Namita, feminism "is everyone bringing everyone up", so it won't allow anyone to be knocked down by prejudice.