Featured UCLA Feminist: Sarah Erckenbrack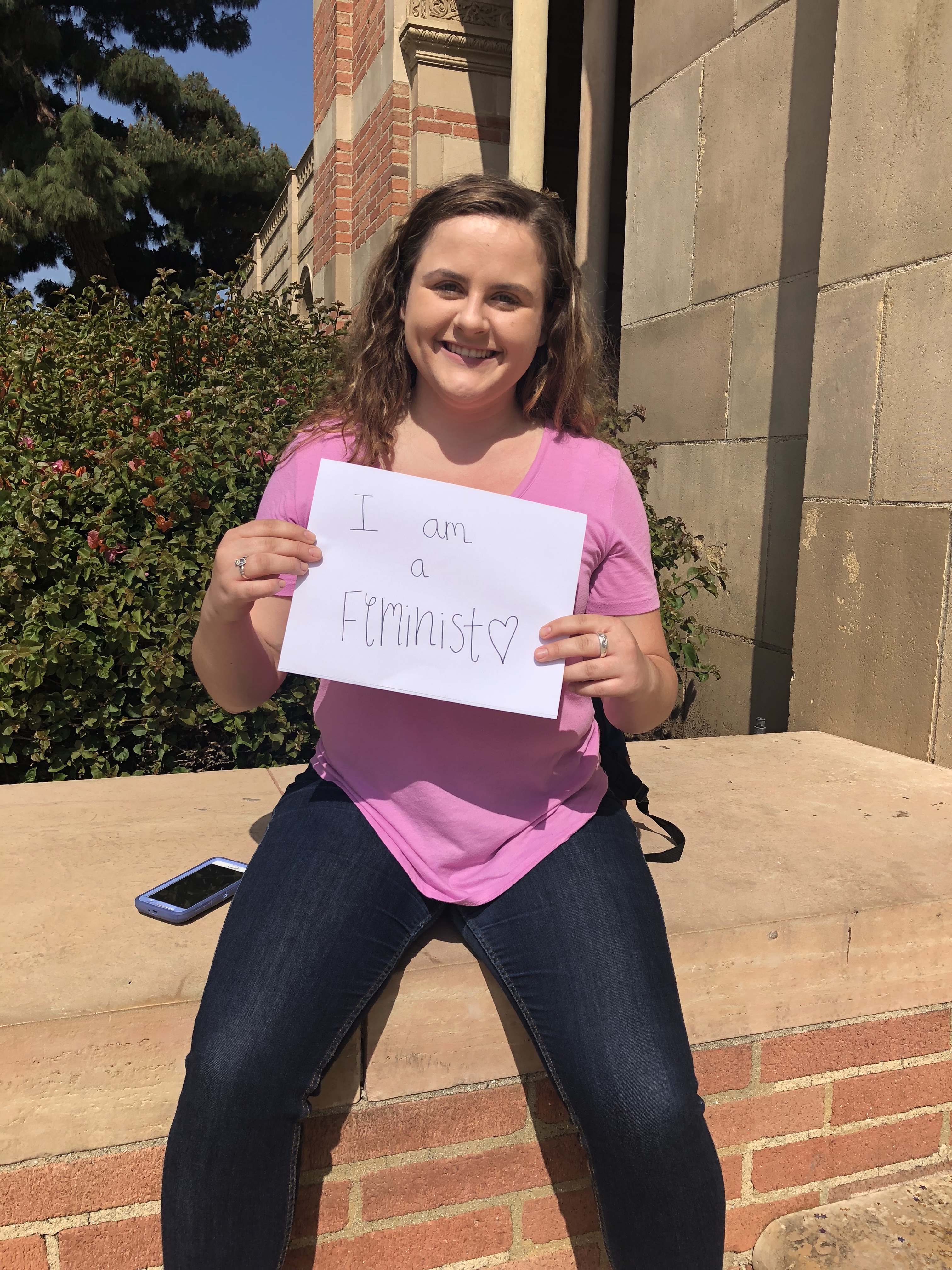 Photo by Natasha Cocke.
Sarah Erckenbrack, a second-year global studies student, recalls her feminist awakening as the result of many moments rather than one singular event. "It wasn't a sudden epiphany," she says as she sits confidently on the steps of Royce Hall. "It was more of noticing little things throughout my life, like being told to keep my hair long so boys would like me or always having to walk in large groups of girls to feel safe. I realized at a young age that something in society was wrong and that I wanted to do something about it."
Independent, enthusiastic, and determined, Sarah has always had a strong desire to make a difference in the world. As a member of numerous clubs on campus, a Alpha Delta Pi sorority sister, and a strong advocate for equality, Sarah is passionate about making a difference in her life. Her plans after graduating from UCLA include serving in the Peace Corps and later getting involved in global diplomacy.
Over spring break, Sarah volunteered in Wyoming on the Wind River Reservation with Alternative Breaks, an organization that facilitates working with the Northern Arapaho Tribe on issues they face such as homelessness, domestic violence, and unemployment. At the reservation, Sarah and ten others learned about the tribe's history in relation to its state today, as well as ways to become allies to Indigenous peoples.
Getting involved in creating a dialogue on social justice issues is important to Sarah: "My own conception of feminism has made me more aware of the things going on and [the] issues different people face. I've always wanted to use my own opportunities to give other people a chance to use their voices. This is one of my driving factors— providing equal opportunities and calling out things that are not conductive to a healthy society."
For Sarah, it is important that feminism is "not only an empowerment of women but everyone." While she acknowledges that our generation is "very aware of social change" and is inspired by this, Sarah also realizes that there's a lot of work to be done to make feminism more inclusive for all and to better society as a whole. "Feminism," she adds, "is not just for [cis-gender] women, but also for trans people, non-binary people, as well as men who are suppressed by toxic masculinity."
To Sarah it is important to use discussions about feminism to recognize those who are typically left out of mainstream dialogues and to provide people with opportunities to express their identities. "People are people," Sarah concludes, "and how they chose to define themselves is what they chose. No one has the right to define another person for them."