Feedback Sundays: What Does Black History Mean to You?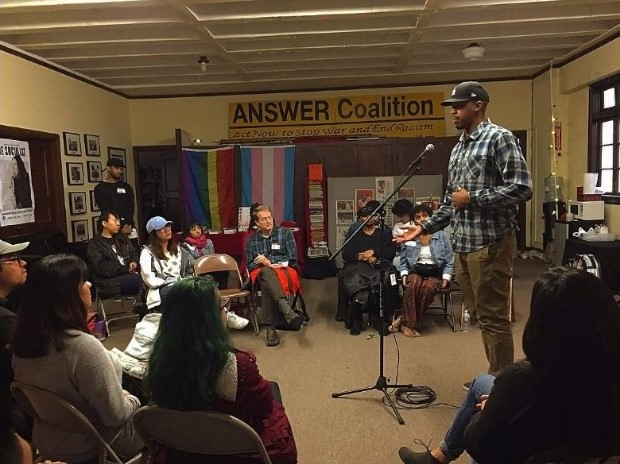 Images via Instagram, @feedbacksunday
Inside an unassuming church in Koreatown, ANSWER Coalition's LA chapter held its monthly open-mic event, Feedback Sundays. ANSWER, which stands for Act Now to Stop War and End Racism, has organized and engaged in numerous demonstrations for social and economic issues ranging from domestic police brutality to US military belligerence abroad. Feedback Sunday aims to provide a communal space for artists of all backgrounds to share their original poetry and music in a new series of open-mic events. This month's theme paid homage to Black History Month on the 5th anniversary of Trayvon Martin's death.
Among the performers were organizers, revolutionaries, teachers, and poets, as well as new and already established singer-songwriters. Poet and organizer Mike Davis performed a piece about his experience as a mixed-race black and brown person of color. Davis' work highlighted the issues with using identity politics as a means to denounce and reject, and outlined the necessity of an intersectional framework to combat all the oppressions assailing his identity. Like many of the poems performed that day, Davis's rhythmic language tied his subjective experience with pervasive cultural issues and institutional policy. Davis chose to address his position within a society marked by apartheid and historical disunity among black and brown racial groups.
Deja, an 18-year-old singer-songwriter, played songs from her upcoming debut album "Lion's Den." Her song of the same title followed the melodic structure of indie-pop, while her lyrics call for empathy despite the inability for the listener to fully grasp her fear as a black woman. While many of the pieces were certainly provocative, the event was not without its share of heartwarming messages — Deja performed an ode to the friends she's made throughout her music career, Matt Almodiel channeled Beyonce's "Irreplaceable" in an empowering breakup song and King, the chair of LA's Black Star Liberation Party chapter, shared a poem in memory of Trayvon Martin.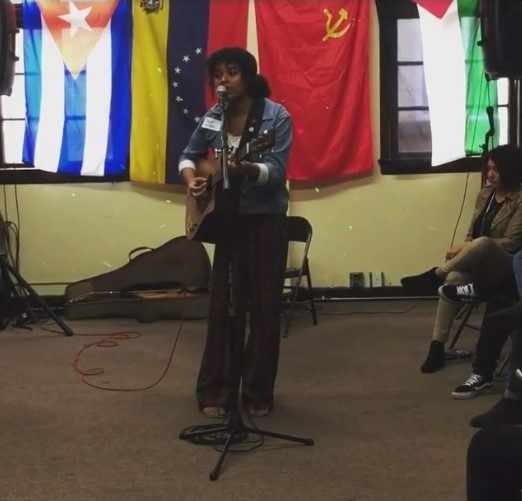 18y.o. Deja sings, "Lion's Den," an original song about police brutality.
A distinctive element of the event was the encouragement of audience interaction. In between performances, listeners were asked to speak on the question, "What does Black History mean to you?" Among the attendees and organizers of the event, answers ranged widely in an attempt to encapsulate the meaning of Black History. Some answers included:
"The radical tradition of our people since before we were stolen from Africa until now."
"Resistance."
"As an Asian-American, one of my favorite quotes from the 60's black power movements is 'yellow peril supports black power.' Black history is the colluded struggle of people of color banded under a cohesive movement towards liberation. Black liberation is essential to understanding all liberation."
"Lifting the voices of those who have been silenced."
"Telling the whole story."
The event purposed itself as more than a mere open-mic; it sought to facilitate dialogue for change. Broderick Dunlap, a representative of Black Lives Matter, spoke briefly, updating listeners on the movement's current goals. A major component of Black History is the forgotten contributions of Black revolutionaries; therefore, BLM seeks to empower trans and queer black women who have not received proper recognition for all their work. They hope to mend the lack of remembrance of these women by uplifting their voices and ensuring them leadership positions within the movement.
The event served as an invigorating space for politically active artists, providing a space to acknowledge how the deeply personal does not exist outside the contexts of our political culture. These creative expressions invited open dialogue for discussions of capitalism, patriarchy, and anti-blackness for its inseparable link to core human feelings of love, fear, sadness, and hostility. In such turbulent times, spaces like these are essential for emotional articulation and discourse. Feedback Sundays are hosted every last Sunday of the month; their next open-mic centers on Women's History.