Feeling Through at UCLA: A Glimpse into the DeafBlind Experience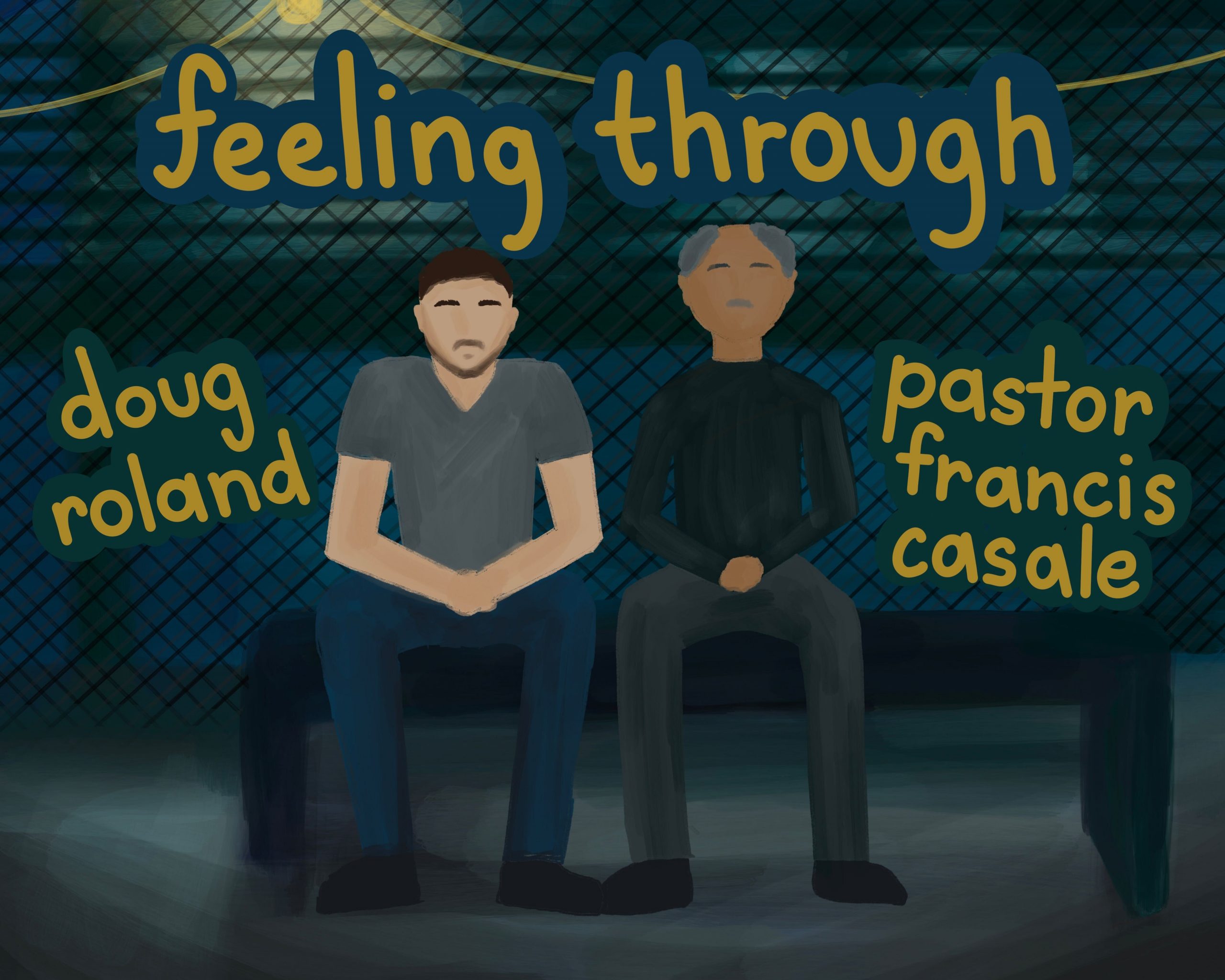 Design by Erin Choi
A recreation of the Feeling Through movie poster, showing two people sitting at a dimly-lit bus stop. Instead of the film's characters, the people sitting at the bus stop are the two who spoke at UCLA. Their names, Doug Roland and Pastor Francis Casale, are written in yellow font, as is the movie title.
On March 9, live from the De Neve Plaza Room on UCLA's residential hill, the UCLA Disability Studies and Inclusion Labs welcomed award-winning director Doug Roland and DeafBlind pastor Francis Casale in a discussion that underscored the impact of inclusive media in transforming social attitudes and mainstream conceptions of disability.
Directed by Roland, "Feeling Through" is an Academy Award nominated, coming of age short film that takes place in New York City. Tereek, an unhoused young man seeking shelter late at night, encounters a DeafBlind man named Artie, who solicits help locating his bus stop. Reluctantly, Tereek agrees to guide Artie, and the two embark on a story that kindles humanity and friendship between them.
"Feeling Through" is the first film to cast a DeafBlind actor in a lead role, inspiring global awareness for the DeafBlind community across the several universities and conferences where screenings for the film have taken place. In response to viewers' overwhelmingly positive reaction to the film, Roland and his team are tackling another project to broaden the scope of "Feeling Through"'s impact. Called Feeling Through Studio, this digital platform provides a space for DeafBlind and disabled communities to share tokens wisdom and stories of lived experience through video memoirs.
In an exclusive screening for Feeling Through Studio, viewers were invited to hear several DeafBlind testimonies of love and family. Some guests retold the story of how they met their spouse and others explained their personal decision to have kids. One speaker notes that, despite popular opinion, "I would be perfectly okay with that [raising DeafBlind children]," emphasizing "there is a sense of pride in being DeafBlind, and there are things I have learned throughout my lifetime I could share with that particular child."
After the screening, the seminar shifted to recognize Pastor Francis, a DeafBlind artist and doctor of theology, who looks forward to releasing his own feature for Feeling Through Studio in the future. Born with Usher's Syndrome, a genetic disease that contributes to hearing and vision loss overtime, Francis is the founder of two Deaf churches: one situated across the Pacific Ocean in Japan, and the other in nearby Covina, California, where he serves as Senior Pastor of the Deaf and ASL congregation.
Francis has been involved with the Feeling Through initiative in the past. He previously guest starred in Feeling Through Live, an online livestream series hosted by Roland to spotlight members of the DeafBlind community. At UCLA, Francis joined Roland in a Q&A session moderated by the Academic Administrator for Disability Studies, Caitlin Solone.
Francis welcomed questions from attendants over Zoom and in person. In an open forum discussion, he addressed themes of childhood, family life, and his journey through faith. Perhaps the most frequently asked questions were those pertaining to Francis's religious conviction and how he discovered faith amid adversity.
"I expected that when I became a pastor, God would heal me … but that was the wrong attitude and the wrong mindset." Francis said. "I have faith because I know He has love for all types of people: people who are deaf, people who are blind, people from different backgrounds … [To] anyone in this room, He has love for you."
The pastor also acknowledged the importance of DeafBlind media representation, speaking to his own interest in learning from DeafBlind individuals' experience in navigating relationships, adversity and achievement.
The program concluded with parting words from Francis who urged inspired students to see past the "fear of coming up to people who are Deaf and Blind," welcome new connections with the DeafBlind community around them, and advocate for inclusive and accessible disability resources at UCLA.
More information regarding the UCLA Disability Studies Inclusion Labs and their previous, ongoing and upcoming programs can be found on their website. Likewise, students are encouraged to learn how they can best support the DeafBlind community in Los Angeles and beyond at www.helenkeller.org.