Female Entertainment Writers Champion Diversity On and Off the Screen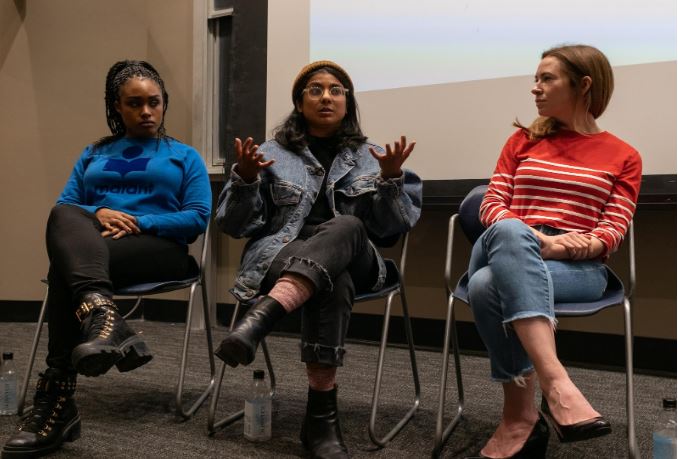 Image courtesy of Juan Felipe Diaz. Left to right: Kara Brown, Minhal Baig, Katie Silberman
When TV writer Kara Brown was asked about her opinion on Steven Spielberg's diatribe that streaming platforms threaten the film industry, she replied, "Rich white men have always found a way to land on their feet. [Streaming platforms] are new. White men will adapt and get used to it. Suck it up, Steve."

Brown is known for her work on Freeform's "Grown-ish" and has written for the CW's upcoming comedy-drama "In the Dark" which will be aired in spring of this year. Alongside TV writing, Brown also co-hosts Crooke Media's pop culture podcast, "Keep It," and was a senior writer at Jezebel.

Brown was one of three speakers present at the Women in Entertainment Writers Panel on Wednesday, March 6. The other two panelists were Minhal Baig, a story editor for "Bojack Horseman," and Katie Silberman, a writer and co-producer for the romantic comedies such as "Set it Up" and "Isn't it Romantic." The panel was moderated by third-year political science major Priyanka Kapoor and fourth-year political science and economics double major Kevin Yang.

The writers panel is one aspect of the Bruin Film Society's Women in Entertainment Initiative. The BFS has been hosting the Women in Entertainment (WIE) Initiative screenings and speaker panels since January. The screenings themselves feature films made by women and about women. The WIE Initiative will conclude with a multi-week summit in May where the BFS plan to screen pre-release movies and iconic past films by and about women and host panels and workshops about the entertainment industry.

Vice President of BFS Kapoor said that the WIE Initiative was inspired by a desire to inform UCLA students about entertainment positions in Hollywood while also giving women a platform to speak about their professions. "As a woman of color who wants to go into the entertainment industry, it's inspiring to hear other women of color speak about their experiences," Kapoor said. "Usually at events like these, it's just white men [speaking]. It's important to uplift women's voices. It's also important from a job perspective to hear about jobs out there."

Although women account for 50% of moviegoers—unsurprising, considering women are half the world's population—they only accounted for 16 percent of directors, writers, executive producers, editors and cinematographers working on the top 100 films in 2018. Considering these figures, the WIE Initiative is an incredibly important platform to hear the experiences of women in a male-dominated industry.

When the panelists were asked about their stances regarding streaming platforms' place in the film industry, everyone agreed that the platforms may be the key to increasing the percentage of women working behind the scenes. "[Streaming companies] have the power to put movies into the hands of people that would not usually have the opportunity to make them," Silberman said. "[They cast] a wide net for people that traditional studios would not hire."

Baig agreed, saying, "[Streaming platforms] diversify the marketplace. There are so many options now for underrepresented creators." And according to Baig, sometimes streaming platforms are the best way for creators to go: "A movie doesn't become not a movie if it's through Apple or Sony Pictures. It's just a platform. You're gonna go with a distributor that believes in your movie the best. You think: how do I reach the audience I think is going to love the movie the most? Sometimes that's with streaming."

When asked about their favorite genre, all three panelists spoke highly about comedy, specifically romantic comedy. "[I've] watched "To All the Boys I've Loved Before" four times!" Brown said. "I love romcoms. A lot of these rom-coms are written by women, and it's not like "Spider-Man": you don't need 75 million dollars to make [these] movies."

Brown's main motivation for writing romantic comedies originates from the lack of diversity in the genre's featured characters. She expressed concern over the lack of Black representation in both romance and romantic comedy films. "I want to see black people in movies do fun shit," Brown said. "It's either slaves or civil rights or "Precious." I want to see a movie and feel good after seeing it."

Determined to increase the number of films and shows that accurately represent minority populations, Silberman encouraged the audience to "write what you want to watch."

Baig said, "If you want to make something, go make it. Go and create a short film with your friends or a web series. I really think you should make the thing and put it out into the universe."

But alongside creation, all three speakers recognized the importance of diverse hiring to get these projects done and done well.

For example, Silberman spoke about the necessity of having women in film productions. "Having a woman direct a film changes the dynamic of the crew," she said. "There are more women in the crew…They look into, interview, and consider people who do not have traditional resumes. The best thing is that these people have something to prove and bring with them a new perspective."

And Silberman is right: according to a 2018 study by USC, "stories with a female director attached had 5.4 percent more girls/women on screen than those stories without female direction." In the same study, "stories with female writers and creators had a more pronounced relationship (10.7 percent and 12.6 percent, respectively)." The study implies more diverse hiring practices behind the camera may also lead to higher numbers of women and people of color in key off-screen roles, though more research is required.

Baig expressed that it is a keen interest of hers to help underrepresented people break into the industry. "It sucks that this responsibility falls onto other people that are underrepresented, people who are also trying to be working professionals," she said.

Baig even shared a story about her struggles to hire a diverse crew for her independent film "Hala" which premiered in the 2019 Sundance Film Festival. When she contacted an agency for crew recommendations, the list only contained male candidates.. "I had to specifically ask for women," she told the audience. "Only then did they send me a list [with women]."

"We need to change the standard," Brown chimed in. "And the standard is a white guy."

To institute this change, the USC study has identified specific actions for film, television, and streaming companies to counter implicit and explicit biases. Some solutions include "building inclusive consideration lists for writers and directors by ensuring they contain 50% women and 38% people of color" and "deciding on target inclusion goals and making these public and transparent to allow for external accountability."

"The industry appears to have finally embraced the idea that America's increasingly diverse audience demand film and television content populated with characters whose experiences resonate with their own, who look like them, and with whom they can relate," UCLA's Hollywood Diversity Report said. "There is still a long way to go before women or POC reach proportionate representation among the actors [and creators] in film and television, but at least the trend lines for both groups point in the right direction."