Feminist Year in Review: Notable Deaths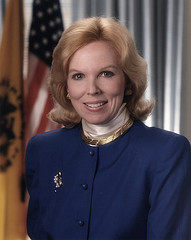 Joanna Russ (February 22, 1937 – April 29, 2011) was an American writer known for her science fiction and fantasy novels. She was also a famous feminist who wrote "The Female Man" and "How to Suppress Women's Writing." (Russ is pictured to the right.)
Rosalyn Sussman Yalow (July 19, 1921 – May 30, 2011) was the co-discoverer of radioimmunoassay and the second woman to win the Nobel Prize in Medicine.
E.M. Broner (July 8, 1927 – June 21, 2011) was a Jewish feminist author who worked to create a space for women in Judaism. She was known for books such as "The Women's Haggadah" and "A Weave of Women."
Betty Ford (April 8, 1918 – July 8, 2011) was the First Lady of the United States from 1974–1977. She was a great activist for the Equal Rights Amendment (which still has not been passed), abortion rights, equal pay, gun control and breast cancer. She is also credited for raising awareness about the consequences of addiction and alcoholism, and she founded the Betty Ford Center in 1982.
Bernadine Healey (August 4, 1944 – August 6, 2011) was a renowned American physician, cardiologist and professor. As the president of the American Heart Association in 1988, she worked to raise awareness of the fact that heart disease was also a woman's disease. In 1991, she was appointed by President Bush as director of the National Institutes of Health (NIH), the first woman to hold that position. And in her first year there she created the Women's Health Initiative, a $625 million study of the diseases that affect women and the ways to prevent them.  In 1999 she was named president and CEO of the American Red Cross and led the organization's efforts in the aftermath of 9/11. She was only the second woman to hold the position.
Betty Skelton (June 28, 1926 – August 31, 2011) was an aviatrix and stock-car driver who was known as the "First Lady of Firsts" for all the records she set in the sky and on the race track. She was the first woman to complete the "inverted ribbon cut" in an aerobatics competition as well as the first woman to drive an Indy car. She was also the first woman to be instated in the International Aerobatic Hall of Fame and the NASCAR International Motorsports Hall of Fame.
Wangari Maathai (1 April 1940 – 25 September 2011) was a political and environmental activist in Kenya. She started the Green Belt Movement in 1977, an organization that works to empower women by teaching them to plant trees in order to combat erosion and create jobs. In 2004, she became the first African woman to win the Nobel Peace Prize.
Paula Hyman (September 30, 1946 – December 15, 2011) was a renowned professor who specialized in the studies of women and gender in Jewish history.