Films We Love That Pass the Bechdel Test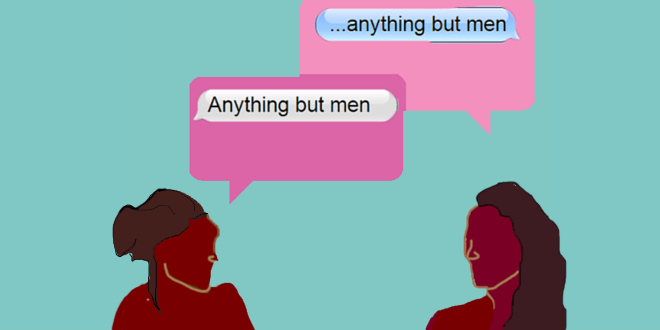 Illustration by Mrinaalika Sivakumar.
In a 1985 strip Dykes to Watch Out For, one of Alison Bechdel's characters famously declares she will only see a film if it meets the following three requirements:
There are at least two women.

The two women speak to each other.

They must speak to each other about something other than a man.
Some critics include the optional fourth feature that the two women must also be named. These features comprise what we know and love as the Bechdel test. Here are some of FEM's favorite films that pass the Bechdel test.
Note: none of these films are guaranteed to be unproblematic—this is simply a list of films that pass the Bechdel test that someone at FEM loves.
World of Tomorrow:

 

World of Tomorrow

is a short, animated, science fiction film. The film features the voice of Winona Mae, a 4-year-old girl whose voice was recorded while she was drawing and playing. Her reactions were then edited back into the film, creating a character who interacts with the robotic voice of Julia Pott. Winona Mae's character is Emily Prime, who is cloned in the future. Emily Prime and the robot voice (revealed to be Emily's clone) explore the life of the clone Emily.
Mad Max: Fury Road:

 Perhaps one of the biggest films of 2015,

Fury Road

fails to pass the "reverse Bechdel test"

—

there is not a time where there are two male characters who speak to each other about anything other than a woman.

Mad Max: Fury Road

is the fourth installment in the

Mad Max

series, starring Charlize Theron as Imperator Furiosa, a woman who runs away with the wives of the dictator Immortan Joe in order to save them, and ends up picking up the titular Max Rockatansky on the way.
Jupiter Ascending:

 A star-studded space opera that takes place in a universe where Earth humans are just one group of humans established by superhumans and alien royalty as a source of eternal youth for superhumans and aliens on other planets. The plot follows Mila Kunis, who stars as an earthling caught up in the middle of a deadly space drama.
Legally Blonde:

 A comedy classic. Reese Witherspoon stars as a sorority girl out to smash the patriarchy by becoming a top lawyer. While her initial plan is to win back her ex-boyfriend by joining him at law school, she realizes she is better off without him and  goes on to graduate from law school top in her class.
Bend it Like Beckham:

 Jess Bharma is an 18-year-old Indian-British soccer player, who has been forbidden to play by her parents because she is a girl. Jess impresses the coach of the local women's soccer team and is invited to join. Jess must balance relationships both on and off the field as she works her way towards earning a scholarship to Santa Clara University.
Obvious Child:

 Raise your hand if you like comediennes. Raise 'em high.

Obvious Child

chronicles the journey of comedienne Donna, who grapples with her upcoming abortion and the awkward relationship she has with the man who impregnates her. The movie features Planned Parenthood (woot woot!) and mother-daughter conversations about abortion.
Queen:

 

Queen

is a Bollywood film about Rani, a woman whose fiance breaks up with her after living abroad, claiming she is too conservative for him now that his world view has changed. Rani decides to go on her pre-booked honeymoon alone and meets people from all walks of life. As her world opens up, she realizes her fiance was the one who was too conservative for her and finds true friendship on the way.
Margarita With a Straw:

 A movie about Laila, a girl with cerebral palsy, and her struggles with her normal life. Laila is a student at Delhi University, who writes lyrics and creates sounds for the university's indie band. After being rejected by the band's lead singer, Laila spends a semester at NYU where she explores her sexuality and deals with the ensuing disapproval from her mother.

Margarita With a Straw

has won several awards from all around the globe
Whip It:

 Ellen Page, roller derby, kick ass women? What's not to love? Ellen Page stars as Bliss Cavendar, a girl who doesn't fit into her small town's beauty pageant culture. Desperate to find a purpose, Bliss joins a roller derby squad and learns to be her own hero.
Spirited Away:

 This Miyazaki classic features Chihiro, a strong willed girl who goes on a quest to rescue her parents from the spirit world. Director Hayao Miyazaki is often noted for featuring strong, female characters at the center of his films, and this film is no exception.
Whisper of the Heart:

 An older film written by Miyazaki,

Whisper of the Heart

follows Shizuku, a fourteen-year-old girl who meets a boy named Seiji. Seiji is determined to travel to Italy to follow his dreams of becoming a luthier, inspiring Shizuku to pursue her passion for writing.
Pitch Perfect:

 This sassy film stars Anna Kendrick as an aspiring DJ who gets roped into joining an a capella group. Amazing girl power and amazing singing make this a definite hit for a night in.
For more films that pass the Bechdel test, a registry can be found at http://bechdeltest.com/.