Gender-Gap Clothing Drive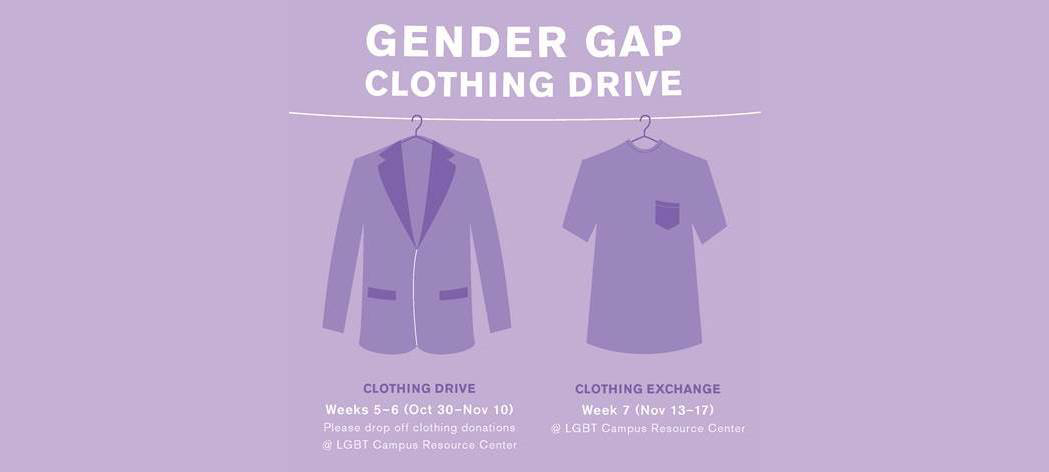 Image courtesy of the UCLA LGBT Campus Resource Center
The Gender-Gap Clothing Drive at UCLA is an important opportunity for allies to support transgender, non-binary, and non-gender-conforming students on campus. This event will take place from Oct. 30 to Nov. 17 and collects clothes for students who are transitioning or affirming their gender identity but do not have the resources to buy new clothes.
Students can donate lightly used clothes to the LGBT Student Resource Center in the Student Activities Building.  For this quarter's clothing drive, every day clothing is needed, although career clothing for job interviews is greatly appreciated. All unclaimed clothing is donated to a local LGBTQ+ organization that supports queer youth.  
The Clothing Drive also kicks off UCLA's Trans Awareness Week, which takes place during Week 7. Trans Awareness Week is put on by TransUp and includes several events to promote awareness of trans issues. These events include movie screenings, bake sales, and Student Ally Training on Tuesday, Nov. 14, and Friday, Nov. 17.
Student Ally training is particularly important because it teaches participants LGBTQ+ terminology and strategies to support LGBTQ+ people both on and off of UCLA's campus. The training also teaches how to identify stereotypes, privilege and intersectional identities.
The Gender-Gap Clothing Drive is an event that is extremely important to Megan van der Toorn, the UCLA LGBT Campus Resource Center's Assistant Director. Megan  van der Toorn has been involved with this event since its beginnings at Vanderbilt University. The clothing drive was started after her supervisor, a transgender man, noticed that many students who were also transitioning were in need of clothes. When Van der Toorn began working at UCLA, she brought the event with her, starting the annual clothing drive in Winter 2015.
According to van der Toorn, this clothing drive is critical to helping students express themselves, as "this event provides the ability for transgender and nonbinary folks to be affirmed in identity."
A second-year PhD student, who wished to remain unnamed, agreed that this event is important because it allows students to feel comfortable, saying that "gender expression varies from person to person, and is not about specific appearances but rather finding clothes that make you feel comfortable."
The same student also hopes that this clothing drive will help relieve some misconceptions about gender identity. One major misconception they cited is that many people assume transgender students are attempting to embody stereotypes of gender: "There is a wide spectrum for gender and what gender means is different to each person. We're trying to express ourselves not reinforce stereotypes."
Even if you are unable to donate clothes to the Gender-Gap Clothing Drive, there are still many ways that you can support transgender and nonbinary students at UCLA. Giving students the opportunity to share preferred names and pronouns, providing inclusive save spaces, attending ally training, and locating gender neutral bathrooms when putting on events are just a few ways you can make UCLA a more inclusive campus.
To find out more information about the Gender-Gap Clothing drive, Ally Training or Trans Awareness Week you can go to LGBT Resource Center Website.